Meet DEXTRÜS The World's First Vibrator that Makes You Smart!
(*Exclusively for Right-Handed People)
The following article is from our 2014 April Fool's joke that appeared in hundreds of international news outlets all over the world. Please enjoy this 'launch' of the world's first vibrator that can make you a smarter person — but only if you're right handed!
Explosive new findings for the LELO Global Sex Survey have shown left-handed people are not only more creative and intelligent than right-handers (who make up 90% of the global population), they are also up to 71% more sexually satisfied!
To level the playing field and change the world at the same time, LELO is thrilled to announce the launch of 'DEXTRÜS' – the first ever vibrator that makes you smart – exclusively for right handed people.
How DEXTRÜS will change the world!
LELO's survey results, as verified by Le Gauche Institute, Paris, showed 86% of left-handed respondents claim to be 'Extremely Satisfied' with their sex lives, compared to only 15% of right-handed people.  That's because left-handers receive pleasure from the right-side of the brain, which is responsible for more artistic, creative and sensual thinking. Right-handers, on the other hand, experience pleasure through the linear, analytical and logical left side of the brain.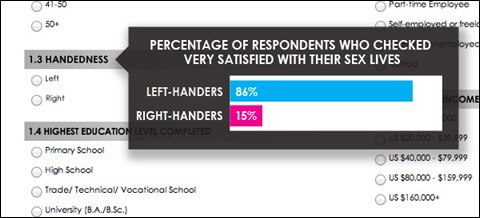 Not only is LELO's survey showing the first ever link between sexual satisfaction and handedness, it also complements an earlier April 2013 study from Ruth Propper and colleagues at Montclair State University, which highlighted the benefits of right-handers using their left hands for various actions.
LELO has since partnered with scientists from Sinister College, Oxford, to launch the world's first 'right-handed vibrator', used in the left hand, for pleasure and smartness combined.
How DEXTRÜS works:
TO MAKE YOU SMARTER: LELO's new DEXTRÜS vibrator is set to be the first ever sex toy to penetrate the modern work-place, as users squeeze the silicone shell during meetings to enhance their natural spontaneity. Every time pressure is applied to DEXTRÜS, its Right-Squeeze™ technology causes whisper-quiet vibrations to travel through the left-arm and stimulate the right-side of the brain, blocking distractions and encouraging smarter, more creative thought.
TO DELIVER "THE LEFT-HANDED ORGASM": Following the ground-breaking revelations that left-handers are more sexually satisfied, LELO suggests right-handers continually squeeze DEXTRÜS with their left-hand during love-making. Every squeeze prompts the touch-sensors to emit the same series of powerful vibration patterns that can be applied all over the body, while at the same time allowing the user to access a left-handers' state of mind.
Win DEXTRÜS for Yourself!
To celebrate the historic launch of DEXTRÜS, LELO is thrilled to offer THREE subscribers the chance to win this exclusive item or a choice from LELO's bestselling ambidextrous items (not including the 24-karat gold vibrators from the LUXE collection). Simply sign-up for the newsletter to have a chance to win.
As the first ever vibrator designed to make right-handed people smarter and more satisfied at the same time –DEXTRÜS will be available in four spontaneous colors from late April 2014 onwards at the market entry price of $299.
Soon to be offered at:






Praise for DEXTRÜS
Ian Kerner, Sex and Relationship Expert and author of NYTimes Bestseller She Comes First: The Thinking Man's Guide to Pleasuring a Woman:


"My right-handed clients have said it for years; they feel left out. And that's not right. Not right at all. When it comes to spontaneity and pleasure, no one should be left behind, so I'm very pleased that LELO has done the right thing by launching an item like DEXTRÜS."
Gary Adroit, President, Coalition for Right-Appendaged People:


"With DEXTRÜS, LELO is standing up for rights' rights to right wrongs subjected to the right-handed peoples of the world, to which I say; right on, LELO!"
Olef Thander, LELO's Head of Right-Handed Research:


"On the one hand, we were looking at a massive segment of the population who just couldn't enjoy our products as much as they should, and on the other hand, we wanted to design a product that right-handers would feel comfortable using in public. While I can count on one hand how many right-handed people I know – only a handful, really – I've got to say, it feels pretty good to lend them a hand."
SHARE THE GOOD NEWS!
---
Katy Thorn is a post-grad writer with a passion for writing about sex, sexuality, and all things rated R. She received her degree in Women's Studies with a focus in Intersectionality at the University of California, Berkeley (Go Bears!). She has a cat named Yoko, drinks too much black coffee, and hates writing bios.