So you have one or more sex toys… and they're so delightfully satisfying that you can't really see your solo or partner play time without them. 
Maybe you've even given them names, like BOB the Battery-Operated Bestie. Or maybe they've been there for you during good times and bad, during sexual dissatisfaction, stressful periods, and even joyous ones. I get it! These discrete items may just be like part of the furniture. 
But not everyone agrees with this sex-positive attitude. And even those who do, it can be kind of embarrassing for some when their most intimate items are found or exposed. Not to mention when relatives or dear family friends come over for an expected or unexpected visit. 
So, I've compiled a nifty little guide on the best ways to hide your sex toys so that you'll never have to face an awkward conversation ever again. 
Not only that, but these tips will help you to keep your toys safe (clean) because, as sex therapist Dulcinea Pitagora says, "Not only do you want your toys to be play-ready, but if you put your toys away dirty or not well cared for, they will degrade more quickly, and possibly become unsafe to play with."
So, in advance, you're welcome!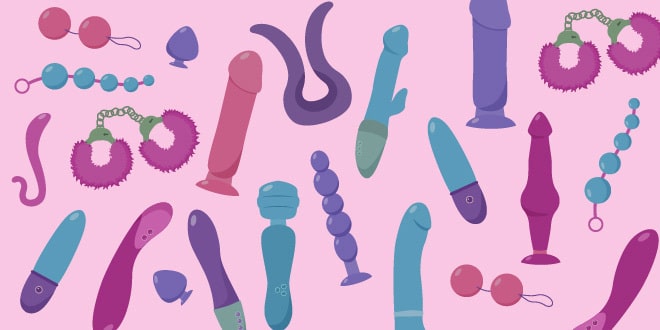 13 Discrete Spots to Hide Your Sex Toys
1. Bedside Table Boxes
If you don't have a bedside drawer, you can decorate your room with bedside table boxes, like those DIY boxes from IKEA. 
Grab three or so, depending on the height of your bed, and you can double up the storage boxes as your bedside table. Place your lamp, books, or other things on top, making it harder for nosy Nancy's to open them.
2. A Suitcase
Nearly everyone has one or more pieces of luggage, and what on earth would anyone be doing looking through, what they imagine to be, an empty suitcase? Wherever you keep your suitcase, place your toys inside, and perhaps add a few layers of old clothes or books to be even more conspicuous. 
You could even keep it locked with a padlock, and if anyone asks, say it is simply there ready for your next travel adventure.
Also, consider storing your suitcase on the top shelf of your closet, if possible, making it harder for someone to grab. But if someone asks to borrow your luggage, be sure to remember all the sexy things you have in there!
3. A Shoebox
Have your eye on a new pair of shoes? Don't discard of the box just yet. Shoeboxes have been a trusted storage space for years and years (think people who store dirty money in shoe boxes on top of their closet). 
So if you have a couple of odds and ends you need put away, why not put your trusted toy in there too? A collection of shoe boxes doesn't cause any suspicion nor does it look like an interesting object to have a peek in. 
4. A Draw-String Organza Bag
These little draw-string bags are super useful for trinkets, like small jewellery. But for small sex toys, like nipple clamps and cock rings, these bags are not only tiny, but also easy to store somewhere discrete. 
Consider an organza bag that's not see-through and simply throw it in your underwear drawer or bedside table for easy access and transport. 
5. Inside Socks
A place that no one would be interested in, your sock drawer is a good place to store your different sex toys. The easiest option would be to place the toy inside a winter wool garment, fold it in two, and mix it with the rest of your socks.
This is not only a great way to safely store your sex toy, but also provides a nice soft cushion that'll prevent it from rubbing against other objects. 
6. Inside a Tissue Box
Unless you have a visitor with a cold or intense hayfever, placing a sex toy inside a box of tissues is a great idea for a number of reasons.
One, it can be placed conveniently next to your bed. Two, the tissues will offer cushy protectiveness. And three, you can use the tissues for those 'clean up' moments. A triple win.
7. Specially-Designed Discrete Sex Toy Storage Containers
For sex toy collectors and connoisseurs, getting a specialized case that's been made for the sole purpose of storing sex toys is not a half bad idea. And there are several different kinds, so you'll be sure to find one that suits your needs.
From organizer boxes with mesh pockets, hidden storage drawers, and even purses, these sex toy containers usually come with locks.
8. Inside the Pocket of a Large Handbag
If you're one of those women who like having large handbags, more often than not, there will be a pocket on the inside lining. This has proven to be a useful little space for tampons or any other personal items… including your intimate toys.
Of course you don't want to walk around town on your spot of shopping with a sex toy inside your purse, but by having a spare, you could hang it up in your closet for safekeeping. Easy, peasy!
9. Inside a Tampon Box
If you're a woman who uses tampons, you'll know that almost all men want to avoid these types of sanitary products like the plague. And this is a good thing, because… well, that's 50 percent of the population that most likely won't be having a little peek inside.
Another helpful tip would be to keep the tampon box in your bedroom to avoid guests or other women hoping to grab one in case of emergency.
10. Inside a Poster Tube
You know those long hard tubes that posters and some documents are stored inside? Yeah, that tube right there is a golden spot to hide long and slim sex toys like dildos or vibrators.
And if you don't have one of those tubes but still feel like it's a great hiding spot, front the money for a cheap poster, it'll be worth it. 
Alternatively, and for those who enjoy a sneaky drink or two, some alcohol bottles come in the same style of tube, like a bottle of Glenfiddich whiskey. 
11. Inside a Stuffed Animal Pouch
If someone tells you that you're too old to be having a stuffed toy, then you should unfriend them immediately… especially if you're using said-stuffed toy to hide your sex toy!
You see, some stuffed animals or toys come with a little hidden pouch. So if you have something you're needing to hide, well, it's probably a safe option to consider.
12. Inside Hanging Storage Slots
If your closet allows, consider getting one of those hanging storage slots that can hold clothing, or… whatever else you fancy. Allocate one slot, and place the sex toy in the midst of your socks or underwear.
You could even use the same kind of hanging storage made for shoes. Just be sure to keep the space clean, and your toy in a special case or bag, like an organza bag. 
13. Under-Bed Storage
While it may seem like the most obvious of hiding places, if you have a small space underneath your bed and family and or friends who aren't too nosy, this could be the perfect space to hide your toys. 
You could opt for a little pouch, a small box, or any other kind of storage, perhaps fill it up with other items, and voila, you have an easy-to-reach spot right where the magic happens.
And now that you know about these 13 genius ways to hide your sex toys, you can say goodbye to awkward run-ins, or embarrassing conversations. Instead, you can enjoy your sexy time peacefully and sensationally!
For related topics, check out: