LELO Sex Position of the Week: The Inverse Dip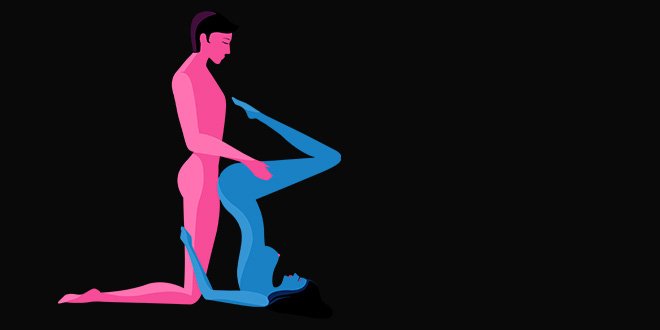 Position Difficulty: 4/5
Pros
It's healthy to look at things from a different perspective every now and then. The Inverse Dip position certainly offers that. This is a position without inhibition, and with a little patience (see below in cons) it offers the receiver a long view up their own body and their partner's, while thrusting partner can take complete control and get an incredibly explicit view of . For the same reasons, this position is awesome for anal sex, and allows much more physicality and roughness than a lot of more conventional anal positions. Also, anytime you're having sex with your feet above your head, it tends to feel… naughtier somehow, right?
Cons
Where it falls a little short, as you can probably see if the logistics of the position in the pictured, is that the angle of penetration can be a little unusual, and takes a bit of that patience we mentioned earlier to get it just right. It's got the 4/5 difficulty rating not because it's a particularly athletic position – it's not really: with a pillow under the receiver's shoulders it's actually pretty comfortable, depending on how vigorous the sex is – but because of that angle. Depending on several different factors, he might have to lean her hips higher or lower, or take a knee. This position might lead into a standing pile driver type arrangement. Explore your options: that's what makes this such a fun position. You have to feel your way through it.
---
Donna is a Volonté contributor and freelancer who lives in San Francisco with her understanding husband and not-so-understanding teenage sons. Her work has been published in The Journal of Sexology and she is currently writing a book on love languages.