While many people are comfortable with the idea of using sex toys for masturbation, not all have experienced the exciting twist that bringing sex toys into coupled play can have. Rather than replacing a partner, sex toys can serve as a way to bring you even closer in your intimate moments.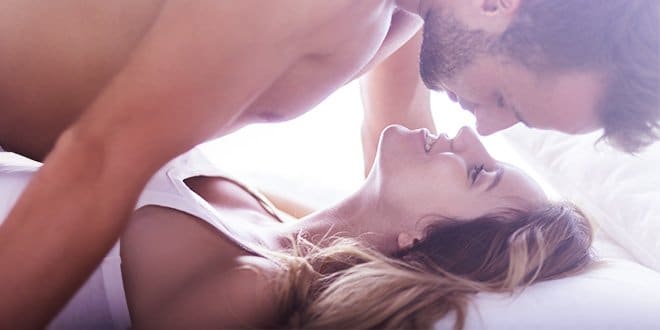 Leave Your Hang Ups at the Door
To address first are your (or your partner's) reasons to be uncomfortable bringing sex toys into the bedroom while with each other. Some people can feel as though it is a negative reflection on their skills as a lover, as if their partner shouldn't 'need' a sex toy feel pleasure or achieve orgasm during sex.
Sexuality educator and host of the Showtime original series, Sex with Sunny Megatron, Sunny Megatron points out: "Couples' massagers can level the playing field in terms of pleasure level during intercourse.   The majority of women require some clitoral stimulation to reach orgasm. A wearable massager that gives hands free clitoral stimulation during penetration makes it much more likely for both partners to reach climax." Most people don't 'need' a partner to achieve climax and indeed while having sex fulfills our needs for emotional intimacy and sexual release, we can't forget that the actual reason we are having sex with our partner is because we want to―we want to feel pleasure and we want to share please with each other.
This is also a helpful reminder to those who feel self-conscious to have their partner watch them do things that might otherwise be unseen by anyone else. While masturbation is an expression of our personal sexuality and it can be valued for our 'me-time,' letting your partner share in the pleasure you can give yourself is the best way to let them have a better understanding of your own desires and needs when it comes to orgasming.
A Desire Shared…
We can truly not think of a better explanation of why you should be opening up the lines of communication about sex than this one, from Sex and Relationship Educator Jacqueline Hellyer: "To have a good sex life within a relationship a couple have to be good at talking about sex. I like to encourage couples to think of their sex life as a mutual hobby – something you do for pleasure in your leisure time – and that means talking about your 'hobby', discussing possibilities, being creative."
To tackle this conversation, we do admit that it may be affected by how you currently tend to discuss things. Some people may find it unrealistic in their situation to broach this topic outside of the bedroom, which is perfectly alright. It could be as easy as grabbing your toy from the bedside drawer and warming yourself up, but if you think that your partner may not be immediately comfortable with your suggestion, it may be best to bring it up when you are talking (ie not about to start having sex or having just finished). That way, they will not see your suggestion of bringing a toy into play as an indication that you're unhappy with the sex as it currently is.
Explore (All) the New Possibilities
After you've opened up to your partner about your reasons for wanting to incorporate a pleasure object into your sex life, you can start the fun process of talking about what kind of sex to you'd both like to start experimenting with. You could begin with mutual masturbation, but that's not the only way to bring powered pleasure to play time.
For instance, a small handheld clitoral massager or G-spot massager can be an excellent addition to foreplay or sex that let your partner lend you an extra sensation in addition to their own kisses and caresses. HUGO™ can be worn for during lovemaking to offer intense prostate sensations while you get on top and control the vibrations with the SenseMotion™ remote.
Then, of course, there are couples' massagers. Two main types are couple's rings, which are worn on the shaft of the penis and offer external vibrations to the receiving partner, and wearable couples' massagers which are petite-yet-powerful little vibes that are worn within the vagina during sex. They have an external and internal arm, one or more of which provide vibrations to the clitoris and G-spot, as well as a more fulfilling sensation for both partners.
"Sex can become stale between couples that get used to the same sexual routine. Variety and novelty is one way to keep things fresh and exciting. Using a couples vibrator is an easy way to put the spark back between the sheets, Most sex toys are geared for one partner's use at a time which can sometimes make the pleasure seem very one sided. Because couples massagers allow both partners to engage and receive pleasure at the same time, they can make partners feel more connected. More connectedness and intimacy can turn average sex into a mind-blowing experience," says Sunny Megatron.
Conclusion
Ultimately, anything that lets you enjoy your pleasure, and that of your partner, will only seek to assist in further understanding of each other, and enjoyment of your passions with each other. Often, it seems, many couples find that this can have profound effect on their relationship in general, says Award winning sex educator and host of Sex Out Loud, Tristan Taormino:
"Using couples sex toys, like the TIANI™ 24k, helps couples open up to each other. Once a couple has the confidence to introduce toys into their sex life, a world of possibilities opens up. With TIANI, designed for use during intercourse, they can begin to create opportunities for mutual pleasure. This can build trust and intimacy which can spill over into other aspects of the relationship."
[related_article id="12103″ size="full" target="_blank"]