So, you're somewhat of a bondage enthusiast, are you? All things that pertain to binding/being bound, tied up, and restrained piques your interest! On the hunt for new and exhilarating ways to practice bondage? Great! We're here to tell you all about mummification bondage. Heard of it?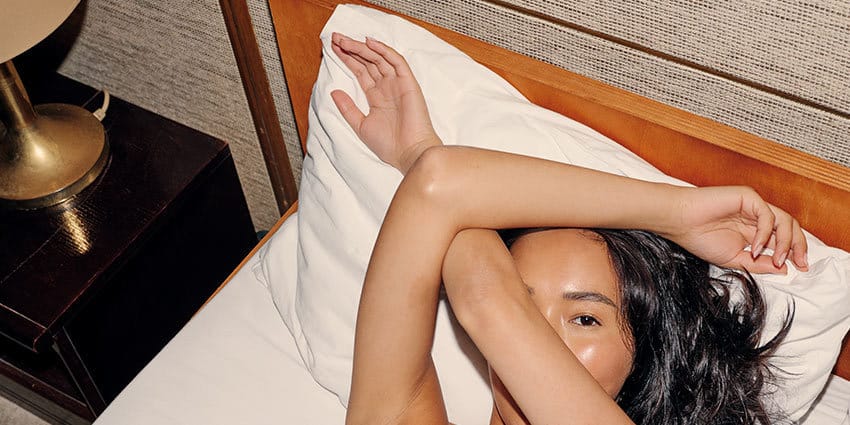 Even if you're a newbie to the world of bondage, this thrilling bondage position is something you're definitely going to want to know about. Full disclosure however: we don't recommend beginners in bondage to give it a go, as it really does entail complete immobilisation. Either way, learning is fun, so let's begin…
What is Mummification Bondage?
Mummification bondage is an advanced bondage practice that leaves the bound individual completely immobile. It's performed using either plastic wrap, vet wrap, duct tape, pantyhose, plaster casting, bodybags, straitjackets, rope, or other materials, often in combination. And because mummification bondage can be enjoyed with a number of different materials, there is wiggle room to practice it in a way that suits your style, needs, and desires.
Why the name 'mummification bondage'? Well, essentially, the bound individual will resemble that of a mummy, near-fully covered, wrapped in one or more materials. Oftentimes, the breasts and/or genitals are left exposed, but sometimes the entire body can be wrapped for a kind of extreme sensory deprivation. Some who engage in mummification bondage may also include an element of sensation play, such as added stimuli to the bound individual, whether it be soft and sensual or of a sadomasochistic nature (i.e. a form of pain). 
Needless to say, this kind of bondage is intense, and requires many safety precautions to be in place before attempting it.
Mummification Bondage: What's the Appeal?
For the individual being bound, it creates a cocoon or incubated feeling, which reduces them to a feeling of helplessness and vulnerability. And while these feelings are often seen in a negative light, this tight embrace can actually evoke feelings of closeness and safety for some (only when experienced with someone they trust, of course). 
It's also entirely satisfying for some to give up ultimate control. Participating in mummification bondage can induce feelings of relaxation and peace for the one being bound, almost like being in a kind of subspace. Then there's the aspect of feeling as though one is encapsulated in a coffin, or perhaps holding the notion that one is immortal.
Being bound in this way can also evoke sexual arousal for the mummy, which could be linked to claustrophilia (a desire to be confined in an enclosed space). And/or it could appeal to different fetishes that both individuals have, such as rubber, latex, bodybags, spandex, PVC, or gas masks. 
Additionally, the power exchange in itself is a big factor when it comes to mummification bondage. The one who binds will assume complete power, while the bound individual may thrive in the 'fight' of trying to get out, like a personal challenge. 
Having said all of this, it's of utmost importance, whether you're practicing mummification bondage, or you're merely interested in it, to know that this act is always consensual. Both partners must discuss their scene beforehand, and reach an agreement to where both parties are comfortable, safe, and actively satisfied. 
Keeping Safe During Mummification Bondage
By now it's evident that mummification bondage is an extreme form of bondage that should only be practiced between two consenting adults, both of whom have done their research thoroughly, have had a considerable amount of prior experience with bondage, and who have received training from someone experienced.
But even for the extremely well-versed bondage enthusiasts, mummification bondage can be dangerous and does impose a number of risks. 
In order to keep safe and ensure a positive experience, here are some safety guidelines that must be considered:
The mummy needs breathing holes, not just for the nose and mouth, but for some parts of the skin too, as locking all pores can cause extreme rashes or even brain damage.

Binding too tight will restrict blood flow, which could lead to circulatory problems, brain damage, and possibly a comatose state.

Mummification can increase the body's temperature, which is a safety hazard.

Unbinding materials can be difficult—it's hard to undo cling wrap, and dangerous to cut through plaster.

Bound individuals must be able to signify that they're uncomfortable or would like to be released.

Once the mummy has been unwrapped, their body temperature will decrease considerably, so having warm blankets on-hand is essential.

Knowledge on how to un-mummy the bound individual quickly and effectively needs to be perfected for ultimate safety.

Items or props used to un-mummy the bound individual need to be on-hand and easily reachable for quick access and removal of material.

Always have a discussion prior to mummification bondage not only to set guidelines and rules for ultimate satisfaction, but also to find out if the bound individual has any allergies to certain materials or if they have any concerns regarding claustrophobia.

Mummies often cannot keep their balance, so they should be positioned in such a way that their body is supported.

Have water nearby, as mummification bondage can cause dehydration due to excessive sweating. 
Take note that these guidelines are merely for educational purposes and are not enough for newbies (and even experienced bondage players) to follow should they be intrigued to engage in mummification bondage. 
There is a lot more research to be done, mental, emotional, and physical concerns need to be considered, and hands-on practicing with a professional is strongly advised.