You're here because either you're intrigued by the notion of bondage, or BDSM in general, or you're looking for a few bits and pieces to spice up your bedroom fun. Either way, you're in for quite a treat! 
For starters, bondage isn't just about using a rope or handcuffs to restrain your partner (or yourself, known as 'self-bondage'). And a warning: once you learn about the different kinds of bondage toys listed here, your sex life may never be the same again… exciting times ahead, right?
But let's start off with the basics…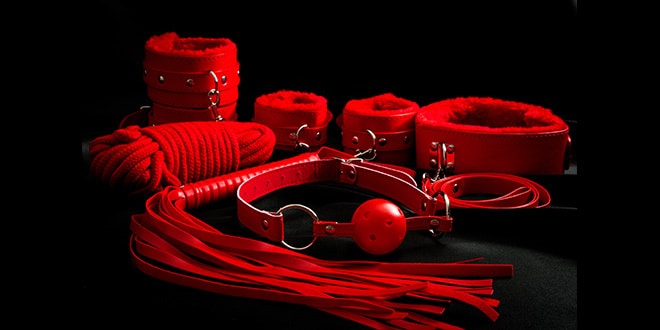 What is Bondage?
Bondage is the B in 'BDSM', with the rest of the acronyms being Dominance, Sadism, and Masochism. Bondage is the practice of tying, binding, or restraining a partner or oneself for erotic, sexual, somatosensory, or aesthetic pleasure. 
It is a consensual act whereby one person is in submission and physically restraint with the use of various toys, props, and materials. 
It's sometimes enjoyed simply as-is without any further erotically-charged activities, and other times, used as a form of foreplay before or after engaging in other sexual activity. 
Why Do People Gain Sexual Satisfaction from Bondage?
Participating in BDSM practices is not simply about the act alone. It is a power dynamic between two individuals—one of which gains pleasure from the feeling of helplessness and full submission to another, while the other holds control and visual pleasure of seeing their partner constrained.
Both partners have their own reasons as to why they enjoy the BDSM lifestyle, respectively, and this could be for a number of reasons. 
Perhaps one partner's everyday life is fuelled with decision-making and they are in a high-powered position. This individual may gain pleasure from giving up control as a means to having what they 'can't have'. 
This is simply one example, and reasons vary from couple to couple, and individual to individual. 
Types of Bondage Toys
Whether you're brand spanking new to the world of bondage, or you're looking for your next muse, the chances of finding something that tickles your fancy in this list, are high.
1. Pleasure Tape
Mostly made of latex, pleasure tape doesn't have any adhesive but instead is used to restrain or gag a submissive without getting stuck to hair or skin. Using this kind of bondage material can have minimal risk when applied flat on the body, but this technique is usually only done well by experienced dominants. For newbies, you can run the risk of having the tape twisted, causing a loss of circulation.
2. Soft Bondage Rope
Choose your poison with rope, be it a braided cotton rope, polypropylene, jute, or nylon. Each material gives off a different sensation, with braided cotton being the cheapest and most popular material you'll find, as it is lightweight and easier to grab.
3. BOA Pleasure Ties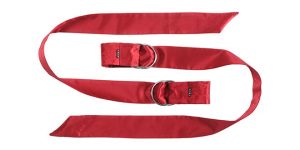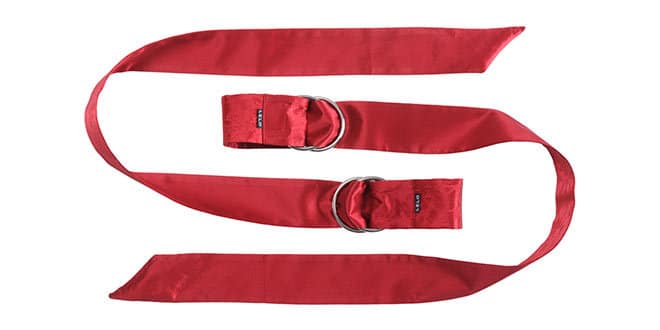 Getting tied up has never been more luxurious. With the BOA Pleasure Ties, you've got pouches of freshwater pearls on one end and nickel-free metal on the other. Made with 100 percent pure silk, you can use these ties on the bedpost, table legs, chairs… or whatever else you've got your eye on.
4. Lined Collar and Lead Set
Worn around the neck, a collar puts the wearer in a state of submission resembling that of a slave. Usually this bondage toy is made of black leather with metal D-rings so that a leash can be attached. By doing so, the dominant can refer to the submissive as their 'pet'.
5. SUTRA Chainlink Cuffs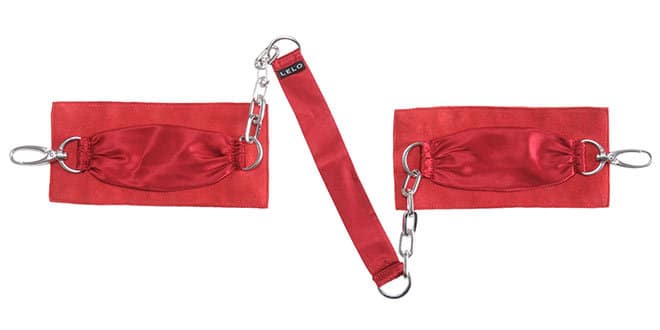 For light bondage fun, SUTRA Chainlink Cuffs are a sensual twist of sensuality meets surrender. They're made of 100 percent silk, have soft sheepskin suede and a nickel-free metal chain, and is an added luxury to any lighthearted bondage adventure. 
6. Bondage Thigh Restraint Sling
A bondage thigh restraint sling has a strong resemblance to a sex swing, but is an easier item to use, and thus a good idea for beginners. It's an adjustable piece of equipment that is put around the back of the neck and has two straps that fit around the thighs. In this way, one's legs are spread for erotic fun.
7. ETHEREA Silk Cuffs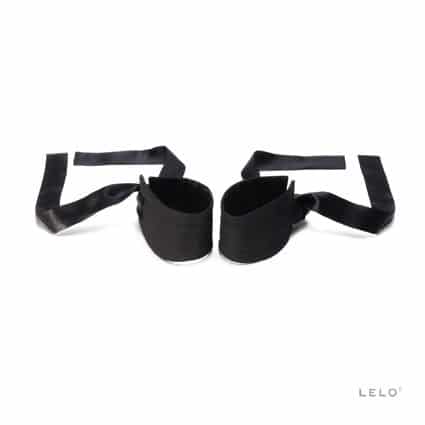 A playful mix of silk and suede, the ETHEREA Silk Cuffs are erotic and luxurious. Made to restrict everything but pleasure, you're looking at two delicately-woven silk restraints that can be tied around ankles or wrists. Get them in black, purple, or red, and enjoy the feel of 100 percent pure silk ribbons on your naked skin.
8. Spreader Bar and Cuffs
For the more advanced bondage players, why not add a spreader bar to your cuff play? For sheer control and absolute submission, a spreader bar can be made out of metal or wood, and is an intense journey for both partners. With one's legs spread, there is unimpeded access to the submissive's most intimate parts. 
9. Sex Swing
Want to get even more tangled up in the bondage scene? What's cool about a sex swing is that it can aid in all kinds of foreplay fun, not only bondage. And sure it sounds intimidating, but trying it with a trusted partner could equal a lot of erotically-charged fun or, at the very least, a giggle or two.
10. Nipple Clamps
A different kind of bondage toy that is used on the nipples, is a nipple clamp. This toy works by pinching the nipples and restricting the flow of blood to the area. This kind of bondage experience can be made more intense by adding weights or tying a nipple clamp chain to a firm surface, causing a jolting pain whenever the wearer moves.
11. Chastity Cock Cage
Forget tying wrists and ankles, a chastity cock cage is a more intense form of bondage whereby a male's genitals are 'locked up' in order to prevent any erotic acts, such as masturbation or sexual activity. If a lock and key chastity cage is used, the dominant will hold the key and have the submissive wear the cage for as long as he or she sees fit, creating ultimate sexual control.
12. Bondage Hood
A bondage hood is an item that's fetishised for its rubber, latex, PVC, spandex or leather material. It's a full-faced hood that's worn by the submissive in such a way that their senses are minimized with the possibility of impeded breathing and disorientation. This bondage item restrains the submissive while giving off the feeling of depersonalisation. 
13. Ball Gag
A ball gag gives the wearer a feeling of restrictiveness and helplessness while being unable to speak or close the mouth. It's an attractive bondage toy in that it has a visual appeal, and the sound of the submissive screaming and moaning can be sexy and arousing to some. 
14. Armbinder
Taking bondage play to a more advanced level, armbinders have the ability to bind both arms to the wearer's body. One of the more popular types of armbinder is the monoglove, which is used by putting the arms behind the back and restraining the wearer from the fingertips to the elbows. This bondage item is usually made of leather or latex, and is tightened using eyelets, zippers, straps, or buckles. 
15. Neck to Wrist Restraints
This bondage toy is a good choice for beginners as it is relatively less intimidating than some of the other toys. This Y-shaped item works by keeping one's arms restrained via a collar that goes around the neck, and is a great way to implement orgasm control and restricted movement.
16. Bondage Wheel
A strong wheel that's usually made of metal, a bondage wheel comes with cuffs to restrain the submissive's wrists and ankles. The wheel can then be spun and manipulated in such a way that the sub's body can be teased and played with from various angles.
17. Saint Andrew's Cross 
Similar to a bondage wheel, a Saint Andrew's Cross is a piece of bondage furniture that is usually attached firmly to a wall. It has accompanying points to tie the ankles, wrists, and waist, and when the submissive is constrained, they will be in a spreadeagle position. For more sexual teasing, the submissive is restrained with their back to the cross, and for added sensory deprivation and oftentimes, whipping, the submissive will have their front facing the cross. 
18. Bondage Belts
This bondage toy is used as a platform for anchoring other material, such as cuffs or rope. The belt contains a number of D-rings or other attachment points so that various parts of the body can be restrained at once. 
Out of these 18 bondage toys, props and items, have you found your pleasure, treasure? Best hold all your plans 'cos you're about to get tied up!
For related topics, check out: