You may be familiar with the term 'bondage' and other acts that belong to the BDSM lifestyle, and you may well love the idea of practicing some of these erotic acts. 
But finding a play partner, or being with someone who is as open-minded and intrigued as you are, may be difficult.
Fear not, as you can actually enjoy a session of bondage solo. That is, self-bondage. And while this kind of practice can prove to be more difficult, it is something that can be enjoyed… at your own risk.
In actuality, the level of difficulty makes it somewhat more appealing for some.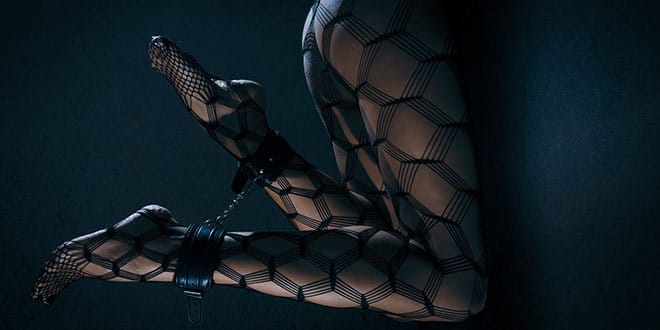 What is Self-Bondage?
This is the act of using restraints on oneself in an erotic and sexual context. It's a practice that requires well-mastered techniques as the more restricted one becomes, the more they will need a reliable release mechanism. 
This is mostly because they do not have anyone to help them should they find themselves… in a bind. And, all jokes aside, some forms of self-bondage – such as auto erotic asphyxiation – can (and have) lead to death.
The Two Types of Self-Bondage
1. Sensual Self-Bondage
This self-bondage entails being able to escape restraints immediately and at any time. It means that the keys or tools needed to loosen or free the restraints is within reach, and is a way for one to simply experience the feeling of being restraint without added obstacles.
2. Strict Self-Bondage
A more dangerous type of self-bondage, strict self-bondage is when the means to escape is not available, and there is a release mechanism in place that is self-activating after a period of time. This type of self-bondage creates a bigger sense of helplessness.
What is a Release Mechanism?
A release mechanism is something that's used to free someone who is in bondage. It pertains to strict self-bondage and is a tool that's activated after a certain amount of time. 
There are several kinds of release mechanisms, the most popular being:
Ice Cubes or Ice Locks
Using an ice cube means placing a key in water and then freezing it. Once the ice cube has melted, the person has access to the key to free him or herself. 
An ice lock can be used whereby the key and the lock have been frozen together, making escape possible only once both have melted.
Combination Locks
This release mechanism is about either mastering the ability to figure out the code for release, or having the means and mobility to enter the designated combination.
Salt or Sugar Locks
This is when a water-soluble substance is used to block parts of the lock. Once the substance has been dissolved, the person is able to use the key and lock to free themselves.
There are also various kinds of emergency release mechanisms which may come with a few unpleasant side effects. These include:
Backup Key Storage
A backup key can be stored in some form of liquid, like paint or oil, and when the barrel or container is spilled, the key will become available.
A Foul-Tasting Drink
This is to create an undesirable drink or putting urine in a cup and having to drink the contents in order to have access to the key.
Phone a Friend
This is to arrange for someone you trust to visit you at a certain time to help in case of emergency. Or, a mobile phone can be placed somewhere accessible and one can make a phone call for help, if need be. 
Different Materials Used During Self-Bondage
Of course there are more than 8 different kinds of material that can be used during self-bondage, but these are the most popular.
1. Rope
Rope can be used as a body harness, or used to tie certain body parts. For some, the feeling of rope against their skin is blissful, but can definitely cause injuries to the skin and body if not used correctly.
2. Chains
Chains are used as a weight and also favourable for those who enjoy the sound that it makes. Chains are more difficult to get through than rope.
3. Plastic Wrap
Plastic wrap creates the inability to breathe, which will cause sweating and suffocation. If done in layers, it can prove to be extremely difficult to remove.
4. Tape
A favourite is duct tape, and is used not only to create a restraint but also causes the skin to tighten, which then gives off a feeling of pain for those who seek it.
5. Handcuffs
Handcuffs are easy to find, and for metal lovers, create a nice feeling against the skin. The risk of using handcuffs is the possible cutting off of circulation.
6. Leather
Leather looks great but can be an expensive choice when it comes to using it as a restraint.
7. Latex
Latex is a less intimidating form of restriction, but gives one a feeling of tightness, like wearing a latex bodysuit.
8. Rubber
Rubber, like latex, is used in a similar fashion. It's a more durable material but more expensive than latex.
Tips and Advice for Safe Self-Bondage
Prepare your tools beforehand:

This is because you'll want to conserve your energy for when you need to untangle and release. You're also going to want to prepare the length of your ropes beforehand as not to deal with metres of rope whilst in the middle of your self-

bondage session

.

Make sure to accurately get your measurements for each area of the body, and you can even colour code them to know which is which.
Have all of your tools on-hand:

Should you need something, or in order to prevent accidents, having all of your equipment laid out in front of you is the smartest thing you can do.

Always have a safety knife: One of the most important tools you should always have, is a safety knife. It's extremely easy to run into an accident, like tying the rope too tight or having the rope tangle, and your safety is number one. Alternatively, you can consider having safety scissors, which may be a better option than a knife as to avoid hurting yourself whilst in a panic or under pressure.
Testing your methods:

One way to gauge how your restraints will feel, is to try them whilst sleeping. If you find that you're uncomfortable or that it's difficult to breathe, you'll have a safety knife on-hand for easy release.

Pay extra attention to neck attire:

You don't want to do anything that'll stop your breathing and bring blood flow to a halt. Do your research and make sure that the material you want to use doesn't have the capacity to become tighter unexpectedly. 

Additionally, you should avoid using rope around your neck, as mentioned earlier – auto erotic asphyxiation is not something you want to be doing alone.
Be aware of existing health conditions:

Even the smallest of ailments can have a huge impact on self-bondage. Having a blocked nose, for example, will significantly reduce your ability to breathe while practicing self-

bondage

, and avoid using gags if you have an uneasy stomach.

Additionally, make sure that your blood pressure is of good standing before practicing any self-bondage techniques.
Prepare your space:

Having a full length mirror and practicing self-bondage in a room with good lighting will make your session easier and safer. Weaving a hardness can be very tricky without these things to help you.

Start off small:

If you're a newbie when it comes to self-bondage and

bondage play in general

, don't overestimate your abilities. You don't want to jump straight into the deep end. Start off small by introducing yourself to aspects of bondage. This could be wearing fetish outfits or using plugs.
Fitness level:

When the clock is ticking, you'll need to be physically strong and fit enough to take care of yourself. Having great reflexes too helps in case of an accident, such as falling.

Be well-hydrated:

Feeling dehydrated is an awful feeling, so when you add that to your self-bondage session, things will only get worse. On the other hand, you do not want to drink too much water, as needing the toilet during playtime is also undesirable.
And when it comes to self-bondage techniques, we recommend you doing your own research as not to condone any dangerous activities. Remember that this kind of BDSM practice comes with a big slew of life-threatening risks, and if you're interested in trying it, do so with absolute caution, precision, and safety.
Check this out: 7 New Role Play Ideas that Incorporate Bondage