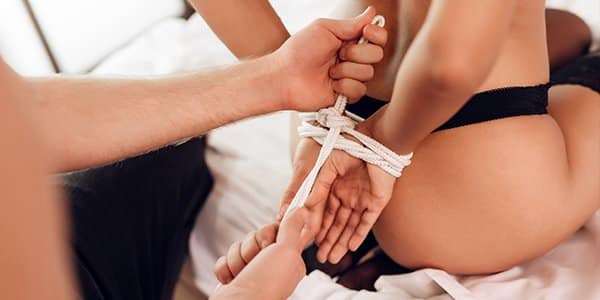 You've probably seen bondage knots in a lot more places than you think, as over the last few decades it has crept its wicked little way into many parts of pop culture.
The word itself dates back several hundred years, but Rihanna, American Pie and even Friends – to name just a few – have helped catapult this naughty little notion back into center stage.
So, What is Bondage?
Bondage is the idea of achieving sexual gratification through the act of being restrained. It requires one person to be dominant and the other submissive, but these roles can change as often as the 'players' desire.
Although it does represent the 'B' in BDSM, it differs from BDSM as it doesn't involve sadomasochism – that is to say with bondage you can have the gain but without the pain.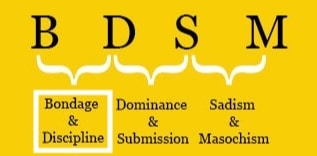 How Do You Do It?
The methods of restraint used come in all shapes and sizes and vary from being lightly handcuffed to the bedpost to dangling upside down from chains hooked into the ceiling.
Handcuffs, blindfolds and teasers are some great beginner's bondage toys and it is this broad scope of simple options that have enabled the idea to become more mainstream.
Who Do You Do it With?
While we're not ruling it out the chance that you might can find an interested party at a bar by rocking up to a stranger and asking if they want to help you earn your knot-tying badge, but bondage hookups tend to take place at established clubs and meetings between mutual acquaintances who've played the game before, and who are more likely to be open to the idea of your alternative toy box.
To answer the question though, bondage knots are most often done with someone you know well and trust; if not a partner, then at least someone with good references among the like-minded community.
And Where?
Locations for sex are pretty versatile as all you really need is a couple of people and hopefully a little bit of gravity, and even the latter isn't a total deal breaker. Locations for bondage on the other hand are slightly more limited.
It really depends on the kind of bondage you're going in for, as for the lighter, more beginner-friendly stuff, any room in your house combined with a little imagination will do just fine.
If you decide to move on to the more risqué material – think rotating wheels, St. Andrew's crosses or anything chain link – you may need to branch out a little, and unless you have a seriously big bedroom you may need to ask the internet for local bondage clubs and communities which can point you in the right direction.
Which, come to think of it, might be something like go down to the basement and turn left…
I'm Intrigued… Please Continue
In the great words of Andy Dufresne, if you've come this far, maybe you're willing to come a little farther, in which case you'll want to consider a few additional extras that will help make sure your bondage session runs as smoothly as possible.
Back-Up Plan
So you've chained your lover to the bed and enjoyed an awesome session together, and all you want to do now is collapse into each others' arms and bask in your collective glory. But, wait you can't find the key to the cuffs.
This is just one scenario where a Plan B – in this case having a spare set of keys – is essential because being chained to an inanimate object long after the fun is finished is no picnic.
This is also the reason why you might not want to use your favorite tie, dressing gown cord or silk stockings as the restraints, as there is always the possibility that you will have to cut your partner loose afterwards.
Take it Slow
A large part of bondage is sensory deprivation, so it's probably not a surprise that it can get quite intense. It is therefore a good idea to control the level of intensity to suit those playing.
Don't bite off more than you can chew – do we mean literally or figuratively? – by taking things too fast at the beginning, as doing this runs the risk of you not enjoying the experience as much as you should – which would be a shame.
The slow and methodical teasing, as well as the savoring of the sensations, are some of the main attractions to bondage, so make sure you allocate enough time so as not to miss out on anything.
Respect Your Partner
This applies to all sexual situations, but bear with us.
There are many variations on bondage that run the gamut from tickling all the way to torture so staying respectful to the stuff your partner is in to is key and makes your choice of accomplice all the more important.
Bondage is about exploration, not humiliation – that is something very different – and in order for both people to enjoy it, you both have to remain faithful to the drama that makes this experience so much more intense – while also not just talking about boundaries and safe words, but using them when needed.
While it's not everyone's cup of tea, bondage is fast becoming one of the most popular ways lovers either unleash a hidden wild side or surrender control through submission. Often both.
If nothing else, it's a kinky new way to keep your lover guessing and when it comes to adding strings to your bedroom bow, what more can any of us ask for?
[related_article id="12326″ float="right" size="full" target="_blank"]