With unwavering trust, those who are in a BDSM relationship are able to have a physical and emotional connection that is arguably stronger than any other kind of partnership. That's because this kind of dynamic requires an immense amount of faith, respect, and vulnerability.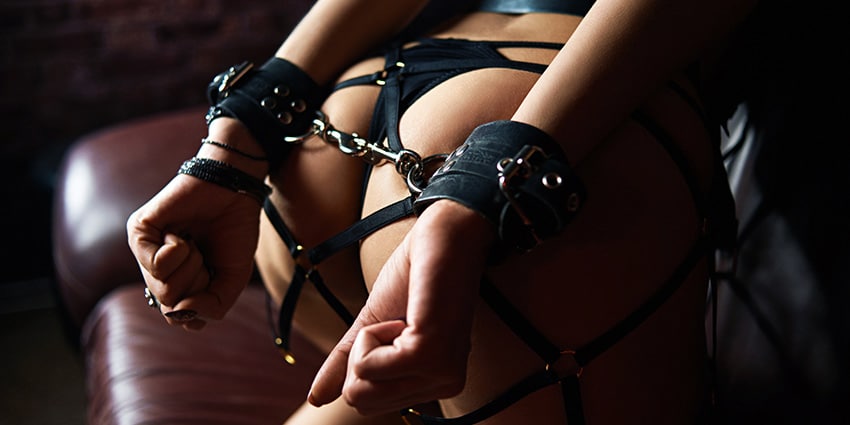 Having said that, partners in a BDSM relationship also have a way of expanding themselves, and feeling unique sensations that can aid in high levels of arousal, bliss, and relationship satisfaction.
So today, we're going to introduce you to a kind of play that's delicious, sensual, and oh so satisfying. Like a mash up of vanilla and kink, we're going to be talking about vibrator bondage. But first, let's do a quick recap of the term: bondage. 
What is bondage in the realm of BDSM? It's the practice of consensually tying up, binding, or restraining a partner for erotic, aesthetic, or somatosensory stimulation. There are a variety of tools that can be used to bind another, such as rope, handcuffs, bondage tape, spreader bars, ball gags, chastity gear, and more. 
A non-negotiable in the practice of bondage is two consenting adults who are safe and sane (known in the BDSM community as 'Safe, Sane, Consensual'). Incorporating this kind of play requires excellent communication before, during, and after, as well as implementing a safe word, aftercare, and knowing each other's likes and limits beforehand. With all of these aspects, bondage can be intensely erotic and satisfying for both the one binding and the one bound.
But what happens if you add another pleasure product into the mix? Say, a vibrator? Well, it has the power to create a slew of even sexier and satisfying scenes.
What is Vibrator Bondage?
Vibrator bondage is when one partner is bound while the other uses a vibrator on them to induce a mixture of loss of power and intense sensation. 
For example, one partner may have their hands cuffed behind their back and their legs spread apart using a spreader bar. In this scenario, the one doing the binding (the dominant) will have uninterrupted access to the sweet spots of their partner (the submissive). They will then be able to tease and please their bound lover using a vibrator, giving the submissive a wave of different sensations that are both mental and physical. 
The mental aspect of it all includes the power exchange that's in play. The submissive will give up all control, while the dominant assumes full power over them. Note that this power play should always be discussed beforehand, and thus is practiced with consent of both of the submissive and the dominant. Both partners enjoy this kind of power play for a number of reasons, one possibly being the ability to either give up control or take control during play time which is the opposite to what they experience in their daily lives.
The physical aspect of it all includes the sensations that are felt. Some submissives love the way certain materials feel against their skin, or they feel safe when bound. Then, of course, there's the sexual stimulation that's enjoyed with the use of a vibrator. Vibrators alone are sensual, seductive and pleasure-inducing toys, so to couple that with elements of bondage could be considered a dream come true for bondage enthusiasts.
Different Ways to Play with Vibrator Bondage
If you're new to the world of vibrator bondage, and are looking for new ways to play, there are several delicious techniques to experiment. 
One being the more traditional and vanilla way to use a vibrator aka holding it against their clitoris, inserting a dildo or vibrator, using anal vibrators, male masturbators or other pleasure products on a bound submissive until climax is reached. But that's not the only way to experience vibrator bondage…
Some other (and racier) ways to enjoy bondage play can include:
Edging 
Edging is the process of bringing yourself or your partner close to orgasm, then halting all sources of pleasure. To practice edging during vibrator bondage, you could use your favourite toy on your partner, and watch their body squirm in delight. When either you notice or they tell you that they're close to climax, you'll remove the vibrator as to delay their orgasm. Then, you'll continue playing once again, repeating the process as many times as desired. 
While edging may seem slightly cruel, there is actually a method to this madness. Implementing edging is like a slow and carnal build-up of arousal. And when one finally does climax, it'll be simply earth-shattering! Another bonus to edging is the fact that it can help prevent premature ejaculation in men and it has the power to increase overall sexual stamina. 
Orgasm Denial
Orgasm denial is similar to edging, except no orgasm occurs at all. In other words, a dominant will engage in vibrator bondage with their submissive until they're close to orgasm, then stop all sources of pleasure as many times as agreed upon, without ever allowing their submissive to climax. Examples of how orgasm denial can be practiced could be either by teasing or using chastity devices.
Orgasm denial is an intense form of power play. Some find it sexually exciting as it leaves them in a high state of arousal while experiencing control from their dominant. Orgasm denial could be used as a form of punishment or even reward for submissives, depending on what's been agreed upon by both partners.
Post-Orgasm Torture 
On the other end of the spectrum, there's something called post-orgasm torture. So, instead of controlling or denying a submissive to orgasm, a dominant will bring their sub to climax and then continue the stimulation. This will leave the submissive with huge amounts of vulnerability, as one's erogenous zones are extremely sensitive after orgasm. 
Post-orgasm torture can be experienced during vibrator bondage, as a dominant binds their submissive as a means to control them and diminish or remove their ability to move during the stimulation. This kind of vibrator bondage can be used as a form of punishment on submissives, but could also be used as a means to intensify stimulation to gain momentum once again. 
Post-orgasm torture is also mentally stimulating, as one may be perplexed as to why they loved stimulation before orgasm, yet actively felt uncomfortable afterwards, even though it was this very stimulation that drove them to orgasm in the first place.
Because there are different ways to experiment with vibrator bondage, it may just be a fun activity to enjoy with a trusted partner. Edging, for example, can be entirely arousing with or without the added element of bondage. In fact, it could even be enjoyed during solo play! Sexy times ahead? Indeed!