It may sound like a nightmare, but actually, engaging in orgasm denial (otherwise known as erotic sexual denial) is one of the sexiest ways to build and maintain arousal! And when one finally does climax, well… it's definitely something you'll continue to crave.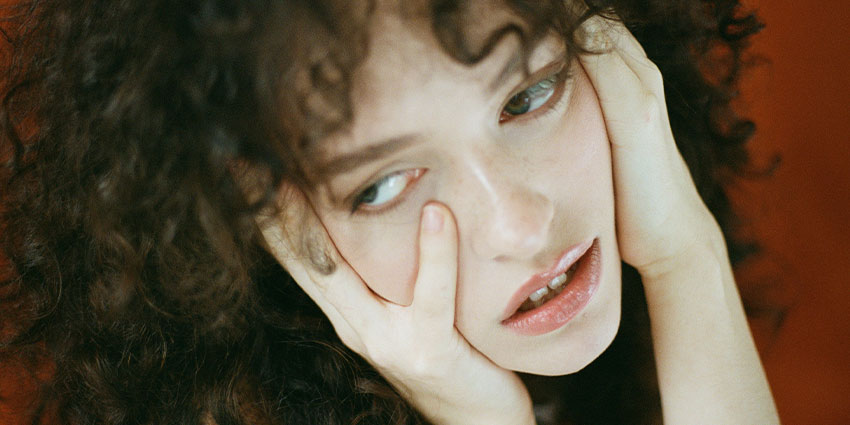 It's a practice that can be done solo or with a partner, and can be enjoyed by anyone of any gender or sexual orientation. 
Orgasm denial is most common in the BDSM community. But that doesn't mean that those with an adventurous or inquisitive streak shouldn't give it a go!
Let's dive right in…
What is Orgasm Denial?
Orgasm denial often takes place between two partners who identify as either a dominant or a submissive, respectively. 
Within this dynamic, the dominant will bring the submissive as close to orgasm as possible, and then halt the source of pleasure or change the way in which they sexually stimulate their sub. 
During this kind of play, the intensity is the most important factor. The slow winded build-up of stimulation and experiencing heightened pleasure is what it's about, not orgasm. But if and when an orgasm does occur, it'll often be much stronger and intense. 
There are three main types of orgasm denial. They are:
Complete denial

: This is when no orgasm is experienced at all

Partial denial

: This is a prolonged period of sexual stimulation where the sub can only climax when given permission from their dominant

Ruined orgasm

: When one is extremely close to climax, the source of pleasure stops or changes
Why is Orgasm Denial so Appealing?
Orgasm denial is appealing for both the dominant and the submissive. And during this scene, there's an erotic power play in motion. 
Then, in a sexy turn of events, the dominant can climax as many times as they like, which can intensify the experience. It's almost like a taunt or form of control over the submissive. 
For the submissive, orgasm denial offers different kinds of pleasure for both men and women. 
For men, it's a way to prolong sexual excitement. This is because it takes into account the refractory period. So, instead of a man achieving orgasm immediately, and then experiencing sleepiness or lack of arousal, they can writhe in sexual stimulation, extending the fun. 
Orgasm denial is also a playful tool to train a man to control release, which could aid in less premature ejaculation. During the experience, a man's level of testosterone and sensitivity will increase, which can enhance his sex drive and lead to more powerful orgasms.
For women, orgasm denial is like a delayed period of blissful foreplay. It's no secret that many women need a bit of foreplay to become more comfortable, heighten arousal, and increase sensitivity. So instead of going for penetrative acts, a woman can enjoy the process of sexual stimulation as her clitoris becomes more swollen and thus more sensitive. 
3 Ways to Practice Orgasm Denial
Practicing orgasm denial is not simply a one-size-fits-all. We all derive pleasure from different kinds of stimulation, which is why there are different ways to practice orgasm denial.
Regardless, here are three ways you may enjoy orgasm denial:
1. Partial Denial aka Edging
Edging is when sexual stimulation ends or changes just as one is about to orgasm. In this way, a sub won't climax (immediately). Instead, their levels of arousal and pleasure will be prolonged. You can practice edging in a number of different ways, depending on how you or a partner feel the most aroused. For example: clitoral stimulation, prostate massage, blowjobs, rimming, or other kinds of penetration. 
2. Chastity Play
Chastity play is more intense than edging, and is when a dominant has full control over when a submissive orgasms. This could be in a mild way, such as commanding that a partner not touch themselves, or it could be with the use of chastity devices such as genital restraints (cock cages, chastity belts).
3. Orgasm Games
You could turn your orgasm denial play into a game using a variety of techniques. Some examples of orgasm games include:
Code words:

A dominant will choose a code word and the submissive will not be allowed to orgasm until the chosen word has been said

Scheduled orgasm:

Set a date and time, and only then can one reach climax

Reward system:

A dominant can reward their submissive points for "good behaviour" and when a certain amount of points have been reached, a sub can orgasm

Challenges:

Bind your partner and give them permission to orgasm without using their hands
Practicing Orgasm Denial with the Sexual Response Cycle
To enjoy orgasm denial during play time, it'll be helpful to understand the sexual response cycle. Once you know this, you can manipulate your partner into amazing levels of arousal that last for longer than usual.
There are four phases in the sexual response cycle:
Excitement Phase:

This is when one first becomes aroused. Their heart rate will increase, blood will begin to flow to the erogenous zones causing the labia and clitoris to swell and natural lubrication to increase, and the penis will become erect. 

The Plateau Phase:

This is similar to the excitement phase, but in overdrive. Erogenous zones become even more sensitive, and sexual tension continues to rise. For orgasm denial, this is the most important phase. It is during the plateau that one would prolong the source of pleasure. 

The Orgasm Phase:

Once someone has reached their peak, it'll often result in sexual release aka an orgasm. 

The Resolution Phase:

This phase is marked by the end of an orgasm and when the body goes back to its neutral state. During this part of the sexual response cycle, one usually feels satisfied and tired, but also a sense of

intimacy

and well-being. 
For orgasm denial, the first two phases are more important than the last two. And when a dominant knows their sub on a more intimate level, in other words: their pleasure zones, what they like, what they love, it'll make this kind of play even more intense.
So, while you may have initially been quite intimidated by the practice of orgasm denial, it's clear that there are several different ways to enjoy it! And at the end of the day, you or your partner will be left with stronger and more intense orgasms! Sounds like a win.