Did you know that the breasts, or more specifically, the nipples, are a huge erogenous zone? In fact, embracing the nipples activates the same part of the brain as when the vagina, clitoris, and cervix is stimulated.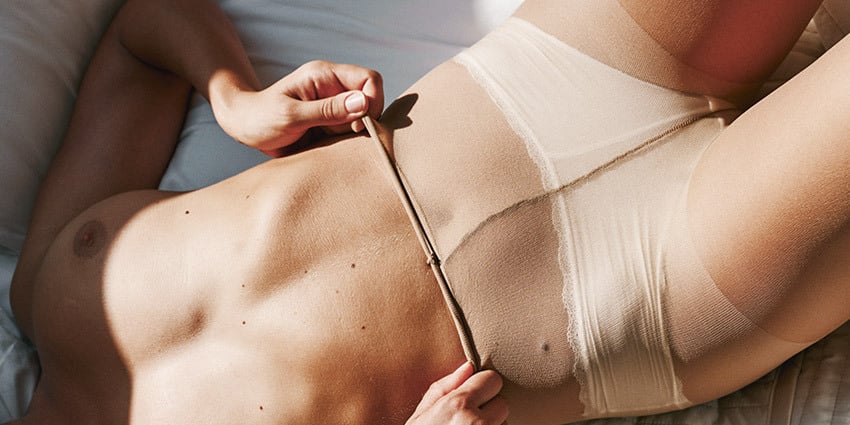 With this information, it's no wonder that nipple play can be highly arousing, with breast bondage contributing to feelings of sexual bliss and euphoria. Of course, this is more true for those who are bondage enthusiasts however.
So, if you're someone intrigued by bondage, and want to give or receive a new kind of sexual satisfaction, breast bondage may just be for you!
What is Breast Bondage?
Breast bondage, sometimes called 'shinju' from the Japanese word, 'pearl', is when material such as rope, ribbon, scraps of leather or cloth is tied around the breasts. This could be over clothing or directly onto the skin. 
Alternatively, there are BDSM props such as chest harnesses that can be used to engage in breast bondage.
When breast bondage is practiced, it lifts and separates the breasts, allowing them to appear more voluptuous. It also stimulates the breasts, which will bring more attention to them, prompting the submissive to be more aware of their submissive state.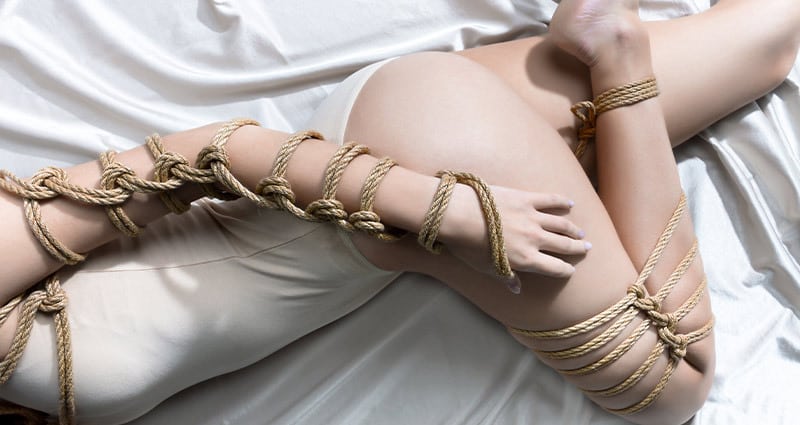 Breast Bondage: What's the Appeal?
There are a number of different reasons why breast bondage is so appealing. For dominants and submissives, breast bondage could evoke a sensational and/or sexual feeling due to its aesthetic. This visual appeal can be arousing and beautiful.
There's also the aspect of the ritual attached to breast bondage. For the dominant, choosing the material and carefully binding a partner's breasts requires slow and craftful skill. The action itself is peaceful, artistic, and pleasing. 
Additionally, the submissive may love the way a certain type of material feels against their breasts or they might love the sensation of being bound, slightly helpless and vulnerable. Perhaps they are seeking a sensual kind of bondage that feels soft yet firm, or they could enjoy the aspect of tightness or pain. For them, breast bondage can be an intimate act. For both partners, it's a power play that compliments kinks and desires that both have, respectively. 
Another reason why some practice breast bondage is because it can be used as a form of punishment or reward within the dominant-submissive relationship. The material used could be tightened as punishment, or the breasts could be adorned using soft and sensual techniques as a reward. 
Then there's the psychological aspect of breasts. As we all know, breasts have life-giving properties and are a sign of femininity. They too have a large number of sensitive nerve endings, making them an erotic zone for pain or pleasure. And because there are no bones in the breasts, it's safer to bind in different ways.
Once bound, the dominant could stimulate the submissive's nipples with kisses, licks, bites, pinches, slaps, or even use breast pumps to induce more blood flow to the area, nipple clamps, or floggers for impact play.
Side note: It is important to note that breast bondage in particular is more so about bringing satisfaction in such a way that doesn't create ultimate restraint.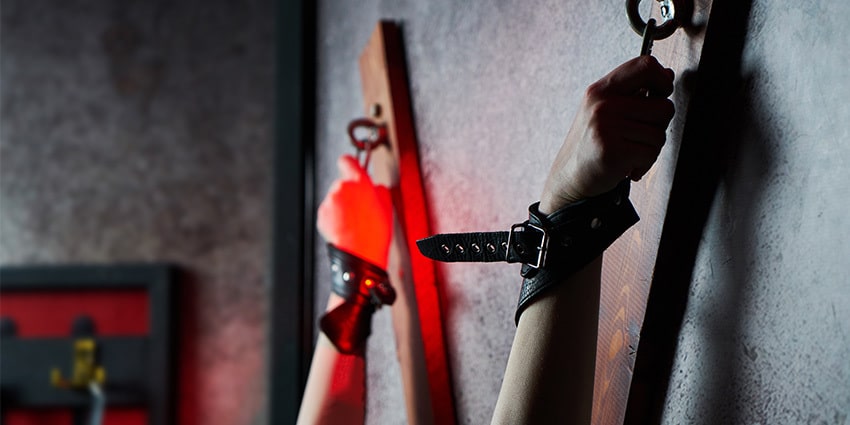 Keeping Safe During Breast Bondage
If you're going for a DIY breast bondage experience, and are using rope, it's best to go for a specialist bondage rope because it's softer than rope you would use elsewhere in the home. 
Regardless, whichever material you use, be sure to keep shears on-hand so that you can cut the material easily and promptly for ultimate safety.
Unlike other, more intense, forms of bondage, breast bondage is slightly safer to practice. But that doesn't mean that it can be practiced without knowledge, technique, and practice. It's also important to know when to release the binds or if the breasts have been bound too tightly, as this can cause nerve damage. 
For example, the breasts should never turn blue or lose feeling. If this occurs, cut the bondage material immediately. Not just that, but if the bound individual feels dizzy, it means that blood circulation has been reduced or cut off to the brain. Breast bondage, or any bondage in fact, should never reach this point. 
It's encouraged to stop breast bondage after 10 minutes, which is more than enough time to enjoy the pleasure and stimulation without causing any discomfort or more serious incidents.
Then, of course, there's the aspect of communicating needs, desires, likes and dislikes with your partner. If breast bondage is not appealing to you, you have no obligation to engage, as consent is an absolute necessity (for any sexual erotic acts). If you are intrigued, then the details of your breast bondage play must be discussed at length, and should also include choosing a safe word. 
For beginners in breast bondage, using the 'finger rule' will be beneficial, as it entails leaving enough space for one finger to enter in between the breast and the material used to bind. It may also be beneficial for newbies to purchase a chest harness for breast bondage as it allows you to get acquainted with the act before attempting to DIY.
The conclusion? Indeed, we're big advocates of different kinds of sexy pleasure and consensual acts. But we're also big advocates of keeping things safe at all times. 
We highly recommend researching various techniques and materials used for breast bondage, and practicing these techniques on non-human objects beforehand. 
There's a lot of fun to be had with this type of BDSM practice, but safe, sane, and consensual is always the name of the game.