There are tons of guides and classes out there on giving blowjobs, but cunnilingus just doesn't get the same amount of attention. This is unfortunate, because around three quarters of vulva owners need clitoral stimulation to consistently orgasm, and oral sex is one highly effective way to provide that. 
Some people are intimidated by eating pussy, but you don't have to go nuts with your technique — it's actually pretty simple. Here are some ways to give great head to someone with a vulva.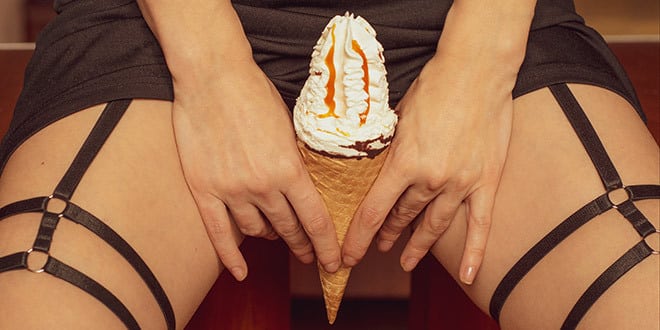 1. Draw out the anticipation
The clitoris gets engorged and becomes more accessible when someone is aroused, so you want to make sure your partner is excited before you even go down there. Spend time playing with your partner's breasts, kissing their inner thighs, and doing other things to build up the anticipation as much as possible. Make them ache for it.
2. Stay on the clitoris
Some people think eating pussy means getting all fancy and putting your tongue in the vagina or all over different parts of the vulva. You can do a little bit of that to tease your partner in the beginning, but for the most part, you're going to want to focus on the clitoris. For those who don't know, the clitoris is right at the top of the vulva, above where the labia meet.
3. Get under the clitoral hood if needed
For most vulvas, at least the top portion of the clitoris is covered by a piece of skin called the clitoral hood. Many people will feel more sensation if you get below the clitoral hood, directly on the clitoris itself. You can usually do this by licking upward from right below the clitoris. However, for others, the clitoris is too sensitive for direct contact, so gauge your partner's reaction. You can even try it both ways and ask what they prefer.
4. Lick in an up-and-down motion
Again, you don't need to get too fancy and recite the alphabet or anything. A good bread-and-butter move is to flick your tongue repeatedly up and down over the clitoris. You can ask your partner if they want you to switch anything up. Otherwise, consistency is key, so just keep doing what you're doing.
5. Engage your hands
If your mouth gets tired, that's no excuse to stop — it's just an invitation to take over with your hands for a bit. Rubbing the clitoral hood from right to left or in circles is usually a good bet. Then, once you've recovered, dive back in. 
You can also get your hands involved while you're going down on someone by putting a finger or two into the vagina and pressing upward. Sometimes, just having the finger in there is enough to intensify the sensation, while some may prefer you move it in a come-hither motion. Find out what your partner prefers and do it.
6. Finish the job
Too often, people think of oral sex as just a warmup for intercourse — something to do until your partner is wet and ready for penetration. But having someone stop in the middle of oral sex can actually be very physically frustrating. Remember, most people with vulvas don't consistently orgasm through intercourse, so if you want them to orgasm, it's best to take care of them beforehand. If it doesn't seem like what you're doing is building toward a climax, ask your partner for feedback and adjust accordingly. You've got a job to do, so unless told otherwise, don't quit until it's done. 
Oh, and if your partner says "don't stop," don't. Stop.