Sex In The Quarantine-Age
We live in unprecedented times. We're going through a seismic cultural shift, and when this wave of Covid-19 has passed, or become manageable, things will likely never be quite the same again. We're in the contradictory position of trying to fix something together by staying apart. 
The coronavirus pandemic has resulted in most of us spending more time at home than usual, in an effort to stem the flow of this new contagion, and it's reassuring to see how many of us are taking our responsibility seriously. But what are we giving up in return? What's the pay-off for this trade?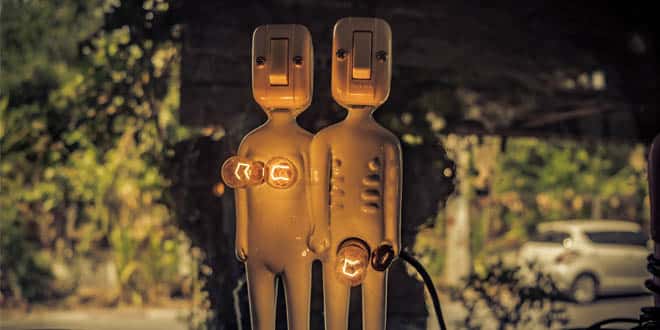 Despite our enforced confinement in small groups, we have had to sacrifice much in the way of intimacy. But, instead, could we be using this time to catch up on some of the sex we'd been neglecting before the outbreak? Given the nature of social distancing, perhaps we can seize the opportunity presented by self-isolation to have more sex, since many of us in relationships are now forced to live in each other's pockets for a while.
Sex is often the first thing to fade away for couples in long-term relationships, and we tend to slip into a routine of spending our quality time together attending to the business of the relationship: chores, cleaning, child-rearing, and so on. But there's nothing routine about the situation in which we find ourselves. Quite the opposite. This required time at home together might just be the unique chance we need to reacquaint ourselves with our partners, and to come out the other side better connected, happier, and more fulfilled than we were before our lives were put on hold.
Obviously, the chores don't just go away, and there will always be cleaning to be done and food to prepare. If there are children, sex is always going to be a fine balance, and now they're at home with you, they need constant attention and stimulation. They might not be in school, but they're education is still important.
There are stresses to overcome too. Perhaps you might be one of the families who will have to survive without a pay check for a while. The wider economy is a concern. What happens when all this over? Not to mention the immediate worries we have for each other's health. All this is tough, and we're all in it together. 
These pressures and stress brought to us by coronavirus make it more important than ever to preserve some time for each other. There's a lot happening that's beyond our control, which is why we need to make space to enjoy each other's company. Sex is an important part of that.
The pleasure and relief of sex can offer some much-needed respite from the demands of self-isolated life. It takes us out of the moment and allows us to refocus on our own senses, and our partner's sensations. Sex is best when its an all-encompassing experience for body and mind, when it's simply the two of you, no complications, no pressure, just good, long, relaxed sex. It's the best time to set aside the concerns of the wider world and find a kernel of pleasure in the day, even just for a few blissful moments.
The coronavirus is mostly out of our hands – there's only so much we can do now. But we do still have control over our intimacy, our fantasies, and our bodies, which makes every sensual, sexual experience an empowering act of defiance. There's never been a better time to invest in sex and your relationship, and, while we've mostly been talking about people in relationships in this piece, that shouldn't stop you if you're single, or separated from your partner by circumstance.
There's never been a better excuse to masturbate in history. If you're going to be stuck at home you may as well make the best of it. You too can make use this time to think about and organise your sex life so you're prepared when all this finally blows over, and you have some ideas for future sexual encounters. Make it your goal to spend a little more time with yourself. Take a long shower or bath. Enjoy some LELO pleasure products to join you. Get comfortable. Spoil and indulge yourself, take it slow and don't rush it.
We can only do so much to stop the spread of this highly contagious new virus. But there's plenty we can do alone or with our partners to ease our tensions about it.
---
With 16 years in the adult industry, including many years at LELO, it's fair to say Stu has been around the sex toy block a few times. As LELO's resident sex geek, he's been featured in the Independent, the Guardian, HuffPost, Vice, Cosmopolitan, and anywhere people talk about sex. Here on Volonte, he turns his spotlight onto the important events affecting sex right now in a regular op-ed. Views are his own.