Honeymoons are for relaxing in the sun, celebrating your new, official partnership, and of course – having passionate honeymoon sex. When Brides magazine conducted a survey and asked 138 newlyweds how often they have sex while on the honeymoon, 32% (the majority) said every day, while 28% said multiple times a day. 
If you're one of those folks who intend to get busy in the bedroom (or at the beach… or in the hot tub… or in the middle of the forest, the world is your oyster) during your honeymoon, then you'll want to ensure you pack some essentials!
7 Honeymoon Sex Essentials You Should Consider Taking With You on a Trip
1. Kinky (or Romantic) Game 
Chances are that you'll be spending most of your time with your partner while on your honeymoon, just the two of you. With no responsibilities in sight, it's time to take advantage of having your partner's undivided attention and play some games that will surely bring you two closer. 
If you're interested in deepening your emotional bond with your partner and want to find ways to feel even closer to each other, then you might want to consider a card game like Esther Perel's "Where Should We Begin".
This relationship card game is designed for two or more people (up to six) and is packed with prompts that will spark creativity and new ways to uncover things about you and your partner you might have yet to discuss. 
If a romantic card game is not your thing, no worries! You can choose a card game that's a little more kinky and sex-focused like Woo More Play's Nightcap where you get a chance to discuss your sexual experience, and fantasies as well as indulge in some sexy games with your partner.
Your honeymoon is also a perfect time to download one of those relationship apps like Paired where you and your partner both get to play fun games that help build connection. When you're in your routine at home, it might be hard to find time to swipe on the app, so take advantage of all the free time you'll have on your honeymoon. 
2. Lube 
Personal lubricant is one of the most important essentials for passionate honeymoon sex. Lube makes everything feel better, whether you have enough natural lubrication or not. And if you're interested in a heightened feeling on your clitoris, try a pleasure enhancing serum that adds a tingling and warming effect.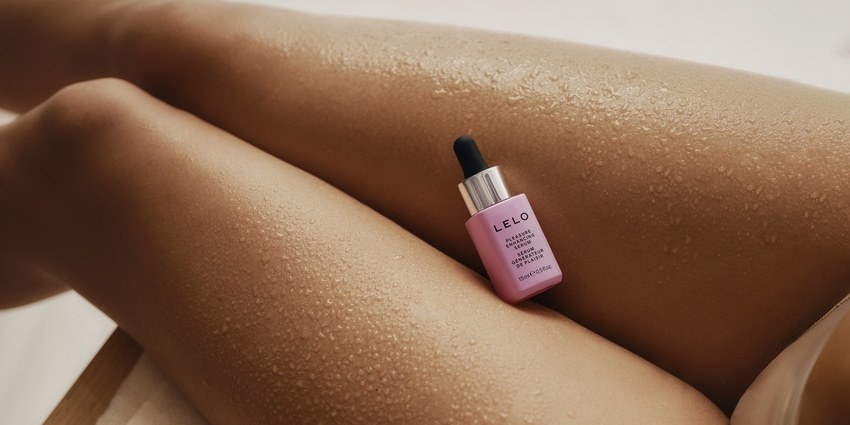 Always remember to check your travel packing requirements before packing lube or pleasure-enhancing serum, though! If you're not traveling with checked-in luggage, make sure you get travel-sized lube that doesn't exceed the allowed liquid limit (100ml or 3.3 oz). 
3. Restraints
Restraints are an easy way to spice your sexual repertoire while on the honeymoon. And let's not forget how sexy restraints can be – both visually and mentally! I mean, who doesn't like a little bit of Sub/Dom play?
Depending on your level and familiarity with restraint play, plus how much space you have in your luggage, you might want to consider different types of restraints. 
Fluffy handcuffs are a great option for beginners as they're non-intimidating, funny yet still exciting. If you want more versatility but want to be discreet while traveling, take a roll of bondage tape with you. 
It looks like a regular tape, so it won't draw attention while at the airport, and it allows you to tie your partner's wrists to their torso, or their legs which gives you access to more various positions. 
If you are an advanced player and have space in your luggage, then by all means, pack your favorite restraints with you! 
4. Crotchless Lingerie
Sexy lingerie is a staple for a honeymoon trip. However, why not be a little bold and pack lingerie that's sexy and a little bit more daring than your usual pick? 
Crotchless panties or teddies can be a super sexy and fun way to surprise your partner. Your honeymoon is the time for you to let loose and allow your imagination to run free. So, if you always wanted to be bold and sexy, now it's the perfect time. 
If you and your partner are both into some exhibitionism play, then crotchless underwear can be super useful while also providing easy access on the go. 
5. A Sex Journal 
Your honeymoon might be the perfect time for you and your partner to start a sex journal. These journals can be filled with different prompts and are designed for couples who want to deepen their emotional bond and get to know each other better sexually.
It's very easy to fall into a rut when it comes to your sex life. When you find what you and your partner like and what works, why change it, right? Well, novelty is known to be a key component to long-term satisfaction in romantic relationships. And starting a sex journal is one way to find new things to try together. 
If you're not a fan of a journal, no worries! You might simply make a sex menu together where you both outline the things you enjoy, things you might want to try more of, and some things that are off limits. 
The point of this activity is to find ways to communicate about sex and your sexual needs and fantasies in a safe environment, with no fear or judgment. And the honeymoon is the perfect occasion for it because there are no interruptions!
6. Your Favorite Sex Toy
You shouldn't leave your home without your favorite sex toy. Whether it's your favorite sex toy, or it's a toy that you both use with your partner, it should be traveling to your honeymoon with you!
If you're worried about traveling with a sex toy and airport security, know that you're not alone. However, the good news is that it's much easier than you think. Especially if you have the right toy. 
Sona 2 Travel is the perfect vibrator to take with you on your honeymoon. It's the compact version of the ever-popular Sona 2 and is a discreet clitoral vibrator that can be incorporated into partnered sex and takes up minimal real estate in your luggage.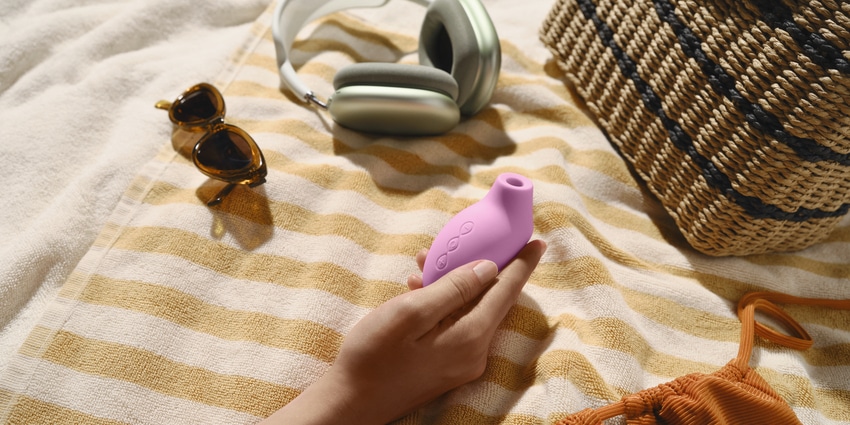 If you have to choose one sex toy to take with you, a clit suction toy is super versatile. You can hold the Sona 2 Travel against your clit during penetrative sex (Cowgirl, Reverse Cowgirl, Doggy, and sideways positions all work perfectly), or hand it off to your partner and see how many times they can make you climax with it.
One thing to know about traveling with sex toys is that some countries around the world have restrictions on bringing sex toys to the country. So before you pack your sex toy, make sure to check the rules for the country you travel to! We've curated extra tips for getting your sex toys through airport security with ease.
7. Massage Oil Candle 
And the last, but certainly not least, of honeymoon sex essentials is a massage oil candle like the Flickering Touch Candle. It's a fantastic way to indulge in full-body relaxing, tantric massage, or temperature play. 
They smell divine, so not only will you have massage oil on hand, but you can also use it to create a romantic ambiance for sexy play or simply quality time together.