If you're setting off for sexy summer travels, you're perhaps thinking of taking some of your trusty pleasure items with you. And as proud as we are of our beautiful range of stylish products, we appreciate that having to show them off to security personnel is less than ideal.
After years of traveling with our products both for business and pleasure, we've learned how to breeze past check-in and on to our destination with no fuss. Check out some of our tips below.
Shut It Down and Lock It Up
While the pleasure toys of today tend to be rechargeable, we understand that many people still stand by their battery-operated buzzers. The thing about D-cell pleasure devices is that many don't feature a control lock function – so take the batteries out before packing it in your carry-on bag. LELO sex toys, however, are easily lockable, meaning that no errant button pressing will come between you and the boarding gate.
Bag It
In the event that your baggage does get searched, you don't want a customs officer handling your intimate item, so pack your toys in clear plastic bags – they can see what's inside and what's more, it's a hygienic storage option when you're on-the-go.
Keep It Small
When it comes to restrictions on items for air travel, the US Travel Security Administration is a good yardstick for which rules will apply for luggage items. The TSA states that "tools" with a length of 7 inches (about 17.5 cm) are suitable for carry-on luggage. This means that petite, discreet massagers such as SIRI 2, MIA 2 or NEA 2  are good to go, but ELISE 2  will have to wait for your next road trip. And now there are even vacation-ready massagers, like SONA 2 Travel.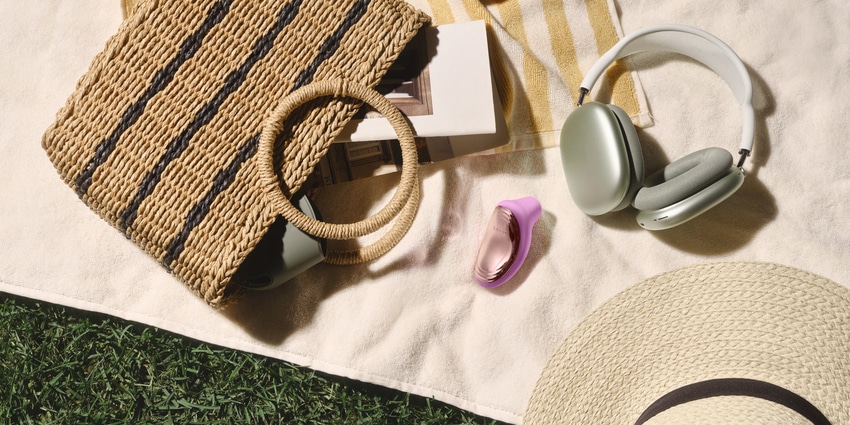 Own Up
When an Airport security agent asks you what's in your bag or has you explain an item on the x-ray display; tell it to them straight. This will save you being pulled aside for further questioning and perhaps also avoid them having to rummage through your bag. Embarrassment is really a non-factor here because these people handle thousands of articles every day – your sex toy won't even qualify for break room gossip.
Know Before You Go
Believe it or not, sex toys aren't accepted in every place on the globe. Some countries and regions have bans on your little buzzing buddy, like India, the United Arab Emirates and Saudi Arabia – even some US States. If you're so much as simply not sure if your destination allows sex toys, being absolutely sure is just a Google search away, and can save you a whole lot of trouble.
Traveling with your toys can be fuss-free, and when you reach your final destination, they can only enhance the loosening of inhibitions that comes with being in a new place, whether you're traveling solo or with a partner.