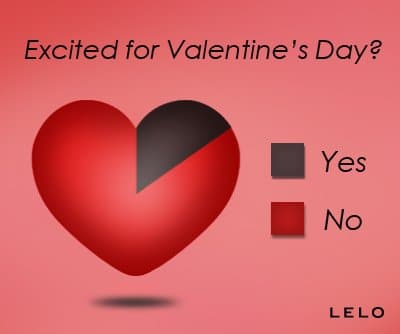 Are you excited for Valentine's Day? Probably not, according to the latest info from our Global Survey. In the second release of data from 19,000 men and women, we discovered that not everyone is looking forward to February 14th.
With this in mind, we're launching our new "Save Your Valentine's Day" campaign aimed at taking the clichés and disappointment out of gift-giving. Send your partner a personalized e-card with a hint that you want to receive (and share) our brand-new Adore Me Pleasure Set, and ensure that this year's gift is one you can enjoy together.
What women said about Valentine's Day:
 62% did not even like the gift they received last year
 80% felt that their partner did not make an adequate effort
 25% consider Valentine's Day the most disappointing holiday in the calendar
And as for the men:
 According to social media chatter amongst males, 76% of posts regarding Valentine's Day are negative
45% claim that they are the ones who would like to be spoiled on February 14, instead of their partners
70% admit they only observe Valentine's for the possibility of sex, making their efforts a means to an end
We are positive that you and your partner can both get exactly what you're after this February 14th with the Adore Me Pleasure Set, the latest of our popular romantic kits that combine LELO products for maximum pleasure when shared. On Valentine's Night, couples can ramp up the romance with a blindfold of pure silk and a set of luxurious silk and suede handcuffs, before sharing the pleasures of the Mia™ 2 personal massager, all presented in a sensational shade of red.