Between The Sheets With Miss Polly Rae
Glamor. Glitz. Sexiness. Cocktails. All in a day's work for a burlesque superstar.
Only it's not really. Burlesque requires hard work, late nights, ambition and perhaps above all, professionalism. And the easier it looks on stage, the harder the performer has probably worked behind the scenes.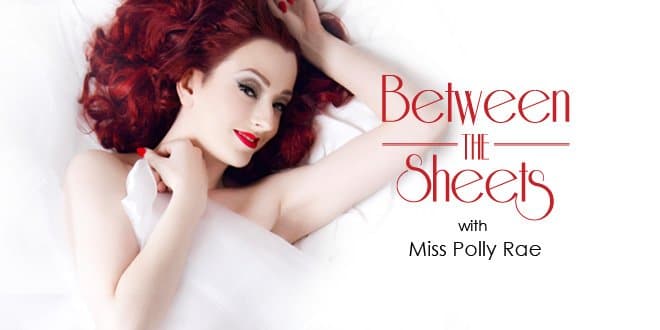 Few are more glamorous than Miss Polly Rae, who's launching an all new show, Between The Sheets, sponsored by LELO, along with some of London's top burlesque names. We got up close and personal with Miss Polly Rae last week and put some questions to her about her life, her show and her goals.
LELO: Tell us about the most enjoyable event you ever performed.
Miss Polly Rae: Oh there have been so many! But the most enjoyable ones have been my firsts, the first time I tassel twirled (I lost a tassel!), the first time I sang in front of an audience, the first time I appeared on a West End Stage… I'm sure launching my new show on the 1st August is going to go on that list!
L: What was your attraction to burlesque, over more mainstream performance mediums?
MPR: The thing that appealed to me most was that there were no particular rules. I could wear what I wanted, use the music I wanted, themes, props, everything. At the time I hadn't had any performance training, it wasn't essential for me to know how to tap or do jazz or any other discipline. I could use the abilities I had to literally make up my own little pieces of theatre. I also loved that Burlesque was niche; it was relatively undiscovered at the time and had such a wonderful interesting history.
L: Who do you idolize most, and why?
MPR: To be cliché for a second (sorry), I grew up adoring Madonna and took a lot of inspiration from her because she a worked her butt off to get where she did and also became a pioneer for everyone that followed her because she was an innovator and didn't care what people thought. I still idolize her to this day. Every day though, the people that inspire me the most are my peers. I am part of this insane cabaret community where no artist is the same; everyone is so unbelievably talented and absolutely crazy!
L: If you could perform anywhere and for anyone, where would it be, who would it be for and why?
MPR: It would be in Las Vegas, for a sold-out audience that had bought tickets to see my show. From the moment I discovered Burlesque I know I wanted to make a career of it and make the biggest Burlesque show the world had seen. With the Hurly Burly Show (where my career started) I got my dream, it was the first large scale Burlesque production the West End had seen. Now I want to take it to the next level and take my latest Production 'Between The Sheets' to VEGAS BABY! The interest in alternative cabaret and variety shows over there is very high, I think we would fit in perfectly!!!
---
Donna is a Volonté contributor and freelancer who lives in San Francisco with her understanding husband and not-so-understanding teenage sons. Her work has been published in The Journal of Sexology and she is currently writing a book on love languages.