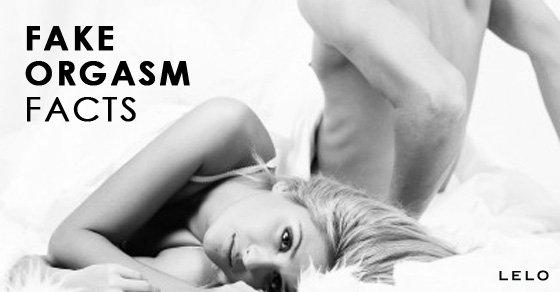 Gentlemen readers; have you ever had the sneaking suspicion you're being 'faked on'? Well, your intuition is more than likely correct; according to a study from the University of Central Lancashire and the University of Leeds, 80 per cent of women are faking it during vaginal sex at least half the time, with 25 per cent of the same test group admitting to faking it 90% of the time.
That's a whopping percentage of the female population, and before the fellas start feeling bad about these faking figures, let's also point out that a whole new group of fakers is emerging among divorced men – but we'll get to that in more detail later!
A strange question here – just as an aside – how do you trust the results of a study conducted on people who are faking it? At any rate, let's just get down to some of the reasons why some people's climaxes are counterfeit;
WHY PEOPLE FAKE: 4 REASONS
Faking for His Benefit:
Reasons given in the Central Lancashire/Leeds Universities study as to why female fakers fake included encouragement in 2 related areas; to give their man a boost to his ego, and also to help push him over the edge when she feels that he's close to climaxing.
Fun Fact for Fellows:
This same study found that a majority of women go quiet when receiving pleasure during foreplay or oral sex – so keep your ears open for the sounds of silence.
She Wants Him to Commit:
We're not sure if evolutionary theory and psychology is your thing – some choose it as a be-all and end-all for human behavior – but faking it is one way that women in long-term relationships to keep their make partner committed.
Some evolutionary theory holds that a woman's orgasm causes her to retain the sperm of her chosen partner for child-rearing, and faking it sends a nonverbal signal to the male that she does indeed want that seed.

**Caveat** Thing is though, there is no hard evidence that an orgasm allows a woman to retain anything after sex, with given reasons ranging from suction-causing contractions in the uterus, to a woman's desire to stay lying down longer after she's climaxed – both of which seem a little dubious.
Faking out of Fear:
Remember when we mentioned divorced dudes as a new demographic for faking? A study conducted by DatingAdvice.com surveyed 1,080 men regarding the effects divorce may have on libido, and they discovered that two-thirds faked orgasms for reasons they share with some of the female fakers. In two different studies, a fear of emotional intimacy caused members of both sexes to fake it in order to keep their partner at a distance and avoid sharing a moment of perceived vulnerability.
So is faking your orgasm a problem, though? We'd say yes and no; yes, it's a problem if it constitutes a lack of communication with you partner – because how will they know how to help you climax if there's faking going on? However, for that moment when you just know that it's not happening for you tonight (and this is a natural occurrence among ladies, they will agree), faking an orgasm, or intense pleasure, can speed things along to a satisfying conclusion – if only for one partner.
MAKE IT, DON'T FAKE IT
If you happen to be faking your orgasm not for encouragement, emotional distance, or to embolden commitment, but because you're simply unable to climax during sex with your partner, then it's time to take your orgasm into your own hands – follow these tips to help you go for your 'O':
RELAX:
A big part about reaching your peak of pleasure is letting go – so clear you mind of any niggling things left on your to-do list, or use this as a perfect reason to get them done; allowing you to focus solely on feeling fantastic.
Don't Underestimate the Power of Foreplay:
It takes women a considerably longer time than men to reach orgasm as well as be sufficiently aroused for intercourse; so do not skimp on the kissing, cuddling and canoodling that comes with foreplay, which is not only a fun and effective path to pleasure, but foreplay's also great for your health, too. If you must, impose a '10-minute rule' in which the focus is on getting you aroused – or getting you off!