Q&A Interview with YouTube Content Creator Laura Clery
Best known for her comedic sketches on YouTube and Facebook, writer and actress Laura Clery gave us the tea on her professional and personal journey to success. She discusses relatable stories that remind us that our most uncensored moments are part of remaining our authentic selves.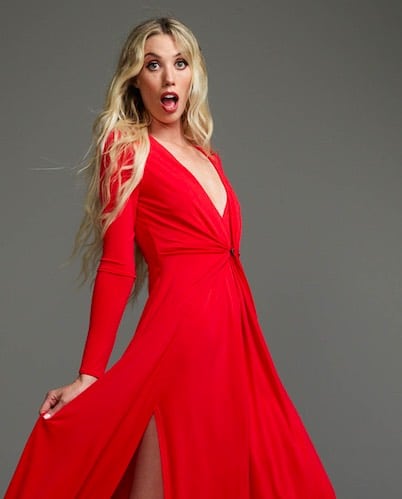 Q: What's your favorite social media platform and why? Which one can't you stand?
My current favorite social media platform is TikTok! I love the sense of humor. It is unlike a lot of other social media platforms. The content is so real and raw – something that is hard to find anywhere else. It is real people doing real things. You can always rely on TikTok to be entertaining.
My least favorite platform is Twitter. I wouldn't say I can't stand it, I just can't get into it. Overall, though, I love social media and believe all platforms have a unique way of reaching different types of audiences.
Q: What do you consider to be your biggest personal and professional achievements thus far?
I would consider my biggest personal and professional achievement thus far to be the opportunity to make millions of people laugh on a consistent basis.
Q: How has your content changed over time? Are there any unwritten rules that you follow with all of your work?
Over time I have become more raw and vulnerable with my content. Early on I used to do a lot of character-driven work. I never used to play myself. When I got pregnant with Alfie, I realized a lot of my characters (Helen Horbath, Pamela Pupkin, etc.) won't work pregnant. That motivated me to write about what is really going on in my life. Since then I have always been really open about my journey with sobriety and other events going on in my life. It has also pushed me to evolve and try new things. It was really invigorating. The character stuff was working and I had to make a bold move to change. I am no longer afraid to fail. 
Q: In your opinion, what's the difference between a good content creator and a great one?
A good content creator is consistent and entertaining.
Great content creators provide value to their audience. They make creating about what they can give, and not about what they can get. Great content creators use their gift to serve others. It is so important to use your gift (i.e. comedy) to create value for your audience. There are days where I don't feel like filming but then I remind myself that I have a gift and my audience needs that gift to brighten their days – my viewers are my motivators.
Q: Which aspects of content creation do you enjoy most?
I'm in love with all aspects of the process. I love filming a funny sketch – it's fun! I love the thrill of posting it, and that feeling of "will everyone like it?"
Q: Do you separate your work life from your home life? If so, how?
Absolutely not! My husband is my business partner. We create and produce together. We vlog our family all the time. Millions of people saw me give birth! That should sum it up.
Stephen and I are so obsessed with our work. It's literally a cross-addiction. We started out vlogging every day but it drove us crazy after a while. Now we have scaled back to once a week so we can keep some private time to ourselves. 
Q: When will you know you've "made it"? Or have you already experienced this moment?
I once saw a post of someone who got a tattoo of Helen Horbath on their arm – that was the moment when I went "I think I made it."
Q: Who has had the biggest impact on your career choice?
Before I started social media I used to watch Lele Pons, King Bach, and Brittany Furlan all the time. I would watch them and be like "Woah! They are posting content and making a living off of it? Why am I running to auditions when I can have creative freedom." They inspired and really motivated me to transition from an actress to a content creator. 
Q: What's the biggest lesson you've learned from your career?
I have learned that I am more than what I do for a living. As an influencer, you can get so wrapped up by views and followers that you start to define your worth by your popularity. Then when all that stops, you feel less self-worth. It can lead you into a really dark place. I had to truly separate myself and now I am enough.
I had a friend, Stevie Ryan, who committed suicide when her show got canceled. She didn't have that separation. She thought when the show was over, so was her career. When she died, it really hit me how important it is to define your self-worth on your own terms.
Q: Were there any career setbacks you faced that you later realized were an advantage?
Yes. I faced constant rejection in the acting industry. One time I got a callback for this NBC show and I really thought I got the role, but I was wrong. They gave the part to Brooklyn Decker and I was so pissed. I thought my auditions were incomparable.
When I found out I didn't get the part, I was so done waiting for people to pick me. I wanted to create my own success. So I called this girl who I did a commercial with one time and we decided to write a show together. We pitched the show to a YouTube channel and they bought it! 
Q: What advice do you have for someone new to content creation?
Stay authentic, and stay yourself. It's good to be yourself. There is only one you. There is never going to be another you. Do what makes you happy, be consistent. Stay in for the action and not the results. No one will watch in the beginning, but if you stick with it eventually an audience will come. 
Q: What was your favorite toy as a kid? What is your favorite (sex) toy as an adult?
As a kid, I had so many pillows and blankets of the Tazmanian Devil.
My favorite sex toy is the LELO Sona 2 Cruise.
Q: What makes you feel your sexiest self?
I feel my sexiest self when I am well-rested, when I get my hair and makeup done and have a cute outfit on. Also when I shower.
Q: What three strengths do you and Steven contain as a couple that maintains your intimacy?
Communication, Respect, No judgment
Q: Steven revealed that you've sent him sexy pictures before. Are there any other ways you guys have kept the flame alive?
To be honest, our flame has stayed alive for so many years because our relationship goes so much deeper than just sex. He is my best friend! We like spontaneous sex, but sometimes we just need to schedule it in the f*cking calendar. That's real life. When you have a baby you just want to chill and sex isn't the first thing that always comes to your mind. So this week we decided to do it every other day whether we feel like it or not, and let me tell you – it's amazing every time!
Q: What do you think is the best way to approach discussing your desires with your partner?
Just be open and honest about what you want.
Q: How old were you when you had your first celebrity crush and who was it?
I had the biggest crush on Justin Timberlake when I was 12 years old. 
Q: If you could hire any actor to play yourself in a biographical film, besides you, of course, who would you pick?
Scarlett Johansson or Lady Gaga
Q: Are there any bad habits you are currently trying to kick?  
At night I will watch a lot of mindless television shows, like dramas. I wish I was better at spending that free time reading/listening to a book or watching something funny to get inspiration for future content.
Check out her funny female masturbation video HERE! 😂
Donna is a Volonté contributor and freelancer who lives in San Francisco with her understanding husband and not-so-understanding teenage sons. Her work has been published in The Journal of Sexology and she is currently writing a book on love languages.