Rumor has it that Kegel balls are not only good for your pelvic health, but also good for foreplay and arousal. The best part is that it's not a rumor at all. Building up your pelvic floor strength leads to better orgasms. Now imagine 24-karat gold balls sending kinetic energy into your pleasure system. LELO Beads LUXE does just that. It's made from 100% body safe materials crafted to sexual perfection.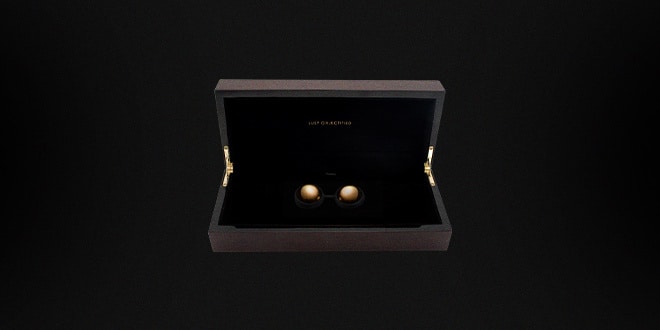 LELO BEADS™ LUXE BY LELO REVIEW
[box type="shadow" align="" class="" width=""]"Luxury Toys connect between two kinks – pleasure toys and luxury. It is not for everyone, but for those who indulge in luxurious pleasure, with no doubt it is an extremely sensual experience. The LELO Beads Luxe by Lelo is a great example of that. Lelo offers also other great beads products as the LELO Smart Bead and the LELO Beads. But the luxury version, in 20K Gold or Silver, are pieces of jewelry that will make you come.
The concept behind beads is pretty simple: Vaginal beads are inserted into the vagina and they help in several ways. All concerned Kegel exercises; exercising these pelvic muscles can prevent or control urinary incontinence and other pelvic floor problems. These exercises strengthen the pelvic floor muscles, which support the uterus, bladder, small intestine, and rectum. You can practice these exercises, just about anytime and anywhere. Beads are useful devices for anyone who wishes to protect the elasticity of their vagina walls and their bladder control. Nevertheless, in a sexual play, they become a sensual foreplay toy that rocks inside of you to even the slightest kind of vibration.
Once they are inserted, you should move your body and feel the sensation. As more active your movement is the sensation will be better. Just by trolling inside the house, walking down the street or going to a party, and they will be your secret inserted workout routine. You can also insert them during oral sex or anal or any other kind you want, they will help to enhance the orgasm frequency."
Read more of FEMINISTTOYS's review![/box]
Buy LELO Beads LUXE Now!