The clitoris is the only organ in the human body whose purpose is solely for pleasure, so it's only right that you give it the luxury treatment as a much-warranted thank you for all the ecstasy it brings you.
Not only is the clit a powerhouse of erotic delights, but it's also a key component in reaching climax for many women. Sure, you could stimulate your love button digitally, but doesn't your body deserve to be pampered to the fullest? Enter DOT, the newest addition to the LELO line of lust-worthy sex toys. 
DOT is a premium clitoral vibrator that utilizes innovative Infinite Loop Technology to oscillate in a figure-eight motion for all-encompassing bliss. The velvety-soft silicone vibe features a pointed flexible tip for precise stimulation, boasting eight titillating settings and a waterproof form for endless ways to play.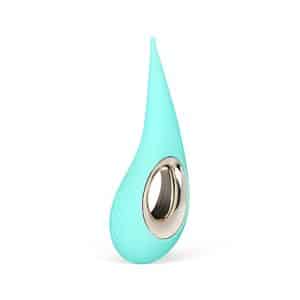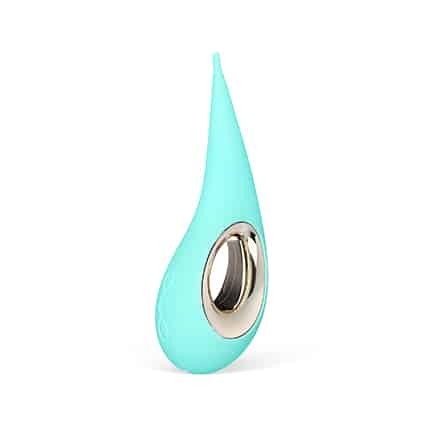 LELO DOT Specification
Materials: Body-safe silicone, ABS plastic

Size: 60 x 46 x 165 mm / 2.4 x 1.8 x 6.5 in

Weight: 98 g / 3.5 oz

Battery: Li-Ion 520 mAh 3.7 V

Charging Time: Up to 2 hours at 5.0 V 500 mA

User Time: 2+ hours

Standby Time: 90 days

Frequency: 133 Hz

Max. Noise Level: 60 dB
How To Use LELO DOT
With an intuitive three-button interface and ergonomic handle, operating DOT comes as easily as you will. The middle (()) button acts as both an ON/OFF switch and a mode selector — press and hold the (()) button to power DOT on or off and press down once to enjoy a new pleasure setting. The + and – buttons increase and decrease intensity so you can find your perfect way to vibe.
To charge your DOT, simply insert the end of the included charger into the port at the base of DOT and plug the other side of the charger into a USB Port, which you'll then plug into a power source.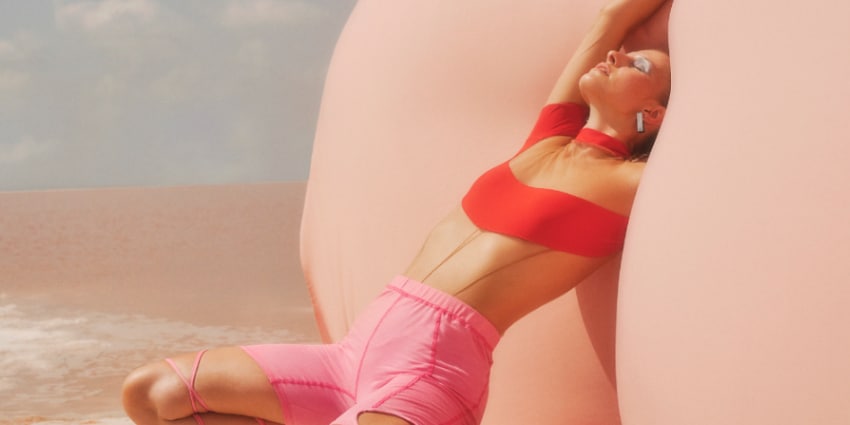 LELO DOT Masturbation Positions
Below are just a few of the self-pleasure possibilities DOT offers:
In the Tub
If you're of the mind that there's nothing quite as rejuvenating as a warm, relaxing bath, then you'll be over the moon to learn about DOT's fully waterproof form that allows you to increase bathtub fun tenfold. Set the scene for sensory heaven by placing a fragrant candle (we recommend the Flickering Touch Massage Candle, which comes in three inviting scents to choose from) somewhere safe in your bathroom for mood lighting and aromatic delights. Next, put on a curated playlist with your favorite sultry songs. When you're finished creating a sensual atmosphere and drawing your bath, simply hop in the tub with DOT in hand and ride the blissful waves of vibration to your heart's and loins' content.
Seated
Seated masturbation doesn't get enough credit — not only does the position give you easy access to every nerve-rich nook and cranny at the front of your body, but it's ideal for consuming arousing media to further fuel your lust. If you enjoy watching ethical porn, try sitting on the couch in front of your T.V. and playing with DOT as you savor the saucy scenes from your chosen flick. For those who prefer reading, get comfy on your cushy padded desk chair, pull up a hot erotica website on your computer, and get lost in the story and clit stimulation simultaneously.  
On Your Stomach
Pillow humping on its own is a reliable form of masturbation for many women, but when you add a luxury sex toy into the mix like DOT, the results are *chef's kiss*. Begin your orgasmic journey how you typically would when pillow humping, lying face down on a comfortable surface with a pillow beneath your hips. Before you go to town on yourself, put DOT on your favorite setting and hold it between yourself and the pillow, placing the vibrator against your clit. Gently grind upon the pillow and DOT (you won't need to apply as much force thanks to the toy doing much of the work,) letting your body's motion enhance the figure-eight vibration pattern of DOT as the pillow massages the rest of your vulva. By pairing pinpoint clitoral stimulation with vulva-enveloping strokes, you'll enjoy a fuller range of delicious sensations.
Using LELO DOT for Partnered Play
While DOT is fab for solo fun, the luxury vibrator can also enhance partnered passion. Play around with these sex acts for shared ecstasy:
From Behind
Rear-entry sex positions are ideal for incorporating toys as there's plenty of room in front of the receiver to fit in a pleasure-enhancer like DOT. Doggy style position is perfect if you get off on the feeling of your partner being in control; the position is primal in nature and allows your lover to use DOT on you easily as you rest on your elbows and knees. If you prefer to set your own pace when it comes to vibration placement, standing or kneeling from-behind positions allow you to use DOT on yourself while maintaining balance. 
Mutual Masturbation
While traditional sex with your lover is a tried and true form of erotic intimacy, there's something salaciously hot about the "look but don't touch" aspect of mutual masturbation. Grab DOT and have your partner use a saucy sex toy of their own while you both enjoy the show and sensations. Try facing each other, either standing or kneeling, as you pleasure yourselves; not only does this stance provide the best visual opportunities, but you'll also be in the perfect position for mid-masturbation smooches. If you and your partner share the same taste in stimulation, you can even swap toys during your session to switch up sensations. 
Fantastic Foreplay
Get in position for easy access by lying on your back with your legs splayed wide and your knees up for easy access. Have your partner insert their fingers and make a come-hither motion against your G-spot or A-spot (or whatever internal hot spot suits your fancy!) as you stimulate your clit with DOT. Your lover's skilled fingers + DOT = a recipe for blended bliss.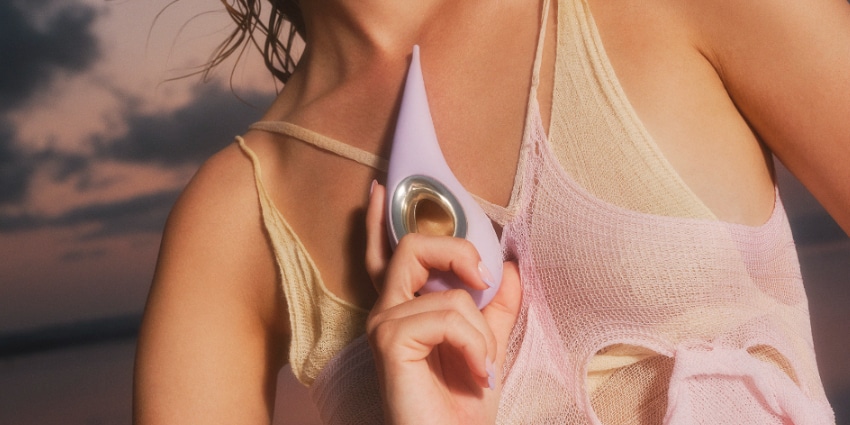 Tips for Making the Most Out of LELO DOT
Proper care and exploration will increase your pleasure and prolong your luxury vibrator's lifespan.
Use a Quality Lubricant
While lube is a must-have for your sex toy arsenal, not all lubricants are created equal. When using lubricant with the LELO DOT, you'll want to make sure the lube's formula is high-quality and sex toy compatible. LELO Personal Moisturizer is a perfect match for the DOT — the water-based formula won't degrade your toy like silicone-based lubes would, and the silky-smooth texture feels heavenly on your most intimate areas.
Bring Other Sex Toys into the Mix
Using DOT on its own is already a guarantee for mind-blowing sexual gratification, so imagine what heights you could soar to by adding in another luxury sex toy! If you're playing solo, you can insert a G-spot vibe like the MONA Wave or GIGI 2 to stimulate your internal hot spot as you stroke your clitoris with DOT for a DIY rabbit that gives you full control over clitoral stimulation for effortlessly blended Os. For partnered sessions, you can use DOT on yourself as your lover massages the rest of your body with a powerful wand vibrator like the SMART WAND 2 for a massage that leads to a truly happy ending!
Experiment with Placement
While DOT was designed for clitoral bliss, that doesn't mean it can't deliver major satisfaction to other erogenous zones! Try placing DOT on various hot spots like the nipples, labia, and perineum to delve into a wealth of different sensations. Who knows — you just may find there's a moan-inducing part of your body that's yet to be explored to the fullest! 
Tease Yourself
While quickie masturbation sessions are great for speedy stress relief or when you're in a hurry, decadently drawn-out self-pleasuring tends to result in stronger, longer-lasting orgasms. Take advantage of DOT's eight vibration patterns by experiencing each one in a single masturbatory event. Start on the lowest setting and work your way up to the highest — when you finally reach your peak, you'll be seeing stars. 
With its intuitive design, eight pleasure patterns, waterproof form, and slender body that easily fits between yours and another's, your imagination is the only limit to enjoying DOT. No matter how you choose to play, one thing is for sure: your clit will be grateful for the luxe and targeted stimulation DOT always delivers.