If you're a woman, the chances that you've either made out, hooked up, or watched lesbian porn are very high. If you're a man, well, the chances that you've ogled over two women making out or have watched lesbian porn are too, very high. 
And why is it that two (straight) ladies being sexual is seemingly way hotter than two heterosexual men getting it on? It's socially acceptable. Women are just hardwired and encouraged to enjoy and participate in girl-on-girl action. Strange world we live in, right?
So, if you're a woman who wants to learn more about the art of scissoring and other intriguing sexual acts and secrets, or if you're a man who's intently interested in the topic, you can consider this your official guide to lesbian sexuality.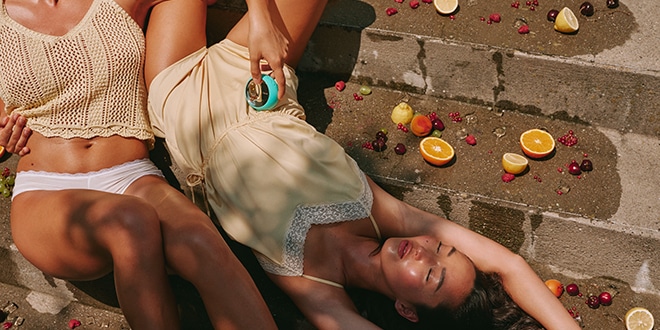 What is Scissoring?
Scissoring, often referred to as 'tribbing' is genital-to-genital contact. It's been given the name 'scissoring' as it resembles a pair of scissors in action. 
But are you ready to have your mind blown?
Scissoring and Tribbing Are Not the Same Thing!
While many believe that the two are interchangeable, they're actually two different sexual acts. 
Scissoring refers to a specific sexual act whereby two women rub their vulvas together while in the position that mimics a pair of scissors.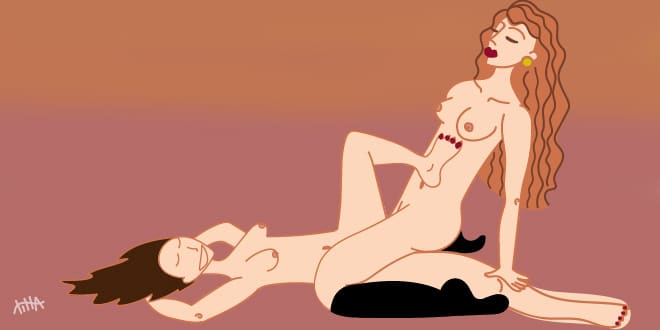 Tribbing, on the other hand, is when one woman rubs her vulva on any part of their partner's body (the leg, arm, buttocks, belly etc.). Both are done in an attempt to achieve sexual pleasure.
Essentially, scissoring is a type of tribbing. Not that difficult to understand, right?
Do Women Enjoy These Sexual Acts?
My next question then is, do women actually engage in these sexual acts? I mean, we've seen it being done in pornos a hell of a lot. And let's not forget the film, Blue is the Warmest Colour (a really great French film, highly recommended) where two women engage in it for six whole minutes! (Side note: the two women in the film were actually wearing fake pussies! Sorry to kill your dream.)
But is this sex act a reality for lesbian women? Indeed it is…for some. Some women enjoy it and practice it, while others aren't too fond of it (just like any other sexual act or position). Scissoring, or a form of tribbing, isn't the equivalent of missionary sex for heterosexuals.
For some, it's a thrilling and erotic experience, but for others – it's merely tiresome and difficult. From the awkward postures of both women, to staying in sync and keeping it up until climax, it can be hard work. Additionally, scissoring for plus-sized women, and those who aren't very flexible, can be difficult. 
Scissoring however, is on the rise, as sexologist Mal Harrison says:
"Fifteen years ago, scissoring just wasn't something commonly discussed in lesbian circles, nor amongst my lesbian and bisexual clients."
She goes on to say:
"Now, I frequently hear it mentioned as part of the repertoire, simply because people are getting more of their ideas and sex ed from porn." Makes sense.
How to Practice Scissoring
If you're hoping to try scissoring, or you're simply intrigued… here are two different ways you can enjoy it:
Scissoring Position One: Both women should be on their back and have their legs spread open in such a position that it allows direct contact and the ability to straddle each other's vulva (i.e. one woman's thigh is placed underneath the other's). Each woman will then use their own or their partner's leg as a grip, to help them create movement. 
For those whose vulva is higher up, a sitting position has proven to be more pleasurable, while those with a lower vulva find it easier to enjoy it lying down opposite their partner. 
Scissoring Position Two: Alternatively, you could try scissoring with one partner on their side, where their one thigh is held up and the other is straddled across the resting leg. 
Basically, it's about interlacing your legs so that you can gain direct access and stimulation to each other's vulvas. 
Scissoring in Porn: The Male Gaze
For many, including adult porn star, Rina Ellis, scissoring or tribbing is an act that's been sexualized by the male gaze, especially in porn. In fact, many women agree that this kind of sexual act is impractical, and is more of a male fantasy.
It's also true that in 2008, around only five percent of porn directors were women – a number that is rising ever so slowly, making the industry largely male-focused. This has given bi-curious women the idea that this is what lesbian sex is all about. There is a lack of representation, which ultimately stunts the development of lesbian sexuality. 
Having said that, I pose the question: is lesbian porn actually made for lesbians? It appears not. Instead, it is a heteronormative way in which to portray women experimenting with one another, often using phallic-like toys, like a dildo, or bringing a man into the scene.
Scissoring and Intimacy
Another way in which to look at scissoring, is from the perspective of Reba Harrison, a bisexual woman, and writer. She believes that the act of scissoring inhibits the ability to be intimate with a partner. 
This is because oftentimes, two women engaging in this sexual act face away from each other. Not only that, but it makes the ability to kiss one another virtually impossible, and makes it hard to stimulate other erogenous zones. 
But then again, everyone is different! And if you are interested in trying or experimenting more with tribbing, here are three different positions to get you started:
Different Tribbing Positions
As distinguished, tribbing isn't actually scissoring. Rather, it's an umbrella term. Which is why there are various ways in which two women can enjoy tribbing:
Missionary Style Tribbing:

It is… what it sounds like. Two women who are on top of each other, face to face, and persist to dry hump each other. This is a more intimate position, as it allows eye contact and kissing.

Woman-On-Top Tribbing:

Similar to

missionary,

but this is when one woman rides the other by rubbing her vulva on her partner's vulva.

Hump Tribbing:

One of the easier and more common types of tribbing, this is when one woman straddles their partner's leg, giving her more contact, thus more pleasure. It's also a hands-free position, allowing a pair wandering hands.
Lesbian Sex vs. Straight Sex: Women Achieving Orgasm
Who's having the best sex? In a study conducted in 2014 by the Journal of Sexual Medicine, it was found that lesbians experience orgasm 75 percent of the time during sex, compared to 61 percent for heterosexual women.
In a different study, conducted in 2017 by the Kinsey Institute, 53,000 Americans revealed their orgasm statistics, which showed that 86 percent of lesbian women experience 'the big O' during sex, and 65 percent of heterosexual women enjoy an orgasm during sex.
How, what, where, who, and why? It's simple. Women know their bodies. They know where the clitoris is, how to stimulate it in such a way that orgasm is achieved, and they can usually do it without (any) direction from their partner. 
Not only that, but the rate at which women orgasm via clitoral stimulation is extremely high as opposed to penetrative sex. Women are also more predisposed to communication and emotional connections as opposed to men. 
Some men also tend to have a warped sense of what a woman wants, how she behaves in the bedroom, and how to satisfy a woman, as shown in male-centred porn films. How to solve this problem? Communication!
So whether you're heterosexual, bisexual, or pitch for the same team, it appears that magic happens in the bedroom when communication, listening, and being realistic is implemented! Easy, peasy!