When they met in 2009, Rakel Ósk Orradóttir and Gerður Huld Arinbjarnardóttir  had no idea they would end up founding a company together, let alone that it's immense success would stem from sales of LELO's intimate lifestyle products.
It started when Rakel bought her first LELO NEA. She was so amazed by its beauty and functionality that she couldn't resist showing it to her best friend Gerður. In their homeland of Iceland, friends don't usually discuss personal details of their sex lives, but Gerður couldn't help but admire the craftsmanship of Rakel's new LELO.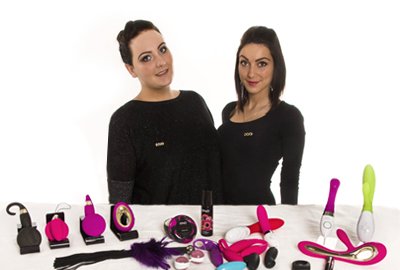 Rakel and Gerður with LELO products
At the time, both Rakel and Gerður were desperately seeking jobs after their maternity leave, and a brilliant idea occurred to them both; they decided to take a leap of faith and scrounge every last Euro they had to create their own luck, and hopefully a new career.
We visited every store we could find that sold intimate lifestyle products, but the general atmosphere of all of them just made us shudder, and made us feel like we needed a long shower," Rakel said. "After these dreadful experiences, we turned our attention to researching the most popular intimate lifestyle products around the world, and one brand kept coming up again and again – LELO."
There were some bumps along the way, but four months later the two women sat down with every last cent they could find;  just over 1,200 Euros. With a monumental amount of courage and the determination to succeed, they spent half of the money on purchasing LELO products and the other half on creating a webpage and advertising.
Today, they are the undisputed queens of the intimate lifestyle industry in Iceland –they have been interviewed by every major Icelandic media outlet– and their company "Blush" is regarded as the go-to website throughout the entire country.
It just goes to show that with a determined spirit and zeal for success, LELO can help change the lives of almost anyone who has the courage to take on a new adventure.
So what's up next for this dynamic duo you may ask?
"We have decided to open our first store soon!" Gerður said. "And it is no secret LELO will take center stage there as well and help continue to drive our success!"