LELO Celebrates At Salone del Mobile 2012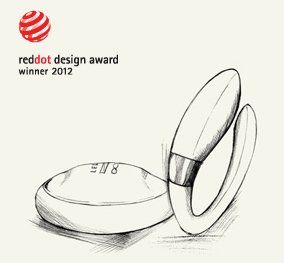 Hot off the heels of winning the Red Dot Award for our Tiani™ couples' massager, we're closing out Milan's Salone Internazionale del Mobile at the hottest ticket in town. Salone del Mobile has, since 1965, been the place for established as well as up-and-coming product, industrial and furnishing designers to show off their latest concepts to members of the press and the public. 
LELO Hosts Hottest Party Of Milan Design Week 2012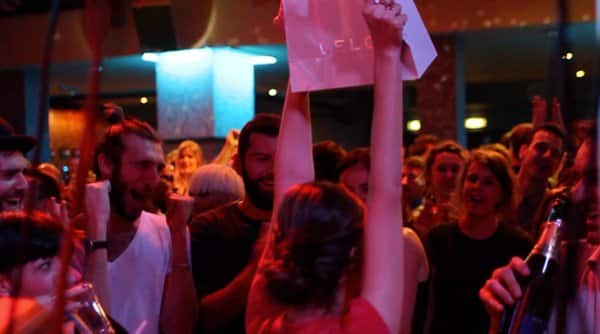 As the world's leading designer brand for intimate lifestyle products, LELO was present in all of Milan's famed design districts—from Brera to Porta Romana, Tortona to Lambrate—showcasing our Pleasure Objects to internationally-renowned designers, artists and influential tastemakers from a wide variety of creative fields.
LELO's Back for Boobalicious 2012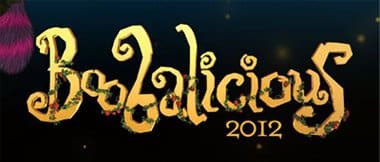 Images from boobalicious.au and breastcancer.org.au
We were very glad to be back in the bosom of Perth, Australia for Boobalicious, the black tie charity event to raise money for Breast Cancer Care WA. As always, it was a glamorous and fun evening that benefits Perth's hardest-working charity, so for these reasons and more we were very happy to be involved in the 9th year of the event. This year $135,000 was raised for Breast Cancer Care WA, bringing Boobalicious's 9-year total contribution to over $750,000 – an impressive sum for a very worthy cause, and one that we at LELO hold dear.
LELO Video Short to be Featured at 2012 Cannes International Film Festival
The short, a specially-commissioned work by Italian director Fabrizzio Azzelini, will be played on giant screens outside of the Intercontinental Carlton on the Boulevard de la Croisette, the main thoroughfare of the world-famous festival. This 30-second, dreamlike fashion shoot on celluloid stars our landmark TIANI couples' massager alongside our bestselling ALIA and Soraya, and will be broadcast hourly on giant screens during the festival's opening and closing weekends. 
LELO's Gold at London 2012
Images from the Daily Mail.
We were in London for World Orgasm Day at the height of Olympic fever, so what else would we show off but our gold? It was at the Ann Summers store near the Olympic Park where we displayed INEZ, the flagship item made of 24K gold, and the luxury item of choice for pleasure aficionados with an eye for style.
Smart Wands™ Honored at 2012 AVN 'O' Awards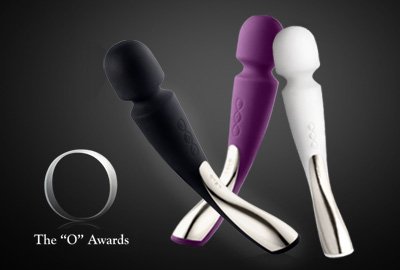 It's a prized possession to many, and now the Smart Wands™ are a prize-worthy product, having been recognized at this year's AVN 'O' Awards. Our Smart Wands™ were chosen for Outstanding Luxury Product, and marks the first-ever time that a product of its kind, meant for all-over body massage, was chosen for the coveted award.
LELO Awarded Best Product Packaging at 2012 ETO Awards
It was champagne and high fives in glamorous Birmingham, England on Monday when we were awarded Best Product Packaging at the 2012 ETO Awards. Taking place in the National Exhibition Center in its 7th year, the ETO panel of industry insiders and retailers singled us out for offering customers the best boxes in the business, and we're so happy we can hardly contain ourselves!
LELO Goes WILD in Lithuania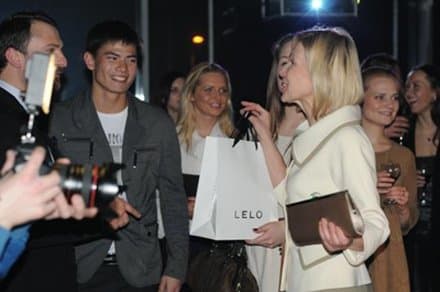 April 19th found us in the beautiful city of Vilnius, Lithuania, where we got to show off our ultra-luxe Insignia designs alongside an all-new series of striking photographs by Gediminas Zilinskas. The opening ceremony of the exhibition drew out over 500 of Vilnius' creative community.
LELO in Brazil: Exciting South America Expansion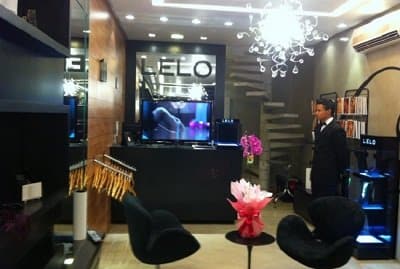 Ah, Brazil—one of the world's leading trendsetters in the finer, more sensuous things in life. It seems only natural that LELO Pleasure Objects would be the perfect fit for the nation that debuted the G-string bikini, some of the world's most stunning supermodels, and the personal landscaping method that rocked the world of feminine hygiene.
LELO Up-and-Coming Down Under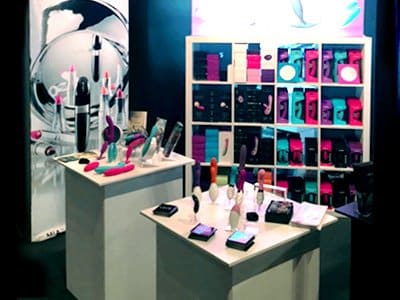 We're reaching out everywhere! Whether you're in a bustling metropolis or somewhere where the pace of life is a little more laid back, chances are LELO is not far away. Take our recent visit to Townsville in North Queensland, Australia. This small town has just played host to the region's first ever adult industry trade fair – and as always, LELO was the star of the show.
LELO Plans to Stop Thieves in Their Tracks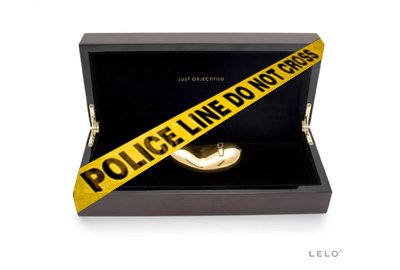 Last week a sex toy boutique in Brasília, Brazil was robbed and the shop clerk tied up as a thief made off with the 24-carat gold-plated Pleasure Object YVA, from our LUXE line. While the international media pounced on the story of a vibrator-motivated crime with much amusement, we immediately turned our attention to the serious side of the incident: how to prevent the same thing from happening again? The brains at LELO have come up with a unique solution: GPS tracking. We're now looking into the possibility of adding a small tracker within retailer samples of our LUXE massagers – our exclusive line of personal massagers made to order in a choice of either 24-carat gold or stainless steel. 
Meet the Queens of Iceland's Intimate Lifestyle Industry!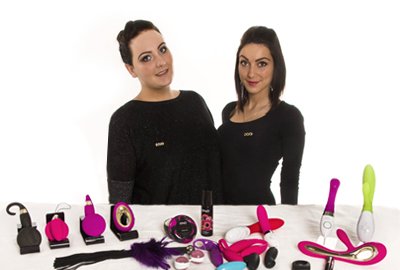 Rakel and Gerður with LELO products
When they met in 2009, Rakel Ósk Orradóttir and Gerður Huld Arinbjarnardóttir had no idea they would end up founding a company together, let alone that it's immense success would stem from sales of LELO's intimate lifestyle products. It started when Rakel bought her first LELO NEA. She was so amazed by its beauty and functionality that she couldn't resist showing it to her best friend Gerður. Today, they are the undisputed queens of the intimate lifestyle industry in Iceland –they have been interviewed by every major Icelandic media outlet– and their company "Blush" is regarded as the go-to website throughout the entire country.
Moving Pictures and Pleasure Objects; LELO Sponsors Hysteria in Switzerland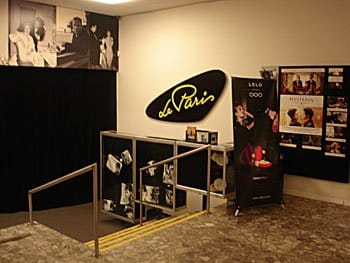 LELO Pleasure Objects are currently being splashed over silver screens across Switzerland as we take part in a partnership to sponsor Hysteria – a new romantic comedy that is close to our hearts. The film depicts the true story of Dr. Mortimer Granville, a Victorian-era physician who developed the first vibrator as a cure for female hysteria – a diagnosis that at the time required a house call from a doctor, and now simply requires some quality time with LELO.
Doing Our Part: LELO & Breastcancer.org

October is Breast Cancer Awareness Month, and for the occasion we've partnered up with Breastcancer.org for Rediscovering Intimacy. For the entire month, we're donating half the proceeds from sales of our LILY personal massager, in Pink, to Breastcancer.org, the leading expert resource of breast health and breast cancer information. 
RONROBINSON & Fred Segal Feature LELO at Luxury Hotel Shutters on the Beach in Los Angeles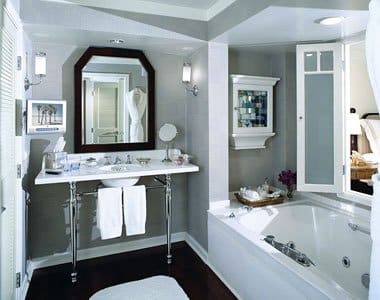 Here's a suitcase essential for every trip: your favorite travel-ready LELO Pleasure Object. And just in case you've forgotten to take yours along on the road, trendsetting Los Angeles boutique brands RONROBINSON & Fred Segal have got you covered – at world-famous luxury hotel Shutters on the Beach in Santa Monica, Los Angeles. Presented on the top shelf of the upcoming summer edition of the Bath & Beach Chest is our very own NEA in stunning matte white. 
Trophy Time: 3 Big Nominations from the AVN 'O' Awards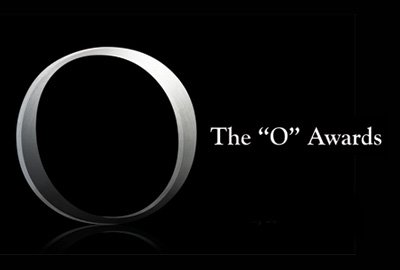 Can you feel it? Awards season is here! Imagine our delight this week when erotic industry authority Adult Video News announced the nominations for the annual AVN 'O' Awards, and we're on the list not once, not twice – but thrice? A whopping 3 nominations in prestigious categories will have us crossing our fingers this September 11th, when the awards ceremony is held on the last day of the Adult Novelty Expo in Las Vegas.
Walk a Mile in LELO's Shoes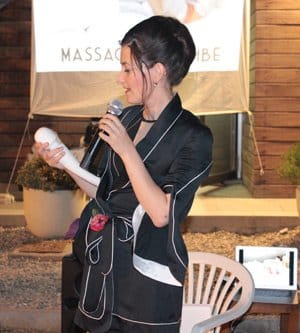 We're currently touring the beautiful Italian coast in a partnership with 12Camp, a wildly popular workshop that teaches women the value of a good strut. Over the course of an hour, attendees learn the right shoe to choose. At the end of this podiatry party, attendees show off their skills prowling down the catwalk to win one of our Smart Wands™ body massagers. This comes after 12Camp founder Veronica Benini demonstrates how they can be used to massage the legs after a day in towering heels – while wearing one of our Kimono Silk Robes, no less!
Winning Big at Eros Shine – 2 Years Running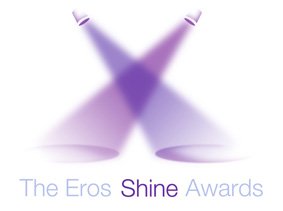 November 29 found us at the Melbourne Exhibition Centre for the Eros Shine Awards, where we were honored with the award of Best Products in Australia! It's our second year in a row in which we've been chosen for the award, and it's a feeling that definitely does not get old. The Eros Shine Awards are extra special to us at LELO, as the awarding body is not made up of a committee, but by customers themselves who vote for the winners among the best of the best in the adult business and erotic entertainment.
LELO & Lady Jane Team Up for Rhino Relief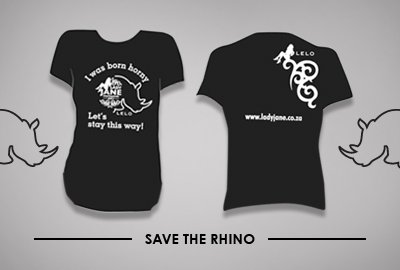 September 22nd was World Rhino Day, and around the globe events were being held to raise awareness about the quickly-disappearing species. One such happening was thrown by Lady Jane, an adult shop in Durban, South Africa who we got involved with to raise money for rhinoceros conservation efforts. We donated a number of products to be given away, and Lady Jane made specially-designed t-shirts, pictured here, that were also sold with all proceeds going to the rhinos.
LELO Shows Off at eroFame 2012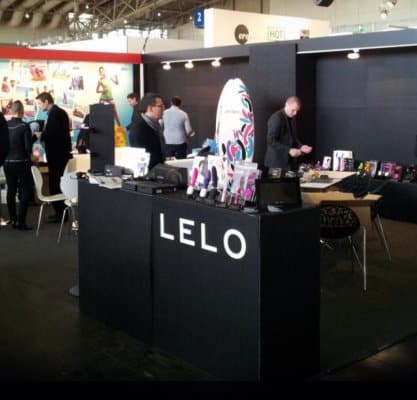 From October 3rd to October 5th we were in Hanover, Germany at the country's biggest adult industry trade fair, where we showed off our latest intimate offerings as well as some upcoming items to very interested retailers and customers. Our booth was a busy one, and even busier than years past due to the fact that 2012 was eroFame's biggest year yet. With 3,200 attendees angling to get a glimpse at 165 exhibitors – but none more than our very own booth which experienced a load of traffic from industry people and visitors alike. Everyone who stopped in was given the opportunity to see our latest items like INA 2, MONA 2 and ELISE 2, and get a sneak peak at new LELO products that will be hitting shelves in just a couple of weeks (more on that next time!).