Aren't beds sex furniture? Technically, anywhere you can go to pound-town on is sex furniture, but what we're talking about is equipment physically designed to support your body in optimal pleasure positions. Sounds pretty awesome, right? Just don't think anything on this list is dirt cheap. Sex furniture is an investment (with a guaranteed ROI).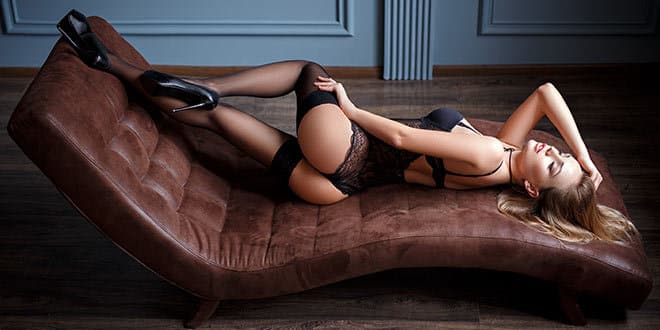 Support Pillows + Wedges
These are the most common types of "sex furniture" because A. they are super affordable and B. they are discreet AF. There are a ton of cylinderical pillows and foam wedges that you can place under your hips or back to put you into a position where things run smoother and deeper, and they are easily available on Amazon and in pretty much every sex shop ever. This tool can take a mundane missionary to an intensely deep missionary. Sign us up.
Chaises + Chairs
Technically, chairs alone have so many subcategories: queening chairs, thrones, balls, and lounges. Personally, I think they are a pretty cool conversation piece. They're designed ergonomically to the contours of your body and are functional as regular furniture as well. If you're just not ready to commit to a to a masterpiece in your living room, there are inflatable sex chairs too.
Toy Mounts
This is an added bonus to a lot of sex furniture out there. Some wedges and chaises include a small slit where you can add on your own toy. This can of course be used during sex with your partner or with some fun solo play. It's a win-win. 
Swings + Harnesses
These may appear a little too adventurous for some couples, but even if you aren't into BDSM or what you would "typically" picture with straps and harnesses, swings really just relieve tension off your back and wrists and make sex more comfortable and do-able. If you get bored of the sex swing, do a quick dungeon furniture search.
What to Take Into Consideration When Shopping for Sex Furniture
Durability
As we prefaced in the intro, sex furniture falls within a big price range, and you want to make sure you're getting a quality product is you're spending the big bucks to enhance your sex life. Make sure to check the warranty on an item before you purchase it. Most sex furniture has a money back guarantee if you're unsatisfied, so make sure you're doing lots and lots of testing in the beginning *winky face*.
Materials
Especially for those who have any type of allergies to fabrics, materials range anywhere from pleather to nylon to silicon to metals. On the bright side, if any of those irritate you there are plenty of alternative options. You also want to keep in mind the cleanability of the fabric and if it has removable and machine washable covers. Because let's face it, things can get messy when you're having loads of fun.
Aesthetics
And of course, you probably want your exciting new sex furniture to match the aesthetic in the rest of your home. Or maybe you're looking for a piece that stands out so you can show off your new sexcapades at the next dinner party. For those that are a little more discreet, there are a ton of closet storable options too. Whatever it may be you're searching for, we hope you're new sex furniture helps you discover new positions, desires, and feelings of ecstasy.