Date nights can inspire mixed feelings. On one hand, they are a relaxing and romantic respite from all the errands, work obligations, and general 'to-dos' that eat up so much of our time. On the other, there's always a perceived lack of spontaneity to having a block of time set aside specifically for romance.
Studies have suggested that couples who schedule 1 on 1 time together are happier with their relationships, but the key isn't just to spend time together, but to regularly injecting new activities and experiences. What better way do that by making your regular date night activities like dinner or the movies, just a little bit kinkier?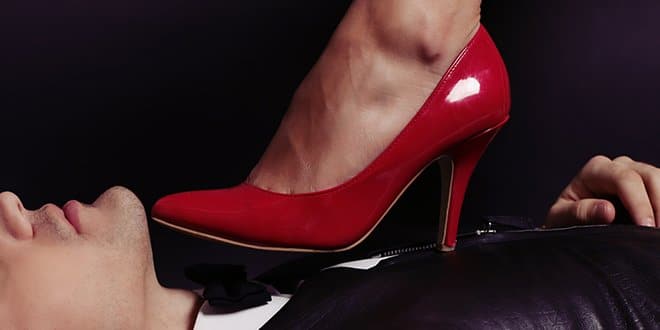 Dress Up (Each Other)
Making that extra bit of effort with your appearance is a good way to signal to both of you that the night will be special. Just putting on a new dress, your nicest cologne, or your sharpest suit puts you in that confident mood your partner can read just by looking at you.
But then again, maybe they have some ideas of exactly what they want to see you wearing (or not wearing). Let your partner pick what you wear and you'll know exactly what they fantasize about seeing you in. It doesn't necessarily have to be a pair silky underwear, it could be what you remember them wearing when you first started dating, or it's a pair of dress pants that are thin enough for the subtlest of 'accidental' brushes across them to have an immediate effect. Use your imagination and take advantage of the specific activities you'll be engaging in. If you're going dancing, maybe you'll want to forgo the flowy skirt sans panties for a wearable vibrator (or then again, maybe not!)
Check Out a New (Adult) Movie
As they say, 'Hunger is the best spice of food.' It's easy to get into the habit of satisfying your lusts and desires whenever you want, particularly if you live with your partner and both of you have similar sex drives. Indulge in a little bit of delayed gratification by watching (or reading) some erotic content before you head on your date…and keep your hands off each other (and yourself). Not only will you be able to watch each other get all hot and bothered (and a bit frustrated) you'll be giving yourselves inspiration for adventurous sex you'll be having once you get home.
Seduce Each Other (Like it's the Very First Time)
The 'pretend to be strangers at the bar' game is classic, and for good reason. It may take some acting skills and composure to keep yourselves from treating each other as your long-term partner, but it also gives you the opportunity to play around with make-believe. Maybe your usually shy partner wouldn't be too keen on oral sex in the washroom, but the femme fatale persona they adopt is all for it!
Remember to be (Role) Playful
Have you been exploring Dominant and submissive roles in the bedroom only? Date night can be ripe with opportunities to explore more of the mental and 'hands off' aspects of this dynamic. From things like choosing what your partner wears (as mentioned above) to controlling your partner's pleasure with a vibrator, even a dinner date can be twice as electric.
Maybe both of you are naturally a bit Dominant (or even just very competitive). You can turn your evening into an elaborate set of challenges, like who can get away with taking and texting the naughtiest image during the evening, or who can flirt their way into getting the most phone numbers in front of each other. Just remember, as with any sort of kinky experimentation, to clearly establish rules and limits to your play, and check on each other to make sure you're both having fun.
[related_article id="13564″ size="full" target="_blank"]