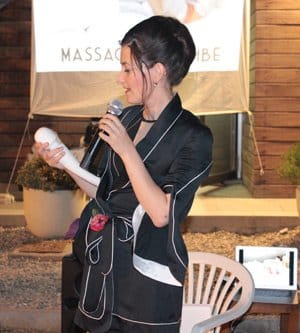 We're currently touring the beautiful Italian coast in a partnership with 12Camp, a wildly popular workshop that teaches women the value of a good strut. Over the course of an hour, attendees (it's a free course that, due to its popularity, is often standing room only) learn the right shoe to choose, stiletto maintenance, and the proper technique to master gravity-defying footwear.
We smell an amazing bachelorette party business plan here.
At the end of this podiatry party, attendees show off their skills prowling down the catwalk to win one of our Smart Wands™ body massagers. This comes after 12Camp founder Veronica Benini demonstrates how they can be used to massage the legs after a day in towering heels – while wearing one of our Kimono Silk Robes, no less! It's a fun celebration and expression of femininity, so we had to get on board as main sponsor of this year's touring workshop.
Started in 2010 by Benini, author of sporablog.com, 12Camp is currently hosting 7 workshops throughout August, all held in stunning locations along the coastline of Italy. Main sponsors in previous years include Elizabeth Arden, L'Oreal, Martini, Kerastase, Philips and Citroën – a disparate mix, but good company all the same!