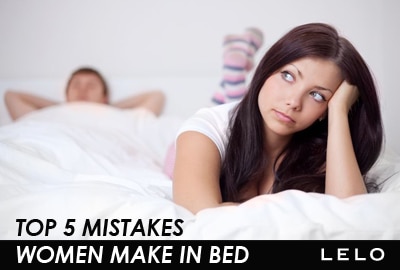 So pleasing a man is easy, right? If making a man climax is your bench mark for pleasure, then yes.
But the truth is, truly pleasing a man—physically and mentally— can be as complicated as understanding a man.
So just where can a woman go wrong? Good question – and one that we've posed to the all the men in the LELO office, and here's what they have to say!
Giving too much, too soon
We're hooked on our favorite televised dramas because episodes always end with a cliff hanger — leaving us desperate for more.
Adapt this TV tactic to your sex life and always leave your man wondering what's next. Share some fantasies with him, but make him earn them over time.
Not taking control
While finding a man's pleasure point leaves nothing to imagination, a woman's anatomy is a bit more intricate.
By now, you've most likely discovered the three Ps of pleasure—pressure, pace and place—that suit you best. Don't be too shy to guide your man's hands and body and let him know all three of your Ps.
Lacking confidence
We've all got our own hang-up when it comes to sexual self-esteem or our own body image, but vocalizing them to your partner –especially when you're trying to feel sexy – empowers the issue to distract yourself from how desirable you actually are to them.
Letting yourself go
While sexual encounters can be spontaneous and their timing unpredictable, it's no excuse to neglect your normal hygiene routine.
While different men have different pubic preferences, one thing is for sure—you can never go wrong with a 'less is more' approach.
Giving the silent treatment
While loudly faking an orgasm could have a nails-on-a-chalkboard effect on a man, staying silent during sex could be equally as uninspiring.
When you know your orgasm, a simple moan or a bit of direction merits a win-win situation, because knowing what to do and how to do it right will for him only double the satisfaction.
From what we've learned from the lads of LELO, every one of these bedroom blunders are easily amendable as early as your next sexual session.
And just the same as we spoke to our men, you can do the same with yours to find out his specific pleasure preferences. To put the ball in his court, share this article with him and ask him if he agrees with the pleasure princes of LELO.