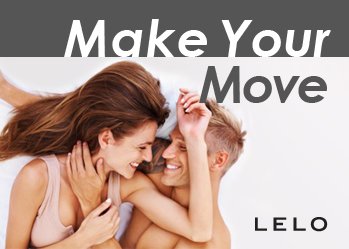 Whether it's for keeping you healthy or for strengthening your relationship, we're always telling you why you should be enjoying more sex.
That's all well and good, but when it comes to how you go about getting it, it sometimes comes down to dropping a hint, or just outright saying 'I want sex'.
For some, this is easier said than done; perhaps you're the shy kind, or just out of practice when it comes to being erotically assertive. No matter what the reason, we've got some ideas to help you initiate intimacy.
Speak in Code
Together, come up with a word or phrase that indicates you're in the mood for sex. Make it something you can say in front of friends, the in-laws, or even the kids that lets your partner know that they're on your mind, and not in a PG-rated way.
'It's your turn to empty the dishwasher' or 'Tony and Rita are coming around for dinner tomorrow night' will sound absolutely mundane to others, but totally titillating for the both of you as a sexy secret shared only between partners.
Share some Naughty Nostalgia
Take some time together to recall the sexiest memories you've shared. Your past feats of foreplay and erotic achievements will let him know you've got him on your mind, sexually-speaking, and will get you both looking to top your Personal Bests of passion.
Switch the Timing
Break out of the tyranny of your normal sex schedule and make your move during an unexpected (yet acceptable) time.
The idea is to take him by surprise and eliminating the usual context of your sexual encounter, which will help you to drop some inhibitions that might be customary to you.
See a Sexy Scene
Watching a well-made sex scene together can be a wordless way of getting you both in the mood to make some mutual moves, and makes your 'movie night in' together something even more worth looking forward to!
Which one to watch is up to you, because there are too many sexy movies to count – perhaps our list of the hottest movies of all time can help you out, but we've all got our own taste when it comes to these things.
Spell It Out
If saying it out loud isn't your thing, getting your desires down in writing can be a big help.
Try slipping a cheeky note into his coat pocket that spells out your intentions, but if you're feeling more modern, use the technological tools that are at everyone's disposal. Email is great for multimedia messages if you're feeling racy enough to send a sexy snap of yourself, but make sure it's to a personal account!
Otherwise, get on the trend that millions are now experimenting with; Sexting. A deliciously descriptive text message is a great way to up the anticipation until you next see each other, and if you're stuck, check out our list of example sexts for a number of situations to get you started.
It doesn't come natural to everyone, but saying outright "I want you now" is a skill that one can become comfortable with. This forthrightness can be a blessing that doesn't require tact, or even planning – because getting exactly what you want makes it all worthwhile in the end!