With the discovery of the telephone, people have been cashing in (and forking out) on phone sex for simple pleasures. Surely you're familiar with those sexually explicit ads in the newspaper way back when? Or perhaps enticing posters in phone booths?
And even though we've come a long way in terms of sex and technology, the sex industry, sex apps for better sex, and other various ways to get off, there are still a ton of thriving companies and individuals that make their money by talking to those who need a little sexual excitement in their lives. 
What's changed today however, is the fact that the ordinary man and woman can now engage in a little phone sex with absolute ease… without whipping out their credit card details. And it's not just the age-old telephone line kind either. 
Now, we're looking at sexting and erotically-charged phone calls from mobile phones from just about any location worldwide. Now isn't that what living the good life is all about?
For that reason, a little lesson on how to do phone sex right is something we all can benefit from, because it's just too easy to get carried away with the one we're lusting after.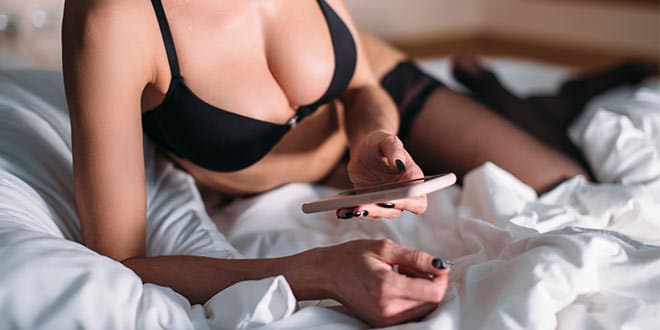 What is Phone Sex?
It is… what it sounds like! Picking up the telephone and having sexually explicit conversations with another human (or an AI, have we gotten there yet?). Either or, it's the intimate moment of describing sexual acts, fantasies, fetishes, kinks, and role play ideas with another which may induce mutual masturbation and racing pulses. 
It's certainly a colorful way in which to get down, and the direction in which it may go varies considerably from couple to couple. 
These days however, there's an addition to what we know phone sex to be. That is, sexting. Sexting is simply the same principle, but via text. It's a less intimidating way to get to know the person you're talking to, sexually, and is an opportunity (for those with a smartphone) to swap sexy photos and videos.
Today, we're going to take a look at phone sex for beginners, the old-fashioned way. That is, by talking!
The History of the Telephone and Phone Sex
As you may well know, the telephone was invented in 1876 by Alexander Graham Bell, and was a way in which to connect with loved ones without delay. By 1904, three million households in the U.S. had an active phone line, and that number only grew exponentially.
But when did all this phone sex tomfoolery begin? Personal phone sex has been said to be 'a thing' since the turn of the 20th century. But it was only in 1977 that the phone sex industry took off… and we have Gloria Leonard partly to thank.
Gloria was one of the first mainstream porn stars who later became the edtior of the porn magazine, High Society. In her role, she launched the first phone sex line which was used to promote the magazine. 
This pay-per-minute concept was, at first, a recorded female voice saying a few sexy phrases. But as curiosity peaked, it was more than obvious that the live version would be a lot more successful. And voila, phone sex was born. 
11 Pro Phone Sex Tips for Beginners
Even though this practice has been around for quite some time, there are still a few individuals who are absolute newbies. Which is why we've compiled a little guide on how to immerse yourself into the world of getting off with a partner, via a telephone or mobile. Ready?
1. Save the Giggles
Sure, it may feel weird and you may be blushing like a teen fresh out of high school (maybe you are a high school teen, who knows!), but giggling is one surefire way to lose a boner and or lady wood. 
And even if you feel extremely comfortable with the one you're talking to in general, having a giggle only ruins the sexy fun – especially if you're laughing at your partner who's revealing his or her deepest, darkest fantasies, as it'll probably make them feel self-conscious and insecure. 
2. Prepare: Feel Sexy
To be authentically sexy, you're going to want to feel sexy. Set the mood! Wear slinky lingerie or smooth boxer shorts that feel good against your intimate parts, light some candles, look at or share some filthy pictures or videos… whatever floats your boat.
Then, choose a time and place that gives you ultimate privacy. Your sexual phone experience is like stepping into a different world. One where your daily troubles don't exists. So try to remove all distractions like screaming children, barking dogs, and friends or family who may interrupt you.
3. Learn the Lingo
For some, hearing certain words during a session of phone sex is enough to cause cringe to the max. And if you're the type of person who feels strange using the anatomical words of body parts, for example, avoid it. 
Perhaps the word 'boobs' makes you feel silly, or you can't stand to say the word 'cock'. If so, don't do it. Find the words that you're comfortable with, and stick to those to ensure sexiness and comfortability. 
4. Technological Success
You may think that because we're so advanced in technology, issues such as a poor internet connection couldn't possibly ruin your phone sex fun… but it really can.
Make sure to charge your phone sufficiently, to be in a good wifi or mobile data zone with credit, and make use of extra bits and bobs if it'll make you feel more comfortable, like a BlueTooth headset or airpods. 
5. Calm the Nerves
While we don't really recommend getting hammered beforehand, perhaps a glass of wine may help you to feel more sexually calm and comfortable. Or maybe a warm bath or looking at some erotically-charged material can get you in the right mood. Go ahead and allow yourself to feel good for your bit of fun.
6. Use Your Voice
Being excited is sexy, but sounding excited… like a kid on Christmas, is not. Try to lower your voice an octave, and speak slowly and clearly. 
And for those non-voice moments, use your breathing and noises accordingly. Sure, you don't need to sound like Mia Kalifa being railed, but try to incorporate a few auditory sounds, and you'll hit all the right spots.
7. Prepare for the Shock Factor
Phone sex is an opportunity to escape into a beautiful and erotic world. And when two people feel safe enough to talk about their deepest desires and fantasies, it's up to both of you to be in a non-judgemental space. It's almost like playing a little game of foreplay before seeing each other.
So if your partner describes a scene of facesitting or if they throw out a few rough sex ideas, it's not the time or place to get judgy or to laugh. Instead, play along. 
After all, it is just a fantasy and a bit of fun. It doesn't always mean that that's something you'll actually have to do.
8. Filling the Empty Spaces
There is no promise that your first or even your 100th phone sex session will go smoothly. And just like any other conversation in life, you may find yourself with a few awkward silences. In that time, use your go-to phrases. 
These are ordinary, run-of-the-mill questions like, "Do you like that?" "Do you like it when I do xyz?" or "If I were there right now, what would you do to me?".
You could also add in a few dirty talk teaser lines such as, "I'm getting so wet/hard," "I want you in my mouth right now," or "You taste so good, I want to kiss you all over!". 
9. Create a Visual
Visual sexual stimulation, especially for men, plays a huge part in feeling turned on. Use your best vocab to describe what you're wearing, where you are, what you're doing, where you're touching yourself, or even describing the perfect erotic scene that you know will drive them wild. 
Note, you don't actually have to be wearing or doing these things! Even if you're in your most comfortable pj's, you can create the perfect imagery of wearing a tight see-through piece of lingerie that is exposing your hard nipples, tight boxers that show off your massive bulge, or being absolutely naked and horny. 
10. Let Them Know What You Want
Phone sex is the perfect opportunity to let your partner know what really gets you hot. And in this way, it's not only a fleeting moment of passion but also, a little insight for them to know what you want in the bedroom.
For example, if you're a woman who needs clitoral stimulation to orgasm, put a lot of focus on this part of the body so that they know it. And if you're a guy who loves having his balls played with or licked during a blowjob, make sure to mention it. 
This gives your partner an inkling into your sexual preferences so that when you two meet in person, your play time can be even better.
11. Text First
Everyone has a life, and even if yours is more interesting or busy than your partners, you can't expect them to put everything aside when you decide to call them up for some fun. Start off by texting them something suggestive.
Write them a simple yet effective text, like "I have a sexy surprise for you…" or "I can't stop thinking about the naughty things we did last night." Gauge the moment, allow them to respond when they're able to, and then get the ball rolling.
Texting also works for those who feel exceedingly shy to do the whole 'speaking' thing. It's a non-threatening and more comfortable way to express your deepest desires without feeling embarrassed or intimidated.
So, are you ready to rock your partner's (and your own) world? Start slow, see how you like it! If it's not for you, you can tick something off the sex bucket list and get on with your life. No harm, no foul!