First came phone sex; then it was sexting, and then Skype sex.
Now, sensual software is about as ubiquitous as the cell phones they are downloaded on to, with erotic apps now at the forefront of the sex meets tech movement.
However, in your search for download-worthy sex applications, you're sure to confront thousands of sub-par offerings—from the lame and prude to the filthy and lewd.So knowing you value your free time as much as we value you, we here at LELO have gone ahead and filtered out the top 5 sex and relationship apps.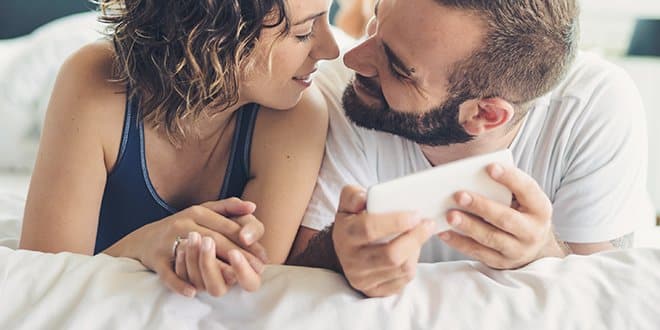 What it does:
Provides sexy, racy "truth or dare" scenarios
How it works:
A perfect app to kick off foreplay or jolt some sexual energy into a party, Dirty Games: Truth or Dare doesn't leave much to the imagination. To start, select your gender and then tap "truth" or "dare." Depending on your choice, you could be admitting who you regret having sex with or acting out a minute-long sex scene with the person on your right.

What it does:
Helps you romantically stay in touch with your partner
How it works:
Designed for you and your soul mate, Couple is a cutesy app for two that offers you and your lover intimate cyber privacy. Unlike other social media apps like Facebook or WhatsApp, Couple promotes the personal sharing of moments, important past and future dates, wish lists and more. It even has a special feature allowing you and your partner to "thumbkiss" in real time.

What it does:
Encourages you to take sex outside the bedroom
How it works:
Grouping adrenaline-inducing sex locations into categories such as "outdoors," "sporting venues," and even "transportation," the app suggests 99 obscure places to have sex, allowing you check off your accomplishments. If you manage to tick "construction site" and "family reunion" off the list, you've certainly got our respect.

What it does:
Guides you through the Kama Sutra and tracks your progress
How it works:
Breaking down history's most famed sexual text by position, category and mood, and allowing you to bookmark positions and track your progress, iKamaSutra is the must-have pocket playbook for every curious couple. Featuring hundreds of illustrations, you can star your favorites, choose a position at random and more.

What it does:
Lets you control your sex toys in (or out) of the bedroom.
How it works:
Connect one of four different sex toys (or one of your partner's) to your mobile device via  Bluetooth for a fun and interactive remote control that (conveniently) looks like a totally innocent app, making it perfect for using to explore a n exhibitionist streak in in public if you're feeling daring.
Conclusion
With that said, we'll now leave you to your own devices (literally) as you continue to utilize technology to explore the web of sexual possibilities.