Design for the Ages: Tiani™ Takes Up Residence at the Red Dot Award Museum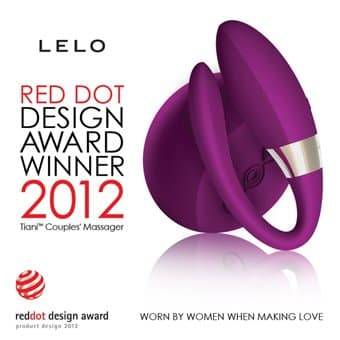 The go-to massager for couples worldwide who are looking to add something extra to their shared passions, our wearable couples' massager Tiani™ is now being appreciated in a whole new light. After winning the 2012 Red Dot Award (think the Oscars, but for design) for Excellence in Product Design, it is now being put on permanent display in the Red Dot Museum in Essen, Germany.
Home to over 1,500 past winners of the prestigious award, the Red Dot Museum contains everything from cars to kitchen appliances, all selected by their judges panel of the brightest minds in contemporary design.
With its ergonomic, comfortable-to-wear form matched with groundbreaking SenseMotion™ technology and simply intuitive remote controls, Tiani™ will be right at home amongst past winners such as BMW, Opel, Apple and Bose – to name just a few.
This is of course an amazing honor for us, and one that we're really proud of – many thanks to the people at Red Dot. And if you're ever in Essen, remember to stop by and see Tiani™!
Click here to read about our other recent museum induction – into the ACOG Museum in Washington, DC.

---
Katy Thorn is a post-grad writer with a passion for writing about sex, sexuality, and all things rated R. She received her degree in Women's Studies with a focus in Intersectionality at the University of California, Berkeley (Go Bears!). She has a cat named Yoko, drinks too much black coffee, and hates writing bios.