TIANI 3 Couples' Massager is one of the best-selling LELO toys that's popular with couples around the globe. And there is a good reason for it. With multiple different vibration settings, luxurious design, and a promise of pleasure for both partners, TIANI 3 is the sex toy you want in your collection.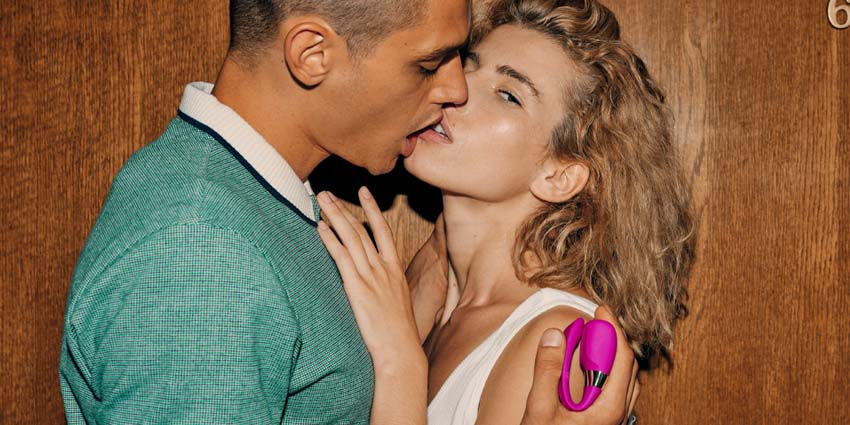 Why Choose TIANI 3 Couples' Massager
Double pleasure. TIANI 3 has two arms that vibrate, providing internal and external stimulation all at once. Doesn't get any better than that. 
A sex toy for both of you. When you're looking to experience something together with your partner, TIANI 3 comes in hand. You feel the vibrations, and he can enjoy the same sensations at the same time. 
Hands-free pleasure. Insert the toy, set the vibe, and enjoy the ride without having to keep the toy in place with your hands. 
Flexible fit. A luxurious and sleek design is perfect for everybody and can be easily adjusted to fit just right. 
Multiple vibration settings. Even eight different pleasure settings will make sure that everyone can find something that fits them. And you'll never get bored with the selection. 
How To Use TIANI 3 Couples' Massager
TIANI 3 is super versatile and offers many different ways to spice things up in the bedroom. From flying solo to heated partnered play, the sky is truly the limit here:
1. Flying Solo
As with most sex toys, it's always best to experiment with the toy during some solo-play for the very first time. It allows you to get familiar with the toy and all of its functions. Also, it allows you to find out how your body reacts to what the toy can do. 
While TIANI 3 is a couple's massager and toy specifically designed with coupled play in mind, it's also perfect for solo sessions. 
So, when you get your hands on your new toy, you can try a few different things. Start by simply placing the toy over your clit as you play with different vibration modes. 
Then you can try out the hands-free option by inserting the smaller hand of the toy inside your vagina while positioning the larger arm over your clit. Lay back and use the remote to control the vibrations. 
Also, did you know TIANI 3 is 100% waterproof? So next time you have a relaxing bath after a long day, bring the toy with you and enjoy a truly steamy bath. 
2. Spice Up the Foreplay
Foreplay is a huge part of sex, and it shouldn't be overlooked. TIANI 3 Coupless' Massager is the perfect tool to spice things up before the intercourse to get you and your partner both hot and bothered. 
When you're in the bedroom or your living room or wherever else you choose to have sex, insert the massager in place and give your partner permission to use it however they see fit. 
As you're cuddling while watching Netflix before you have sex, your partner can adjust the vibrations of the toy to tease you a little bit. Or, they can pleasure you while you're both making out. 
Small things like that are sure to get you into the mood and panting for more, creating an unforgettable experience that will surely leave you both with fond memories after. 
3. Try Edging
If you love a little bit of pleasure torture AKA edging, then you'll be very happy to find out that TIANI 3 Coupless' Massager is a perfect toy for it.
Insert the toy in place and give your partner the remote. They can tease you with it without touching you, bringing you to the edge before slowing down. Or, they can also pleasure you in all the other ways together with the TIANI 3, but never allowing you to finish. 
The fact that the toy is hands-free comes very handy here because your partner can focus on multiple ways of stimulating you, which surely adds to the whole edging experience, making it so much hotter. 
4. Missionary for the Win
Many couples that try TIANI 3 Couples' Massager love to use the toy in the Missionary position. 
Missionary is intimate, with tons of skin-on-skin action, kissing, and eye contact.And when you add the TIANI 3 into the mix, with stimulating vibrations that not only can you feel on your clit, but your partner can also experience with their penis during penetration, Missionary gets even better.
Insert the toy inside the vagina before your partner penetrates you for better comfort and enjoy the ride. 
5. Build Intimacy
Of course, Missionary is not the only position you can use with TIANI 3 Coupless' Massager. Another great sex position to get into when using the massager is the Lotus position. 
It's a very intimate position that, just like Missionary, offers a lot of skin-on-skin contact and gives an opportunity to be very close to your partner. With the TIANA 3 inserted while in Lotus, you'll get to experience the full force of the vibrations over your clit, and your partner will also be able to feel it as they penetrate. 
And, of course, for the best experience and pleasure, try switching between different positions and experiment with the placement of the toy. 
6. Don't Skip on Anal
TIANI 3 Coupless' Massager is a perfect toy for anal play. 
Insert the toy in the vagina so that the small arm is inside while the larger one rests over your clit. Lay on your belly so that the toy is wedged between the surface and your body. Your partner settles on top of you.
As your partner penetrates from behind, you can move your hips, grinding your clit against the toy for some intense double stimulation and mind-blowing blended orgasms. 
7. Indulge in Your BDSM Fantasies
TIANI 3 Coupless' Massager is the best hands-free power play tool that will surely come in handy when you're ready to indulge in your BDSM fantasies. 
Let your partner insert it inside you and use the different vibrations to bring you pleasure. TIANI 3 can be used together with other toys, so your partner can get as creative as they wish, bringing you down on your knees in different ways.
Insert the toy inside, keeping it inside your panties as you go about your daily tasks while your partner controls the vibrations and punishes you with orgasms however they please. Or let them tie you up and use the toy on you while you're unable to escape.  
TIANI 3 Couples' Massager will surely fit in with many different roleplay fantasies you and your partner wish to experience. 
Take Care of Your TIANI 3 Couples' Massager the Right Way
Before your first time using the toy, charge the massager for two hours. 
Once you're done playing with the toy, don't forget to clean it properly and store it the right way so that you can enjoy the benefits of the TIANI 3 Couples' Massager for years to come. 
You can either clean your toy with the LELO Cleaning Spray or warm water and antibacterial soap. Rinse it under hot water, pat it dry and store it in the satin storage pouch that comes with the toy or any other storage container, away from other toys.