If there's one thing we love at LELO, it's comedy films from Hong Kong – we're suckers for ribald humor and indecipherable cultural references – it's just who we are. We just love settling into our comfy couch with a big bowl of buttery popcorn (or a B.B o' Buttery P. as we like to call it) to laugh away at the latest that Hong Kong cinema has to offer.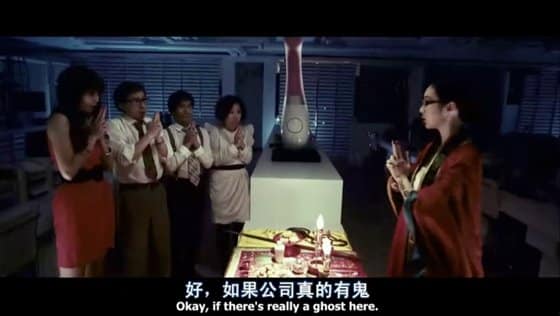 It was during one of our recent sino-cinephile sessions that we screened Microsex Office, a raunchy sex comedy from writer/director Jim Chim, who also takes the starring role. Despite what the title might have you think, it was released in 2011 rather than 1997, and we were halfway paying attention (sometimes the Buttery P. trumps the entertainment) until something caught our eye.
Holy cow. That's a big GIGI™.
[tweetable]What's our bestselling
G-spot massager
doing in a Hong Kong comedy film?[/tweetable] We can't say. Does it have anything to do with the scene? Not from what we can tell. Where did they even get a GIGI
™
that big? Beats us. All we can say for sure is that GIGI is big in Hong Kong. Literally.
While there are hardly any reviews for Microsex Office to be found online, you can check out our LELO GIGI 2 review roundup of all the thumbs up and 5-star raves it has gotten over the years.
Scroll down for more images from GIGI™'s big cameo.