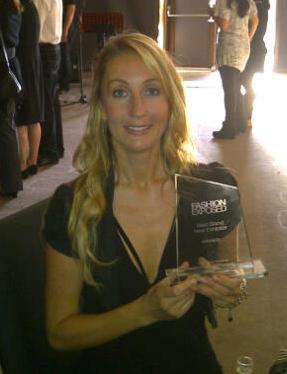 LELO was named 2011's 'Best New Exhibitor' at Australia's largest fashion industry show in March. Following very well received debuts in the US and UK in January, LELO's elegant Sussurra collection of lingerie and loungewear stole the show at Fashion Exposed.Featured among 1,500 international brands on display at the Sydney Exhibition Centre from 6-8 March, the Sussurra collection was singled out for the honour.
Jo Radnidge, Country Manager of LELO Australia, had this to say of the achievement; 'Being recognized amongst so many great names in this exceptional and dynamic industry, it's such a privilege that we're very thankful for."Sussura,which means "she whispers" in Italian, has been lavished with attention in the fashion world for its simple, sleek designs, high quality materials and attention to detail.
Made with the discerning couple in mind, the Sussurra collection utilizes silk stripe chiffon, silk satin and silk habutai in the most fashionable manner. The collection encompasses robes and kimonos, open front babydolls and camisoles, tap shorts and panties alongside men's lounge pants and boxer shorts. Showcasing elegant and enticing expressions in silk and satin, Sussura is a statement of the finest kind in the fashion of seduction.