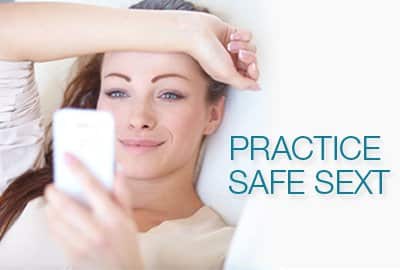 While a fun and playful practice between consenting, connected adults, sharing sexy photos between smart phones should be approached with care – as many celebrities can tell you; once they're out there, they're out there.

Consequences aside, more and more women are snapping and sharing pics of themselves (we're not talking about a 'NO MAKEUP LOL' selfie on Instagram), according to our global sex survey which found that women are now more sexually adventurous than ever.
With all this in mind, we decided it's finally time to offer up our top tips for keeping intimate photo sharing fun and sexy, but most importantly — safe.
Save Face
Use your head by, well, not using your head. Keep your face out of frame in any nude or semi-nude photo.
Unless you have a unique tattoo or distinctive birth mark, no intercepting interloper will be able to identify the face accompanying that sexy body.
Practice Safe Sext
Just like you keep your tangible personal belongings safely hidden away in secret drawers and boxes, take the same precaution with your digital possessions.
If you don't delete nude photos ASAP (recommended), be sure to keep them in a password-protected file, and have the person you send them to do the same.
Dishonor the Honor System
While you might have every reason to believe someone's "I promise not to show anyone," remember that Paris Hilton and Kim Kardashian heard the same thing once upon a time.
Take all words of reassurance with a grain of salt, keeping in mind that established intimacy and trust needs no vocalization.
An App for Your Snaps
Appsmiths (people who make apps – right?) are your friend when it comes to most things tech. Take SnapChat for instance, which deletes a photo from a recipient's phone 10 seconds after it arrives in their inbox, allowing for a fleeting peek before your message self destructs.
Fair warning however, if the person you're sexting is fast on their phone's screengrab function your pictures can still be kept – as for whether SnapChat will upgrade to disable that function remains to be seen, but it still adds a layer of protection, however fallible.
Abstain
While you might be surprised to hear the 'A word' coming from us, the only surefire way to guarantee your photographic privacy is to forego sending nude photos altogether.
If you're not completely comfortable distributing racy images of yourself but still looking to tantalize with technology, give mastering the art of sexting a try and learn how to send the sexiest text messages.
While your racy SMS might not make it all the way to TMZ, you can never be too cautious sending images of your body.
They say a picture is worth a thousand words. The next time you send one of yourself, be sure five of them won't be "Why did I do that?"
[related_article id="161″ size="full" target="_blank"]