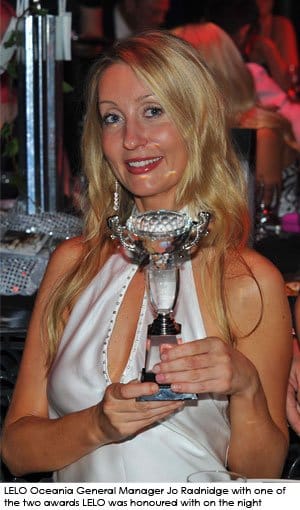 On November 22nd, LELO received top honours at the Eros Shine Awards held in Melbourne, Australia to recognize achievements in the country's adult industry. LELO took home trophies in two categories; Best Products and Best-Selling Products, with the former chosen by Eros Association Inc. as well as consumer voters from around Australia.
There to accept the awards was General Manager of LELO Oceania Jo Radnidge, who turned heads on the red carpet in a dress fashioned from a piece from our upcoming Sussurra items slated for release in January 2012.
In her second acceptance speech of the evening, Jo said: "Two awards in one night! This is just such an honour for us at LELO to be chosen by both the customer base and by the esteemed professionals from the Association. Thank you to all our wonderful partners – the retailers that make it all happen, and LELO's global team for making us the leading brand here in Australia and in the industry worldwide!"
Eros Association Inc. is Australia's premier national adult retail and entertainment organization, and the Eros Shine Awards recognize industry leaders for professional integrity, creativity and innovation, and LELO can now count two of these prestigious awards among their collection.
Click here to read about more awards in LELO's trophy case.