After creating our guide to male masturbation, we heard from several readers wanting more instruction on how to use these common methods on their partner.
Handjobs might be associated with the sexual encounters you experienced before you start having intercourse, but as tactile creatures, manual (sometimes referred to as 'digital') exploration of our partner's body gives us a better understanding of their pleasure points and can be incorporated into other sexual acts such as oral sex. Below, we share tips and tricks for improving on your handy work.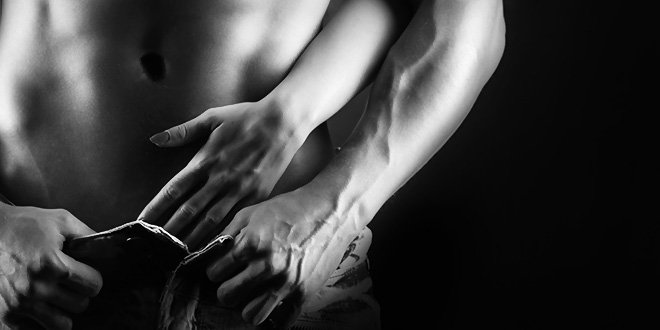 The first place to start out is by acquainting yourself with the male anatomy of pleasure. While you can do so with an actual body in hand, not everyone is as comfortable vocalizing exactly where they want to be touched and with what pressure. Though of course, communication of these preferences is key to a happy and fulfilling sex life, it is good have a basic knowledge as well.
Different Perspectives
When we think of "positions of handjobs" we mostly think about whether we are giving a "reach around" or facing our partner (or sitting beside, should you be engaging in some mid-movie naughtiness) which can be an excellent place to start. If new to manual stimulation, spooning your partner and having them help guide your hand to how they usually masturbate is an excellent way to get to know what kind of stimulation they like.
A Slower Sensation
From other positions, you can experiment with an over or underhanded grip (your thumb closer to you or closer to your partner) to find which is more comfortable for you. Using your dominant hand (lubricated, ideally) you can give long strokes from base to tip, starting slowly and increasing in speed as directed (verbally or non-verbally) by your partner. It's better to start with a looser grip and increase slightly with reinforcement from the receiver, and this goes doubly if they are uncircumcised.
To switch it up, you can use one or more finger at a time (rather than all) to make a tighter grip: for example using your pointer finger and thumb in a slightly tighter circle to mimic him 'entering' someone, or just switching up the sensation by changing your middle finger from a tighter grip to your ring finger, and then back again. Your thumb can curve around their penis or be held flat along its length as you stroke.
Both Hands on Deck
While you can use two hands at once to stimulate the shaft of the penis, your non-dominant hand has plenty other erogenous zones to explore on your partner's body.
On either side of the penis, just inside of the hip bones, are areas that can be responsive to slight pressure applied with thumb and forefinger. Alternatively, you can apply pressure on just one side with your thumb, and then use your pointer finger and middle finger to gently massage the area behind the testicles with a 'come-hither' motion in synchronous with the motions of your hand on the shaft.
If your partner is comfortable with prostate stimulation (and our stats show that more and more men are ) you can use that same motion to manually massage your partner, using plenty of lubrication. Whether for the prostate or strictly external stimulation, you can always use a small hand-held vibrator to add extra intensity to the experience.
A Touch of Tech
As time and technology marches on, some of the best pleasures can still come from the hands of a trusted partners — but they can also come from the skilled hands of engineers and product designers too. With pleasure technology advancing into the age of Sextech, you can give someone the best handjob of their life without actually giving them a handjob.
When you've got a Sextech item like the LELO F1S, you're wielding pure pleasure in the palm of your hands. The F1S varieties are huge advancements on the traditional 'pocket pussy' design: sure, it's designed to have a penis put inside of it, but the kind of pleasure it provides is truly unique. Whereas a traditional masturbation sleeve is for thrusting in and out of, the F1S Sextech toys provide deeply resonant sonic sensations that go deep into the genital tissue for a kind of experience you just can't get from a helping hand.
A Handy Skill
Of course, this is just a guideline, and you will find your partner will respond to different speeds and sensations differently, and these tips about how to give a hand job need not just be used strictly in the sense that it is the beginning of sensation and a means to bring on orgasm (though they can be). They can be used as a relaxing way to wake up your partner in the morning for sex, part of giving a blow job, or to bring your partner to orgasm manually after having penetrative sex.
[related_article id="11860″ float="right" size="full" target="_blank"]