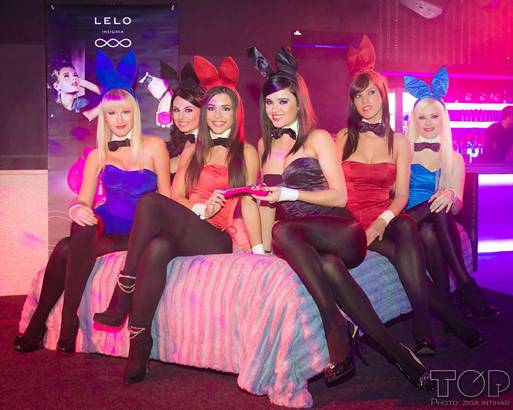 Keeping true to our global image, 2011 was a busy year for LELO. We kicked it off in Vegas with AVN and CES, and have made it around the world since—winning a couple of awards in Russia's X'show and Australia's EROS Shine Awards, participating in Brazil's Salao da Moda lingerie fair, collaborating with designers in Italy and the poets of Shanghai, and even making cameo appearances in a couple of popular UK TV shows, to name a few.
Before ending the year with a CES video shoot and several review round-ups for SenseMotion™, LELO made a pit stop in Ljubljana , Slovenia to team up with Playboy for the region's hottest party in 2011.
The Playboy Party powered by LELO was held at TOP Klub, Slovenia's most prestigious club and a proud member of The World's Finest Clubs. There was no finer venue to introduce our Slovenian friends to LELO and our extensive line of designer products, and no better models than the Playboy Playmates themselves!
Miroslav Slavic, CEO of LELO had this to say about the event; "Playboy is one of the most recognized and popular consumer brands in the world, while the managers of TOP are our main distributors for this region – the Playboy Party powered by LELO was a great opportunity for everyone involved, and a stylish way to make our entrance in Slovenia."
The lovely Playmates in the photo above can't get enough of the ISLA from our first Insignia line.