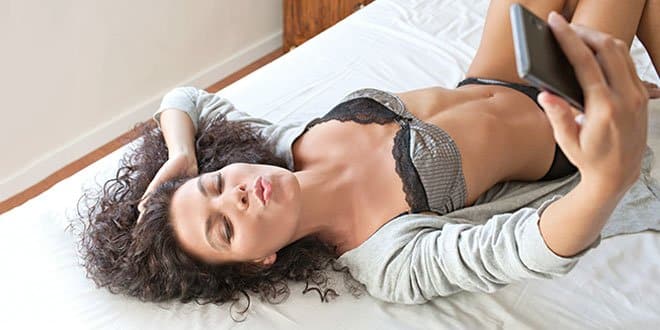 From time to time, we just don't feel as sexy as we'd like. Be it work or family stress, a simple lapse in our exercise routine, or just a plain break from romantic reality, we're just not feeling our sexual selves.
When this happens, here are some tried and tested tricks that will have you back to your bedroom best!
Log Off
According to Canadian researchers in a study published in CyberPsychology & Behavior, the more time spent on Facebook, Twitter and other social networking sites actually increased feelings of jealousy one may have towards their partner.
The theory goes that the information one is privy to on these sites can turn curiosity into anxiety regarding past partners and perceived threats to a relationship, which leads to jealousy.
So practice caution, and take stock of the situation before you find yourself in a stalking situation.
Look at Really Hot (REAL) People
In case you needed reminding on this point, the women you're looking at in magazines and on TV are not the real folks that you see around you in your day-to-day, let alone what most of us are actually after! Take a break from mass media to hit the gym and see what us people in the real world look like, and remind yourself that sexy takes many forms, including yours!
You can also look to some of the feminist-positive creators of erotic content such as Cindy Gallop of MakeLoveNotPorn or director Erika Lust to find some erotic inspiration that doesn't follow the cookie cutter formula of a lot of adult films!
Tune In
This bit of advice is still as true as it ever was – putting on some tracks you deem sexy can affect your feelings toward getting romantic. It's a mood altering substance that can change the way you feel about yourself and everything around you.
What do we suggest? Pick up L-O-V-E: The Essential Al Green, Lover's Rock by Sade, or the self-titled debut album by The xx – if these don't get you in an amorous mood, nothing will!
Put the Stopwatch Down
If mainstream entertainment is anything to go by, good sex is a calendar-clearing event that lasts hours at a time, but if your usual sexual encounters are clocking in at less than ten minutes, don't assume that your bedroom time trials are lacking – a 2008 survey of North America's top sex therapists revealed that sex classified as 'normal and good' lasts between 3 and 13 minutes!
Dress Up to Get Down
Clichés begin from truth, but when if it works, it works; one of the fastest and easiest ways to get your mood from zero to sexy is with some lingerie. It doesn't have to be tight, it doesn't have to be lacy or delicate, but if the intended look is a sensual one, it will do the trick.
Of course sexy for one person does not equal sexy for all; if you and your partner are into kinkier role play, there are plenty of ways to dress for the occasion that will have you feeling your hottest. Creating fantasy is crucial to maintaining the spark in a relationship and this goes for either gender; incorporating silky briefs or even a bit of fun and whimsy with a TUX™.
Have you got any sexual self-esteem boosters of your own you'd like to share? Check us out on Facebook or follow us on Twitter and let us know – together we can spread the word and share the sexy!