Fifty shades of hip hip hooray! It's BDSM Day. And what exactly does BDSM actually stand for? Well, there are a few different variations, but here are the basics.
B&D: bondage & discipline
D/S: dominance/submission (and "switches" who engage in both roles)
S&M: sadism & masochism
A sadist is someone who receives pleasure by inflicting pain, and a masochist is someone who receives pleasure by receiving pain. They go hand-in-hand, or better yet, whip-in-hand.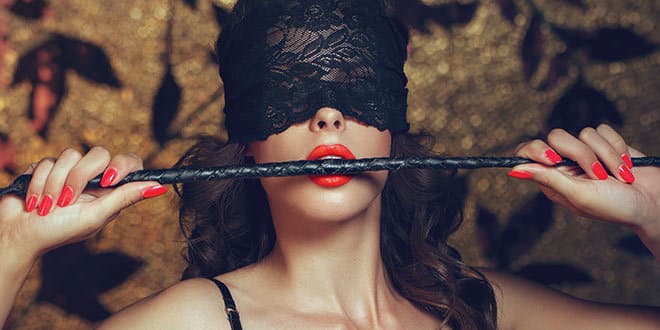 How did BDSM Day come about anyway? And why on July 24th?
BDSM Day was created in 2003 by one of the founders of the infamous BDSM club Rosas 5 in Barcelona. In the BDSM world, the notion of 24/7 (which is July 24th on the calendar) refers to the total servitude of the submissive who is available to their master or mistress 24 hours a day, 7 days a week. The success of this initiative has been such that, little by little, other clubs have taken up this idea, which soon had international repercussions. 
What's your BDSM kink?
There are so, so, SO many different types of BDSM play. Here are just a few that showcase its wide spectrum. If you're curious about how to get started, power dynamic negotiations, or learning more about these kinks in depth, we highly suggest a quick YouTube search for Evie Lupine. She is the most informative BDSM vlogger to date.
Pet Play
Petplay requires someone to take on the behavior of an animal or animals. That's right, eating out of bowls, going for walks on leashes, learning new tricks, etc. The pet is generally the submissive, and the master or owner is usually the dominant. The most common accessory in petplay is a collar, which can represent submission and even relationship status, but other accessories include tails, ears, and harnesses. You also don't have to wear anything at all, it's really all about how you feel on the inside. 
Splosh Play
What the heck is it? It's wet and messy play, also known as WAM. This form of play is all about transgression, focusing away from the daily pressures to be neat and proper. The possibilities are pretty endless here: peanut butter, granulated sugar, whipped cream, and even non-edibles like baby oil, shaving cream, and goo. Not to be confused with feterism, which focuses on the actual consumption of food, sploshing is more so about mental submersion through the texture and physical sensations of foods. 
Wax Play
Wax play is exactly what it sounds like it's about—letting wax melt on your body. It's a form of temperature play that uses low temperature candles to increase stimulation on the skin. Don't just use any candle, there are candles designed specifically for this type of play, and if you want to take it even a step further, try a massage candle. Also prepare for the mess beforehand by laying down towels or investing in waterproof sheets.
Knife Play
Knifeplay doesn't get a ton of exposure, but we're here to clear up some misconceptions. Knifeplay can be done using a spoon, credit card, butter knife, or an actually dangerous knife, that gives a mental stimulation of panic to the submissive. There is some crossover into bloodplay if the intentions are to of course draw blood, but it is most commonly about the mental sensations. Pro tip: freeze the spoon or credit card to increase the sensation.
Age Play
Ageplay actually isn't rooted in BDSM, however, this power exchange that occurs between a caregiver and little can certainly engage in BDSM behavior. For most people that engage in BDSM ageplay, the submissive reverts to a specific age, whether that be a 5 year-old or 15 year-old, but can also be about aging up. Some people just want to live out certain human sexuality nostalgia from their childhood, while others have fetishes for diapers. Honestly, BDSM allows you to run wild with your imagination and we're not here to judge you for it.
While some may argue that submission in general is degrading, it is actually all about trust and consent from both parties. People become submissive to escape the stresses and anxiety of their day-to-day lives for a simpler state of mind. Plus, some people just really like the structure and comfort of having a dominant that takes care of them. While the examples above showcase more of the extremities within BDSM, there are a ton of milder forms of it, like simple sensory deprivation or incorporating handcuffs into foreplay.
In Conclusion
History has shown that in matters of sexuality, it is better to join the ranks rather than live in judgement. BDSM is no longer the dirty practice that one indulges in the bottom of a cellar in leather clothes. We gradually discover that it is a healthy practice, one that is respectful and subtle. The link between the dominant and the submissive is difficult to understand and accept in current mores, but it is actually a feeling of power that animates the people bound by this relationship of submission. And sex, whether in a group or a couple, is the celebration of a union.