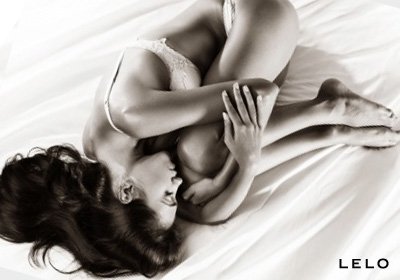 They say that absolutely every woman has something about their body they would like to change.
What they don't say, is that just as many women also have a part of their body they wouldn't swap for the world.
Whether it's your nose, your neck, your knees or your navel, it's time to forget about the stuff you don't like and embrace everything that you do.
Positive mental attitude, people – it's a lot easier than you think.
He's Not Looking
Of all the interesting sex facts about men, one of them is that he actually won't notice all the bits of your body you think are wobbly, squidgy, too big, too small, or whatever.
The truth is that during sex, a man's brain is so preoccupied with the sex itself that he simply doesn't have time to notice or care about your minute idiosyncrasies. This is a fact ladies, so be kinder to yourselves and play to your strengths, don't focus on what you think are your shortcomings.
Follow Your Own Dress Code
Using the right kind of clothes is a great way to raise your sexual self-esteem and highlight what you consider to be your best bits (plural) and this doesn't just apply to clothes you wear in the street.
Not all lingerie and sexy nightwear is made for the cast of the catwalk, and many top end lingerie designers offer intimate apparel to fit and flatter every shape and size. Pro-tip: pair your naughty negligee or laciest panties with a pair of high heels – the added length they give your leg and tone they give your butt are a winning combo.
Realistic Impressionism
Keep in mind that most men are different, and that means that not all of them think Penelope Cruz is hot. Sure, most of them do, but most of them also realize that they have about as much chance of getting it on with her as Javier Bardem does of leaving her for your Uncle Pete.
In the same way that you are happy with him even though he doesn't look that much – or anything at all – like any of the guys from True Blood, assume he is happy with you and take the celebrity gossip pages with exactly the same size pinch of salt as they were intended – huge!
Confidence is a Preference
Confidence is attractive no matter how you look, but it's not something that comes easy, especially if you're feeling insecure about your appearance.
An effective – not to mention the most fun – way to build confidence is to become more fully-aware of your body, finding out how you take your pleasure and use this to your advantage during your sexual exploits.
The homework is easy, and if you need help, look no further than a high-powered external vibe like SIRI, or the GIGI 2 G-spot massager, and get in touch with yourself – literally.
A Few Simple Exercises
If you don't know by now that exercise is good for you in more ways than one, you've probably already stopped reading. But, just in case you've not been paying attention, exercise is good for you and it's good for your sex life!
It increases blood flow, tones up those aforementioned wobbly parts, battles cellulite and helps the body produce endorphins, our natural highs. There's pretty much no downside to exercise and the confidence you'll gain from getting in shape will have you and your man doing it in front of the mirror so you can both admire the end results.