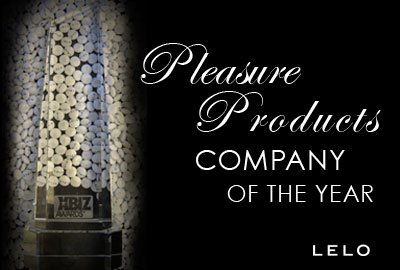 This past year, our heels have been no stranger to the red carpet, coming up big at both the AVN 'O' Awards and the Eros Shine Awards. And while we're only days into 2013, it's safe to say we've started the New Year off on the right foot.
At this past Friday's XBIZ Awards in Los Angeles, the Academy Awards of the sex industry, we took home the night's most prized piece of hardware—Pleasure Products Company of the Year—further solidifying LELO as the worldwide leader in designer intimate lifestyle products.
Lucky for us; however, we didn't have to wait until the evening's climax to pop the champagne. Earlier in the night, LELO took home the prize for Excellence in Product Packaging—undoubtedly propelled by the illustrious designs of our Dare Me, Indulge Me and Adore Me Pleasure Sets.
Now with the momentum of our XBIZ triumph now behind us, there's little doubt that 2013 will be our most successful year ever. But before we get back to work ensuring next year's repeat, we'd like to thank someone whom without, none of this would be possible: You.
So before you carry on with your day, set aside some time for a toast and a boast because at the end of the day, it's your pleasure that gives us the pleasure to do what we do—and do it better than anyone else on the planet.
To 2013!