Come one, come all to celebrate one of my all time favorite holidays – INTERNATIONAL FISTING DAY! October 21, 2019 marks the ninth year of this beautiful holiday, originally brought to this Earth by queer porn performers and activists Jiz Lee and Courtney Trouble. International Fisting Day is an annual celebration that brings awareness to this sex act that has been given a negative stereotype, debunking myths that fisting is painful, obscene or wrong. In celebration and conversation, the hope is to bring more attention to fisting, and fight the notion the fisting is a censorable sex act. This joyous holiday has since taken the world by storm.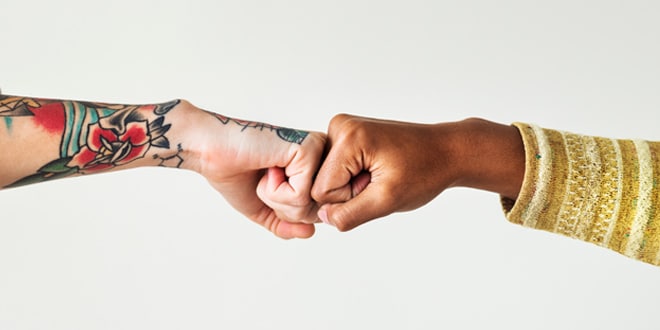 Its inception was initially a response to the censorship of fisting as a sex act in pornography, more specifically in a film Courtney Trouble was producing in 2011 that featured a scene of Jiz Lee getting fisted by educator and performer Nina Hartley. When Courtney began to seek distributors for the film, many refused or asked them to alter the scene of Jiz and Nina to not feature the fisting portion, or to remove the scene all together. Frustrated by this response, Courtney and Jiz took that energy and put it towards creating a positive image of fisting. Thus, International Fisting Day was born.
Often considered a taboo sex act, fisting is exactly what it sounds like – the act of inserting an entire fist inside a person, vaginally or anally. Though it can sound intimidating for first-timers, the act itself is much like any other penetrative sex act. The very first time I found myself fisting someone, it came so naturally I could hardly believe it was happening as it happened. Prior to this experience, I had thought of fisting as something that only happened in porn, it wasn't something people did in their average everyday sex lives. Reader, I was so naive! For one, there is no one way sex looks. But fisting didn't feel like it was unnatural or taboo or bad – my partner wanted it, we both enjoyed it, and it fell into the nature of our sexual experiences with each other, as easy as anything else would. 
Years later, I found myself at a play party being asked to have my fists (which are, admittedly, pretty small) used so that multiple people, my friends, could try to see if they were able to receive an entire fist for the very first time. After fisting multiple people in one night, experiencing the connections and communication around fisting, I wondered how this sex act could be considered so extreme when it plays such a common role in mine and so many others sex lives. How could something that is so pleasurable for so many be the cause of so much inherent shame and negativity? International Fisting Day exists to change that narrative, to normalize, educate and shed a positive light on a sex act that frankly, many people don't know much about.
Lucky for you and for me (and my sexual partners), I have learned some tips along the way to make a fisting experience as pleasurable and comfortable as possible. So let's celebrate International Fisting Day the best way I know how – with some Fisting 101!
Tips for a happy fisting experience
Take it sloooow

. This is not something to be rushed. As a person on the receiving end, try and listen to your body and what it is telling you – if it is resisting, if it hurts, don't push through it! Your body knows best, pushing through can lead to unnecessary pain or harm to your body. As the person with the fist inside someone, be gentle and listen to your partner, check in as you go, especially if it is your partners first time experiencing a whole hand inside their body. 

LUBE. SO MUCH LUBE. Do not be shy with the lube!!! Use so much lube, more lube than you think you might need. Lube is your friend! While you are at it, Fisting can be made easier with the inclusion of latex or nitrile gloves, because skin can sometimes have a bit of a grab. Gloves + Lube could make all the difference on your trip to fisting town! 
One Limb at a Time. For most, fisting isn't something one can simply go from 0-to-100 with. It takes time, it takes foreplay, it takes buildup. It's not a race to see how quickly you can get all 5 fingers inside of you/inside of a partner. Warm up, use toys, and take it one finger at a time. 
Use *Chef's Kiss* as your inspiration.

No seriously! The thumb is often the most difficult part to insert inside someone, particularly the knuckle at the base of the thumb. Despite the name of this act implying that one may just push their fist inside someone, it is not typically the way one might find their hand inside someone! Instead, bring all of your fingertips together, your thumb sitting just a bit lower than the rest of your fingers, a lá a "chef's kiss" motion, or as if you are pinching a bit of salt with all of your fingers. This way, you have a bit more control and the person on the receiving end has a bit to work with and work up to. 

Bring it in and Rock it Out. Despite its depiction in some pornography, fisting does not necessarily imply moving an entire fist in and out of someone's body in a thrusting, almost punch-like motion (Though that can be totally what someone is into). Once a full fist is inserted, the person doing the fisting ("the fister") can gently shape their hand from its insertion positioning (the *chefs kiss* we talked about above) and into a fist, with the thumb tucked under the other 4 fingers. For the person with a fist inside them ("the fistee"), this sensation can be overwhelming, especially if it is their first time with a fist inside them. The receiver calls all the shots, and that could look like keeping a fist completely still or full punch motions. Often though, a nice intro to motion is to gently rock a fist back and forth, as if you are shaking your fist at someone in anger – Only this rocking motion is far from an expression of anger. This motion can, depending on the person and the body, potentially stimulate the G spot or the Prostate. 
Aftercare. Once the receiver has had their fill of their fisting experience, be gentle and mindful of the removal of the fist. Some folks prefer it be fast, some prefer it be slow – just be sure the giver returns their hand back to the insertion position. You all deserve some sweet aftercare after that! It's a big experience to share! Drink some water, snuggle up, check in, go to the bathroom, do what you have to do to feel good and cared for. You did such a cool thing together!
Much like any sex act, there is always more to be said – but now you can move forward with the basics to getting yourself a ticket to fisting central! 
International Fisting Day is changing the way folks view and engage in fisting, and two talented queer porn performers/producers are to thank for it all.  What started as a response to misunderstanding and miseducation, has transformed into a beautiful celebration of sexual liberation, conversation, and exploration. Happy International Fisting day, May you and your fists celebrate wisely and with pride!