Feeling Great, One Orgasm At A Time – Tova Leigh
Out of the way everyone, I have a date with my new favourite toy— the Soraya 2. It's easily the best rabbit vibrator I've ever used and here's why.
First of all, let's start by saying that I personally think women's self love and pleasure should be part of a daily routine, just like working out, eating well and getting a good night's sleep (cut me on my phone at 1am scrolling on Instagram). Having the big 'O' as part of my every day normal life has made such a difference in how I feel.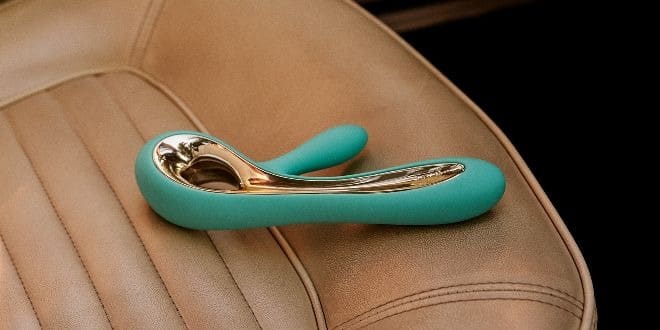 Everyone knows by now that orgasms make you happy, but what I've found is that sexual energy is vital in feeling vibrant and alive as a woman. So it's no surprise why in the last few years I have tried, tested (and broken) several vibrators.
I won't even bore you with my first ever experience of buying a vibrator, but let's just say it was a pink rabbit (basic for beginners) which I effectively drowned— having used it in the bathtub thinking it was fully waterproof. It wasn't.
Personally, the rabbit type of toys have always been my preference. I like the combined stimulation of the g-spot and clit for a stronger and longer-lasting orgasm. But one of the things that has always felt a little awkward with other toys I've tried is where the controls are located and the interruption to my flow that came along with operating them.
That's the first thing I noticed about the Soraya 2.
The controls are conveniently located for your thumb and it's easy to change the settings while in full use. The handle has a loop, which I've never seen before, so your index finger goes in there and your thumb naturally rests on the controls. Genius. I know this sounds super technical but trust me, when you are up to speed 7 and passed the point of no return the last thing you want is to stop and look for the controls, especially if you need reading glasses like I do.
But apart from how easy and comfy it is to use, it's a whole new level of rabbit vibrator. From what it looks like, beautiful and luxurious and it come in an amazing range of colours (I have the turquoise), to steady and shaped exactly right.
I have never been a big fan of the round, bulky-tip type vibrators and have always preferred ones with a more pointy tip. What I liked about the Soraya 2 is that although it's more 'pointy,' it still has enough girth and surface at the top which obviously helps in stimulating the g-spot even more.
It's got 12 vibration settings and is very quiet, fast charting and will give you FOUR HOURS of pleasure from a single charge. This, to me, is a winner because there is nothing more frustrating than being at that point of no return and having the battery die (been there ladies and it sucks).
I also liked the size (wink wink). I find that some of the rabbit toys on the market are too small. It's also made of super soft silicon that feels good against your body.
It's called a 'dual action massager' for a reason, and like I mentioned stimulates both th g-spot and clit at the same time. There are two arms. One is bigger and is the part that is use internally, and the other is small and is what stimulates you externally.
I have never been a fan of toys that have the small arm look like rabbit ears which is ironic because that's the whole reason they are called 'rabbits' in the first place. I have always felt that the gap in the surface is frustrating and needed to make up for it with my fingers. The Soraya 2 on the other hand doesn't have those rabbit ears and is designed in a way that I found to be much more pleasurable.
And here comes the best bit – the little arm can be switched off if you want. I didn't realise this at first because not all rabbits have that option, and I personally love it, especially if you want to have more than one orgasm. You can easily switch it back on at any time and really play with the balance between clit to G and get it just right for you.
I also loved the different modes. Apart from the speed levels, there are different modes and, as crazy as this may sound, I think Lelo has cracked the secret formula because (sorry for the oversharing), it took me less than a minute to orgasm and when I was done all I could say was "wow" repeatedly. In my opinion, every women should have one of these, in fact, I wish I could hand them out to everyone.
In short— I loved it.
And listen, I joke about having a date with my rabbit, but truth be told it's more about having a date with myself. As women we hardly allow ourselves enough time for pleasure, whether it's a night out with girlfriends, a good meal or a hot bath with our sex toys. But I've learned that self-pleasure and self-love go hand in hand, and that in many cases neither are, or should be, considered a "luxury". They are a must, something we owe ourselves for our physical and mental health.
Bottom line, I've made it a mission to talk about these type of things, encourage women to embrace their sexuality and talk openly about female pleasure because I want more women to feel great. One orgasm at a time.

---
Tova Leigh is a writer and content creator. She started her successful blog – My Thoughts About Stuff – in 2015 which in less than three years made her into an internet sensation with her blunt rants about motherhood, sex and all things taboo. Her first book 'F*cked At 40' is due to come out in March 2020 and is a funny, empowering and raw tale of a woman going through a midlife crisis, while trying to rediscover who she is after motherhood and beyond the norms society forces upon women.