You're picturing the 'Red Room' from 50 Shades of Grey, aren't you? And essentially, that is what a BDSM dungeon is…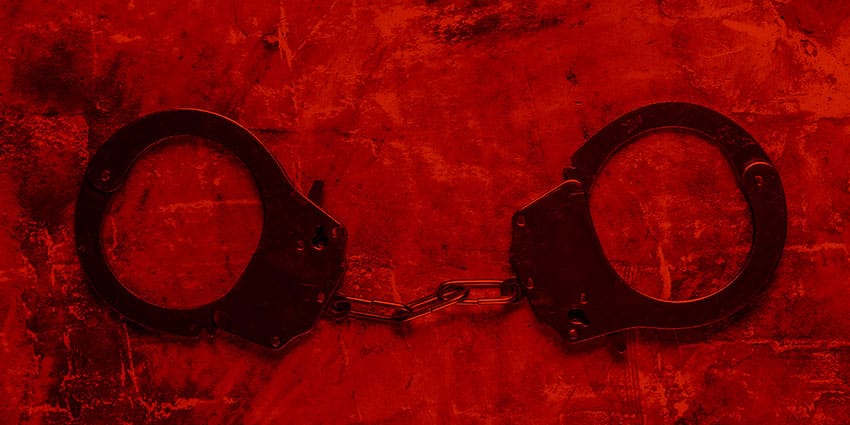 But of course, this book/film series fails to really get into the nitty gritty of what a BDSM dungeon actually is, what to expect in one, do's and don'ts, and so on. Which is why we're here to fill you in on all the saucy details. 
What is a BDSM Dungeon?
A BDSM dungeon is a space that's solely dedicated to BDSM play or BDSM scenes. 
Inside, you'll find a slew of erotic and delicious BDSM toys and gear tailored to a dominant and their submissive's liking. For that reason, the way that it's set up, the things you'll find inside of the space, and the way that it's used differs depending on the people involved.
You could find bondage props, suspensions, shackles, St. Andrew's crosses, impact play toys, and BDSM attire inside a BDSM dungeon, making it an intense yet lustful experience.
And while some individuals have their own private BDSM dungeons, there are professional BDSM dungeons too, open to the public, so that all kinds of people can get their rocks off. 
These spaces are usually inside large warehouses or nightclubs, and have been designed to appeal to all kinds of BDSM players.
Professional BDSM Dungeons
In a professional BDSM dungeon, individuals pay an entrance fee and are greeted by professional doms, subs, or switches. In this kind of setting there are strict rules and regulations in place, and familiarising yourself with said-rules is imperative before going on your BDSM dungeon adventure.
Many professional BDSM dungeons in the world have a strict 'no sex' policy, as this would indicate that its patrons were paying for sex, making it illegal in certain countries. This doesn't mean that visitors cannot orgasm, of course, as some acts and experiences naturally increase levels of arousal and may lead to climax. 
To visit a professional BDSM dungeon often entails contacting the space and requesting a scene with a chosen employee. In this way, you can describe your desires and fantasies to see whether they align with the space or the employee in question.
What Kind of Gear Will You Find Inside a BDSM Dungeon?
Depending on the dungeon, the gear inside will differ. A private BDSM dungeon will be designed according to the desires of the individual who owns it. A professional BDSM dungeon may have a specific theme or use their space according to its size.
A small professional BDSM dungeon could consist of one room, in which case it may very well have only one theme. A larger professional BDSM dungeon could have several rooms, each with their own unique charm and aesthetic. 
In the latter, one room could consist solely of dressing up gear, another a room for impact play, another for role playing, and so on. Or, it could be a very large space with a mixture of areas dedicated to certain aspects of BDSM.
Professional BDSM Dungeon Do's and Don'ts
Yes, visiting a professional BDSM dungeon is a way in which to indulge in your most erotic and sensual side, but it doesn't mean that anything goes. One cannot simply request whatever they fancy and receive it. Respect and consent is mandatory. Then again, respect and consent are necessary for all sexual acts. 
Having said that, here are a few BDSM dungeon do's and don'ts…
BDSM Dungeon Do's:
Take care of your personal hygiene as well as the toys or gear that you may bring into a BDSM dungeon

Keep enough space for those indulging in a scene together

Talk to a dungeon monitor if you feel uneasy or you are witnessing something that goes against the rules

Remember that privacy is of utmost importance, do not use any recording devices or 'out' anyone you may see at a professional BDSM dungeon

Have a

safe word

to ensure safety at all times
BDSM Dungeon Don'ts:
Sharing is caring, so if you're in a shared space, don't hog the equipment 

Refrain from interrupting scenes and creating unnecessary attention

Do not touch or play with anyone without full consent

Don't invite yourself into a scene, always ask if you can join at an appropriate time

If someone ignores you or it's obvious that they're not wanting to engage, leave them alone

Don't chat too loudly or make a noise as it can pull players out of a scene, mentally
Whether you're visiting a personal or professional BDSM dungeon for the first time, or you're a regular visitor, the rules, and do's and don'ts continue to apply. 
These spaces can be fantastically magical for those who want to really embrace their kinks and desires so let's keep them a place that's respectful, consensual, and safe, shall we?