Whips, floggers, restraints, blindfolds and sex toys. They're the real stars of the 50 Shades movie and of EL James' trilogy of kinky erotica. Whether you're looking to create your own Red Room of Pleasure or just pick up something special to spice up your weekend, 50 Shades of Grey books (and LELO) can offer some excellent suggestions.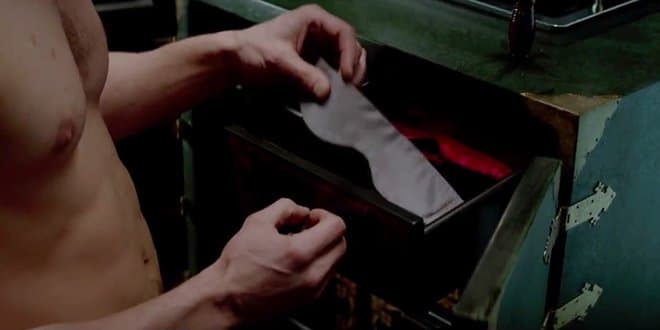 Blindfolds
Sometimes you just close your eyes and jump into new things with both feet. Using a luxurious silk blindfold heightens your senses by restricting another, but also raises the tension deliciously. The blindfolded partner will not be able to guess when or where they will next feel the touch of your hand (or whip!).
This is the actual blindfold Christian Grey uses with Anastasia Steel in the 50 Shades movie. You saw it at LELO first!
Wrist Restraints
Wrist restraints come in all shapes and sensations. Many people new to bondage think of handcuffs are essential BDSM gear, but if you've ever gotten cheap ones from a bachelorette party, you know that those can be quite uncomfortable when used for extended periods and leave marks (not ideal if you want to explore bondage but don't want raw wrists).
Using soft restraints like the LELO BOA Pleasure Ties will be much more comfortable for a beginner, and allow for tying to the bedpost. ETHEREA Silk Cuffs can be used similarly for both wrists and ankles, but offer extra cushioning. If you're looking for something a bit edgier, move straight along to the SUTRA Chainlink Cuffs for an extra bit of kink. It's important to remember that with all bondage, light or otherwise, you should be able to fit 2 fingers between the restraint and skin.
Floggers
If you have your partner all tied up (and pent up) what better way to tease their senses than with a luxury suede flogger? With a short handle and supple tassels, it is the perfect instrument for teasing the skin with soft brushes along the skin or harder strokes across the fleshier parts of their body. The thick suede offers a warming and thuddy sensation, rather than a whippy, scratchy sensation offered by inferior products. It's a relatively petite flogger, but it's controllable and offers a substantial impact.
Pleasure Beads
Also known as Ben Wa balls, these weighted balls are perfect for mixing business and pleasure. Once inserted, the weight of the beads causes your vaginal muscles to contract. This gives a mini-work out to your pelvic floor (which is linked to stronger, more intense orgasms) and smaller, internal balls will swirl around with your every movement, offering a very delicious and discreet pleasure.
Wand Vibrators
In one of the most intense scenes of 50 Shades, Christian and Ana engage in a practice called 'orgasm denial.' Though it can take different forms, in this case it involved stimulating Ana with a wand-style vibrator. This very well-known style of 'massager'― seriously, it's awesome for massaging every part of your body―offers particularly strong vibrations. After bringing her to the cusp of orgasm, he then removed the wand before letting her climax, and repeated this over and over. When combined with bondage, this can create unbearable feelings of frustration and helplessness for the submissive partner, until (and if) you decide to reward them.
Conclusion
Whether you're looking to restock your toy box or dip your toe into BDSM-play, any of the above items can add immeasurably to your kinky experience when shared with your partner. Remember that anything you engage in should be safe, sane and consensual, and remember to have fun!
[related_article id="9621″ size="full" target="_blank"]