Whether you consider yourself pretty kinky, or definitely vanilla, you and your partner may nevertheless be looking to add something a little different. Sensory deprivation is a fantastic way of taking a foray into new sexy territory; the idea is that by restricting one sense, others will become heightened. It also involves placing trust in the other partner's devious hands, which is exciting in its own right! 
Made with 100% pure silk with LELO's signature jacquard pattern and available in red, purple or blac, the INTIMA Silk Blindfold is a stylishly sexy first step to indulging in blind lust. Just check out this review!
LELO INTIMA Blindfold Review
"The LELO INTIMA Blindfold blocks out enough light to leave you waiting in anticipation for your lover's next move, and taking away your ability to see certainly adds excitement and spice to foreplay and sex. The blindfold doesn't 100% block out any light, as the fabric sitting flush against your face will depend on your facial contours – and snippets of light may sneak in around the nose area – but you definitely can't see what's going on. In a low romantic light of a bedroom environment, this doesn't present any issue.
The end of the ties is bias cut to give a better look to a tied bow and the classic ribbon feel. There's not really much more to say about the LELO INTIMA Blindfold other than that it's a quality item which suits lovers and those into soft, romantic, sensual play rather than the heavy-duty side of BDSM."
Read more of CARASUTRA's review!
Product Review: Intima Silk Blindfold by LELO
"A silk blindfold can be used for all sorts of different bondage play. There's not much that's more erotic, for me, than being trussed up in soft, elegant restraints, only to be treated like a piece of meat. But one of the most popular fantasies you hear about is the romantic dinner, and experimental bondage play, and candlelit bedrooms. These restraints would be perfect for an evening like that."
Read more of INSATIABLEDESIRE's review!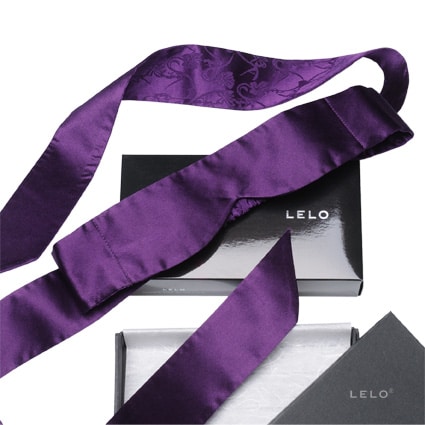 Buy INTIMA Silk Blindfold Now