So you and your partner have both decided to introduce a sex toy to your relationship, realizing how much added enjoyment it can bring to your sensual sessions. The question now is; 'which one do I choose?'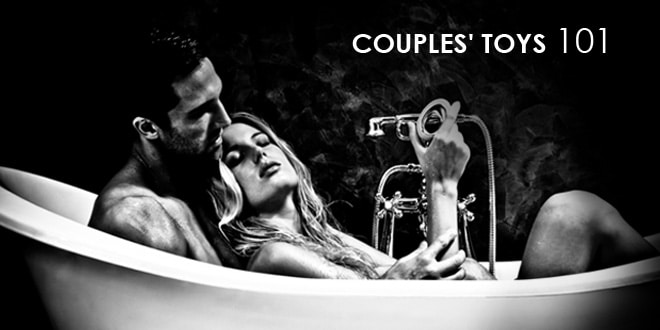 Because of course different types of sex toys are useful for different types of sex, and require different levels of involvement during lovemaking – but finding the right one for you is no daunting task, because we're here to help!
Absolute Beginners
If you're totally new to sex toys in and outside of your relationship, you're facing a bit of a learning curve – albeit a learning curve of the most pleasurable variety. If you're just starting out, a small, external sex toy for clitoral stimulation will be very useful in helping you figure out what kind of vibe suits you best, and can instantly add some extra spice to your foreplay and lovemaking .



Intermediate
So you're already sex toy experienced but looking for new and novel ways to share your pleasure? Get a little more creative by taking your sexual adventures outside of the bedroom (and the house, even) by wearing vibrating pleasure beads as a sexy secret between you and your partner. When wearing one or two beads within the vagina, your movements will cause them to vibrate, for fantastic feelings that no one is the wiser of!
Intermediate users can also try turning him into their favorite vibrator to make the sensations of sex even more pleasurable. A wearable couples' ring (AKA 'cock ring') not only offers a gentle bit of constriction to give him a slightly firmer, longer-lasting erection, but if it features a vibrating motor, it will transfer these sensations down the shaft of his penis and to her clitoris as well.  Meanwhile, if you've got a powerful enough external vibrator, it can be placed against the base of his penis to provide some deeply resonant sensations during sex and foreplay.



Expert
Congratulations, graduate; you've tried it all (twice!) and are still looking for more ways to share? Well you're in luck, because we've got just the right vibes for advanced explorers of intimacy.
At this level, you'll no doubt possess the bravery to share public passions outside the bedroom, so we've got a unique proposition for you; how about a vibrating bullet-style vibrator you can wear discreetly inside while your partner controls the sensations with a wireless remote? When it comes to teasing and foreplay, can there be anything more fantastic than that?
And when the foreplay ends and the main event begins, advanced users can take their pleasures to new peaks with the wearable couples' vibrator IDA™, which enhances the amazing sensations of lovemaking. With it's incredible rotating and vibrating functions, it adds so much more to virtually any position you choose, especially doggy style, when it really ups the enjoyment.


Just because you've reached the upper levels of sex toy experience doesn't mean you can just rest on your laurels. Keep boned up on the finer points of pleasure with our Lover's Guide to IDA™, the 2-part series showing how our amazing couples' vibe increases the passions in every position.