The Strangest Sex Laws & Facts in Australia
As citizens of the world, we couldn't stop at just investigating the strange sex laws in Britain and weirdest sex fact in America. In our efforts to educate, this time we turned out attention to Australia to see what acts the powers that be have seen fit to protect the law-abiding public from.
Well, it turns out (perhaps to the surprise of no one) that Australians are pretty relaxed when it comes to sex. Give these stats about our mates down under a squiz and to see how they like to have a naughty.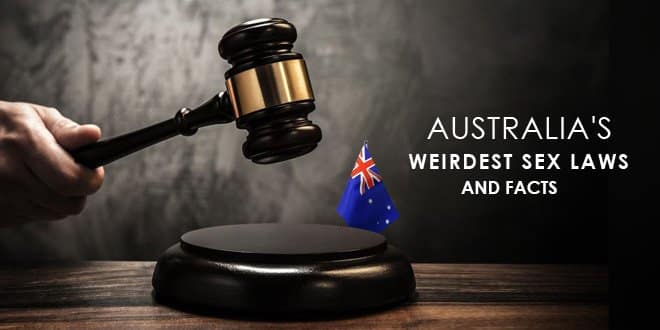 1. Room for One More
Australians are the most receptive to the idea of having a threesome – 28% of them claim to have tried it, and 26% have it on their 'sex bucket list'
2. Tactful or Terrible?
58% of Aussie ladies are faking orgasms, but compared to the 80% figure found in British studies, it seems they're relatively honest.
3. Giving as Good as They Get
It's no shock 77% of Australians love getting oral , but 74% love giving it as well.
4. Talk Aussie to Me
If you're into dirty talk, you're in luck! 41.7% say they use dirty talk regularly, though you may need some help translating.
5. In The Outback
With 40% saying they enjoy sex in public, apparently Australians like to flirt with getting 'sprung' (caught doing something they shouldn't).
6. In the Nuddy
Be aware! A majority admitted to sending and receiving nude pictures on their phones, and a quarter have kept pictures of their exes.
7. G'day or G'night?
Only a third answered that their sexual peak time was during the morning or day.
8. What's love got to do with it?
60% believe sexual relationships are not just for people they're in love with.
9. Men at Work
Less than a third have had sex with a coworker but at least 60% copped to fantasizing about it.
10. Donor Under
Currently, it's illegal in Australia to pay sperm donors or to import frozen sperm. There is also limit of 10 families who can use sperm from one donor. This led to such a shortage of donors that the Reproductive Medicine Centre in Albury has advertised in Canadian university student newspapers, offering sperm donors a $7000 package including return trip, accommodation for a fortnight and a daily spending allowance.
---
Katy Thorn is a post-grad writer with a passion for writing about sex, sexuality, and all things rated R. She received her degree in Women's Studies with a focus in Intersectionality at the University of California, Berkeley (Go Bears!). She has a cat named Yoko, drinks too much black coffee, and hates writing bios.